Easy Beginner Instant Pot Recipes with Beef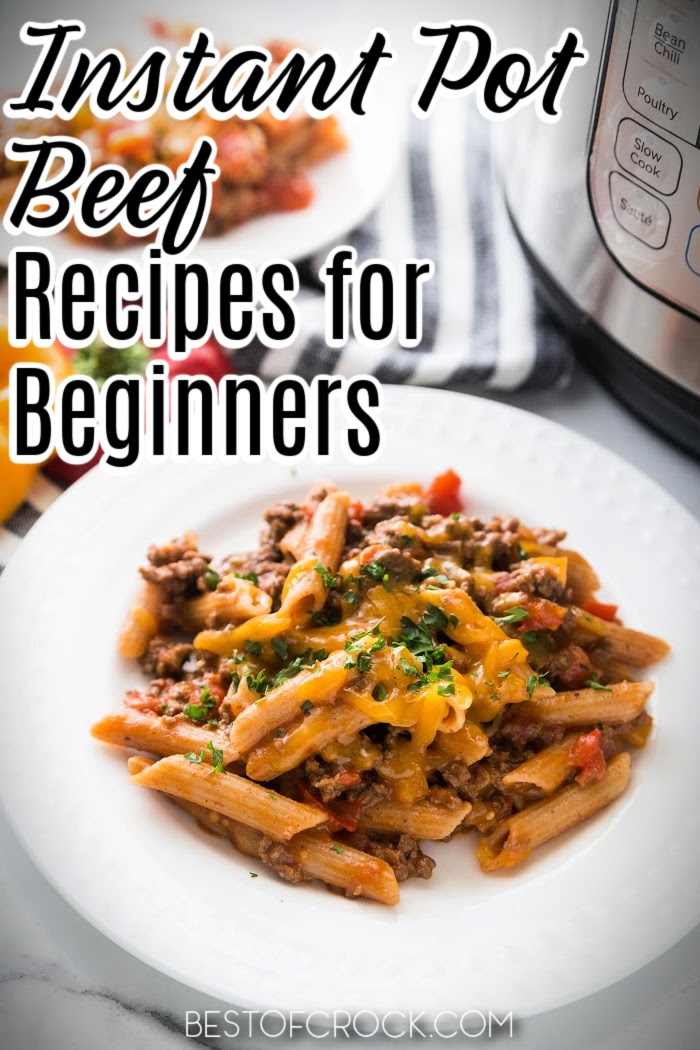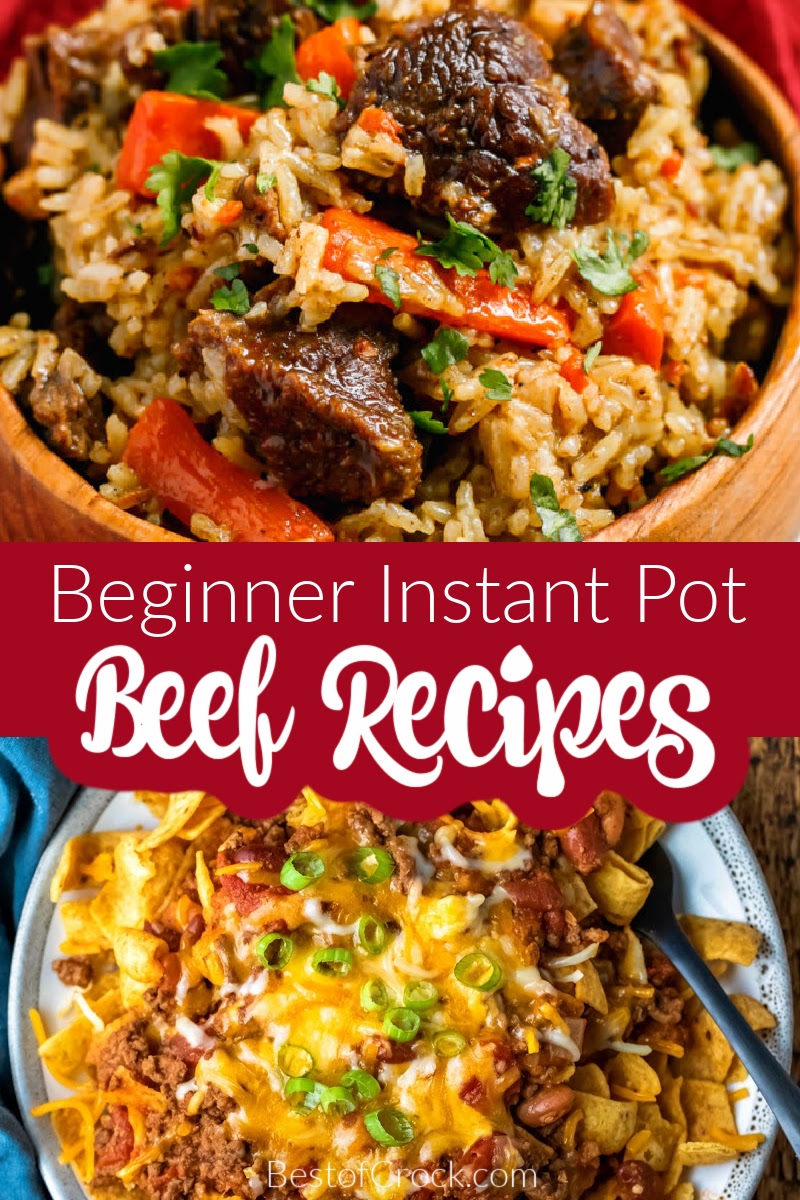 What is your favorite beef recipe for dinner? Chances are, you can make it in an Instant Pot. In fact, a lot of the best recipes are also beginner Instant Pot recipes with beef. You can start your journey with your Instant Pot with a bang of flavor and with ease.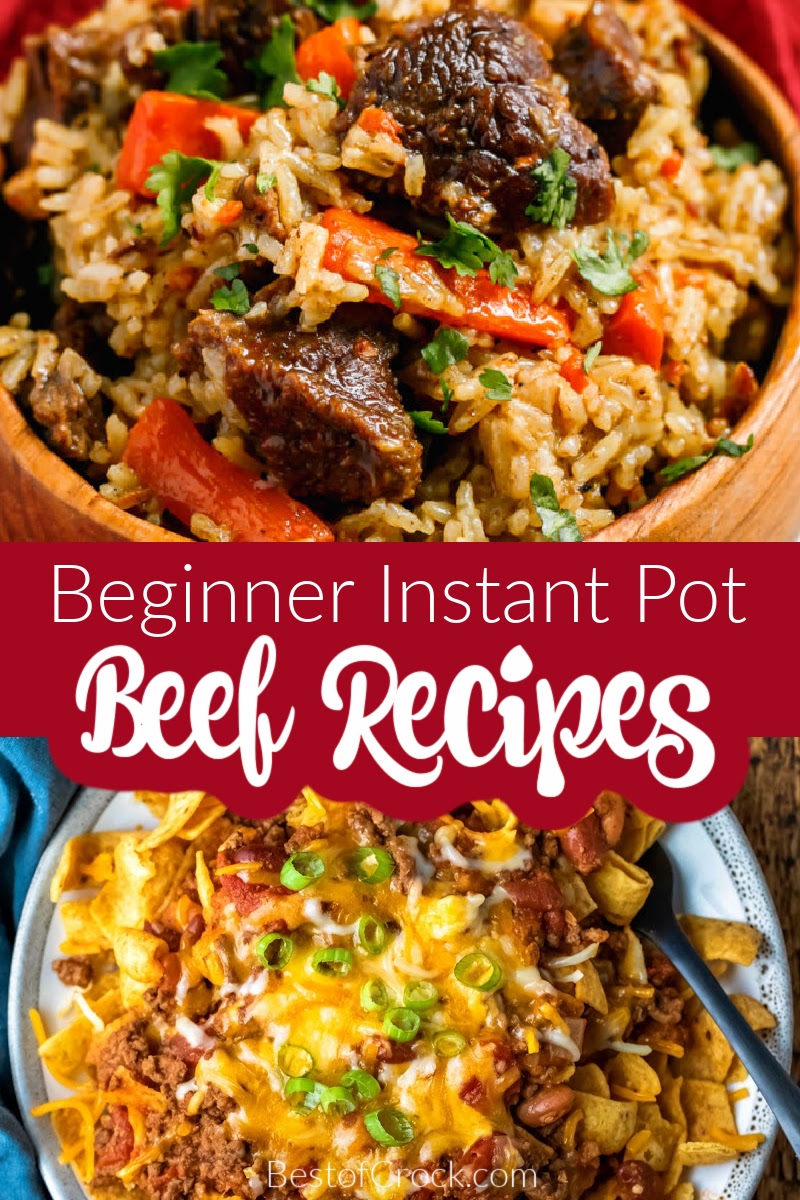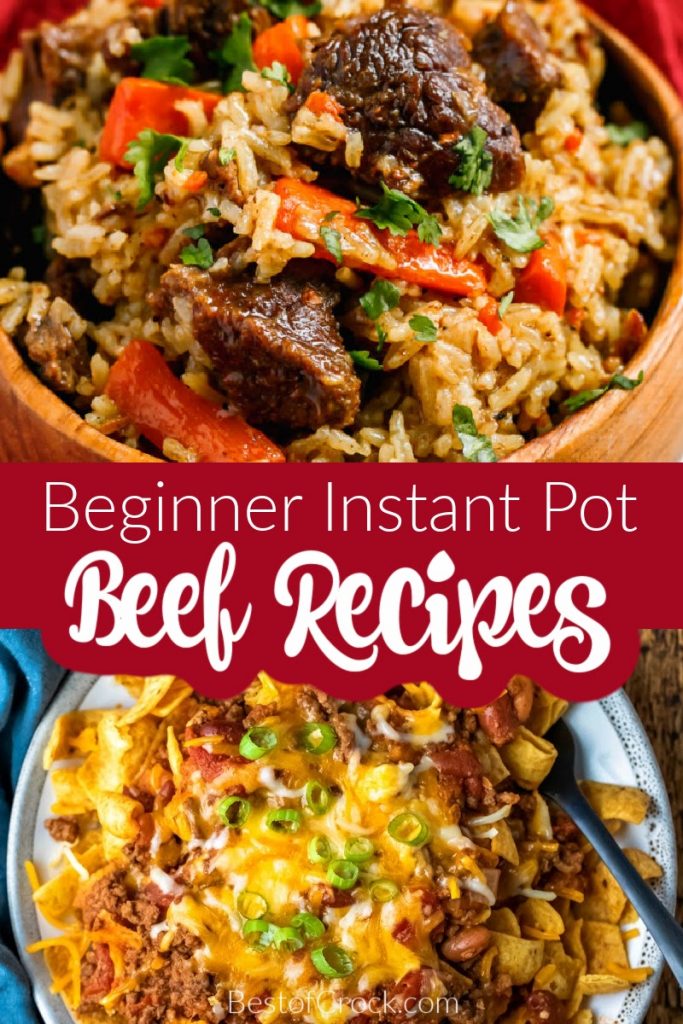 Beginner Instant Pot recipes with beef are great recipes that aren't just for beginners but for anyone who wants an easy Instant Pot dinner. The Instant Pot is known for its ability to pressure cook. However, you will see that there are other modes on your Instant Pot.
Those functions come in handy when you're cooking beef. Every home cook knows that most beef recipes require you to brown the meat first. Browning the meat gives it so much flavor, especially when seasoned properly beforehand.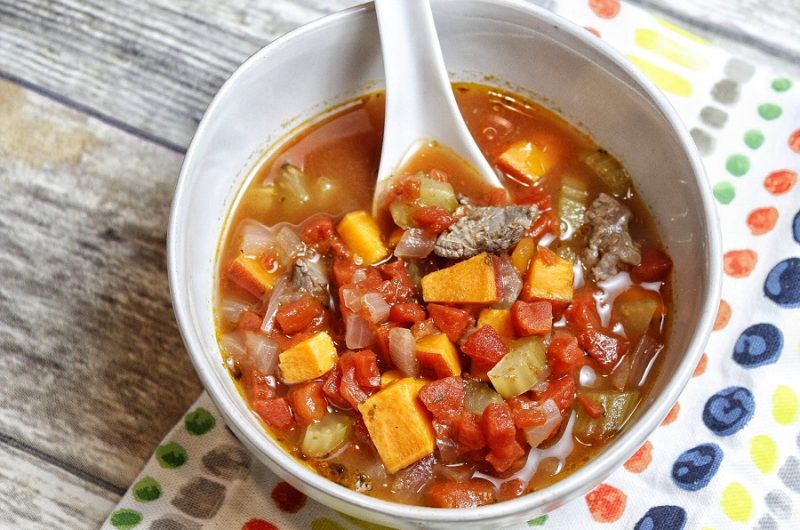 Luckily, you can use the Instant Pot's sauté function to brown your beef before you pressure cook it with the rest of the ingredients. Of course, you may need to drain it after browning but that is par for the course. Just be sure to read any instructions for whatever recipe you plan to make completely.
In fact, you should read them completely before you even get started. The last thing you want to do is brown and drain the meat only to find out that you didn't need to drain it before pressure cooking. These recipes are still easy, even with the extra step.
Beanless Instant Pot Ketogenic Chili Recipe | Best of Crock
Healthy Instant Pot Vegetable Beef Soup | Best of Crock
Instant Pot Goulash Recipe with Beef | Best of Crock
Mongolian Beef | Corrie Cooks
Corned Beef and Cabbage | A Mindfull Mom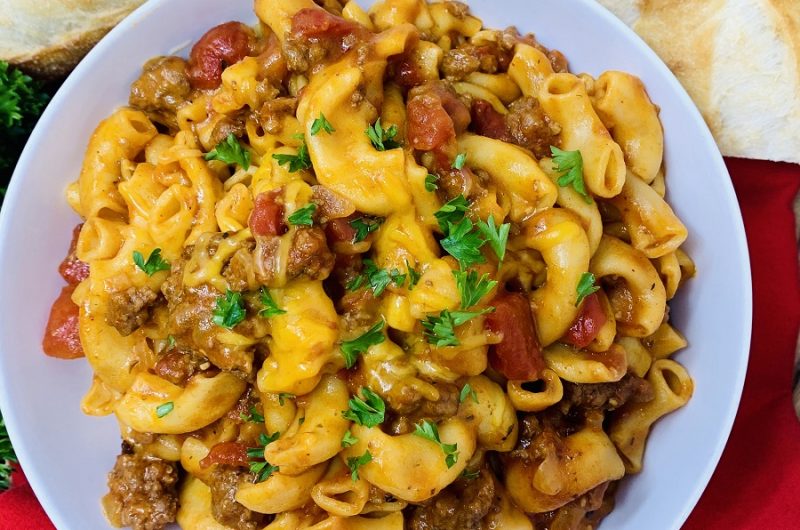 Beginner Instant Pot Recipes with Beef
Browning the meat is often the first step. But everything else becomes amazingly simple. That is what makes the Instant Pot so amazing. Anyone can just pick one up and start pressure cooking at home with ease. But why is pressure cooking such a big deal?
Your first bite will tell you everything you need to know. But pressure cooking allows the fats in tough proteins like beef to break down easier. The breakdown of the fats tenderizes the meat and fills it with flavor. That's why your first bite will tell you everything. You will get a burst of flavor that you may not have experienced before.
Beef Ragu | Whitney Bond
Chili Frito Pie | Cook Dinner Tonight
Beef Taco Bowls | Simply Happy Foodie
Beef and Rice | This is Not Diet Food
Asian Pepper Beef | Whole Kitchen Sink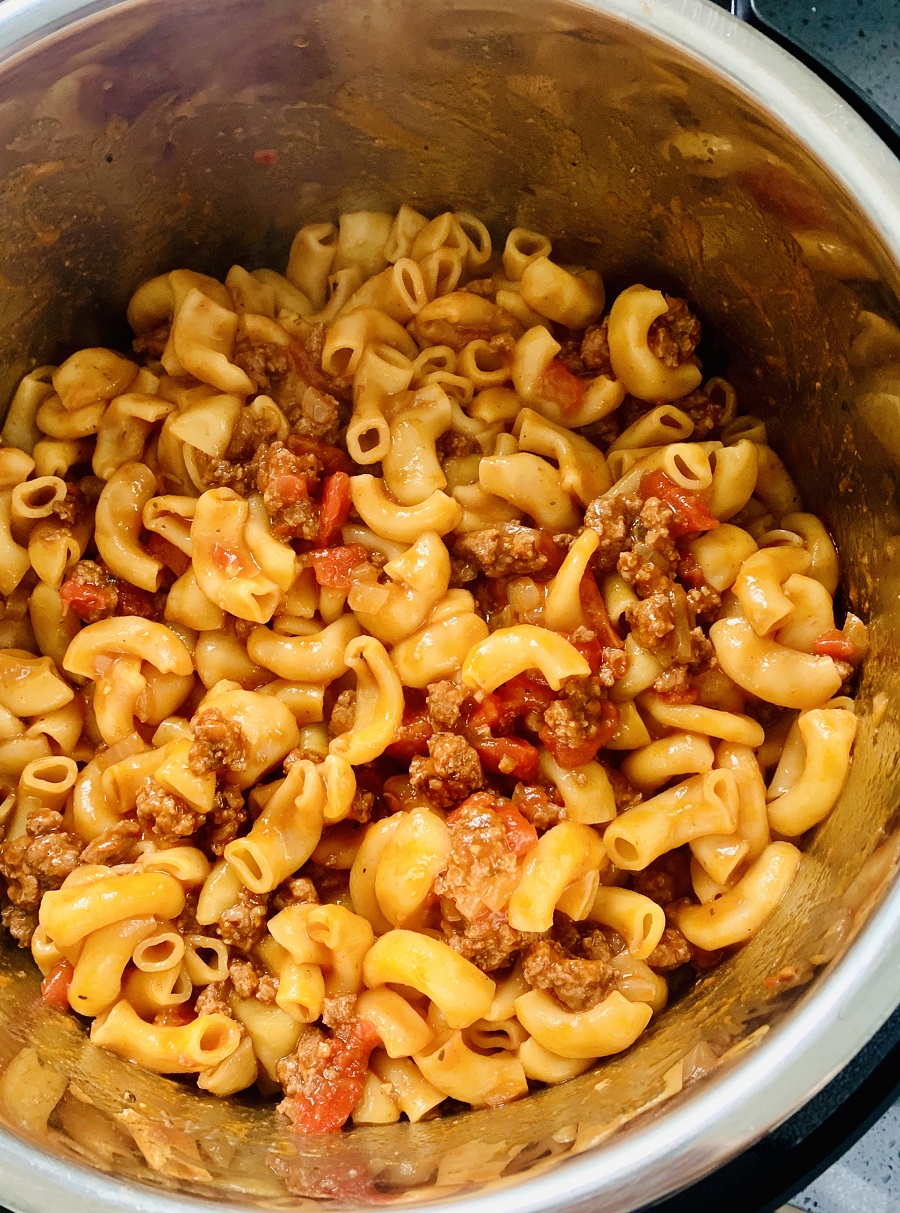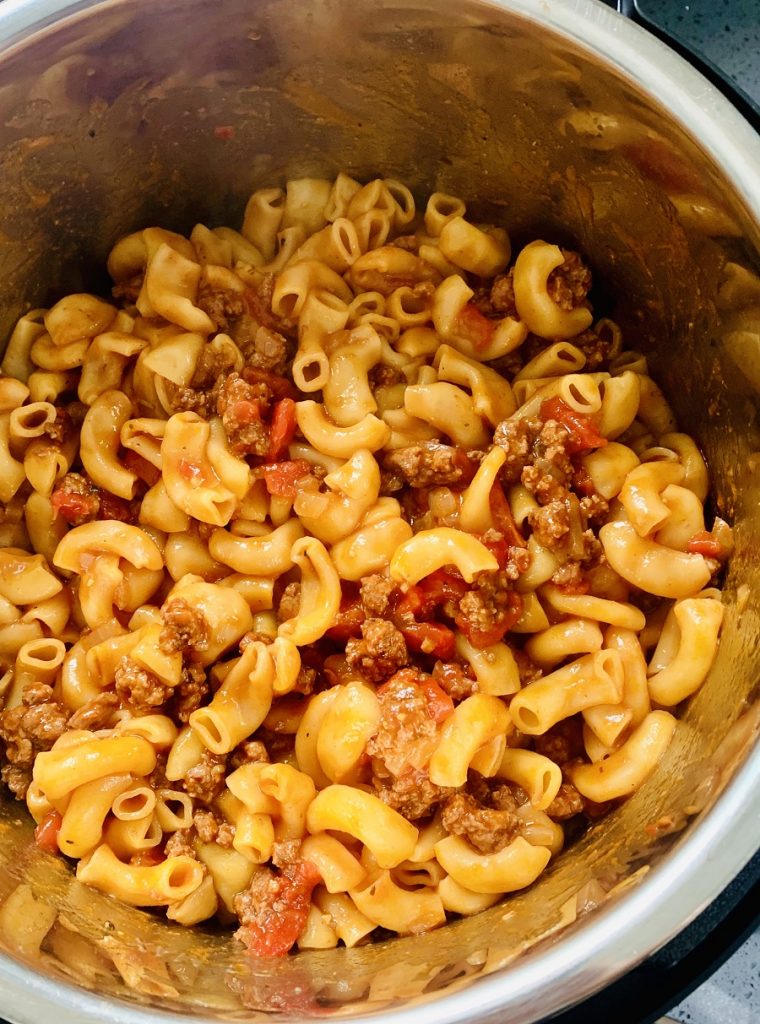 Instant Pot Tips
There are many tips to utilize when cooking with an Instant Pot. But the most important one is to explore liquids. Pressure cookers use steam from the liquid you put inside to create heat and pressure. But that moisture is also absorbed by whatever it is you're cooking. Water is the most common liquid used in an Instant Pot.
However, you can use other liquids as well. Try using a broth instead of just plain water to add even more flavor to your meal. These beginner Instant Pot recipes with beef may help you venture outside of plain water. But just know that you can easily substitute beef broth or vegetable broth for water in about any beef Instant Pot recipe.
Beef Plov (Beef Rice Pilaf) | Muchkin Time
Beef Tips with Mushroom Gravy | Little Spice Jar
Enchilada Pasta | Confessions of a Fit Foodie
Lazy Lasagna | Together as Family
Shredded beef Tacos | Feels Like Home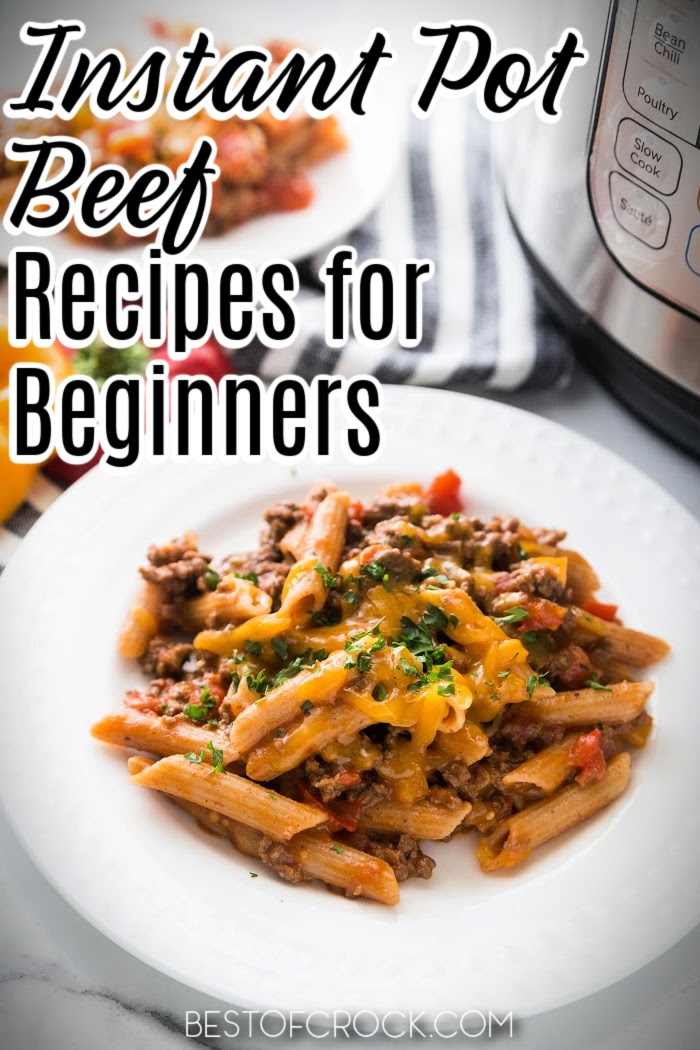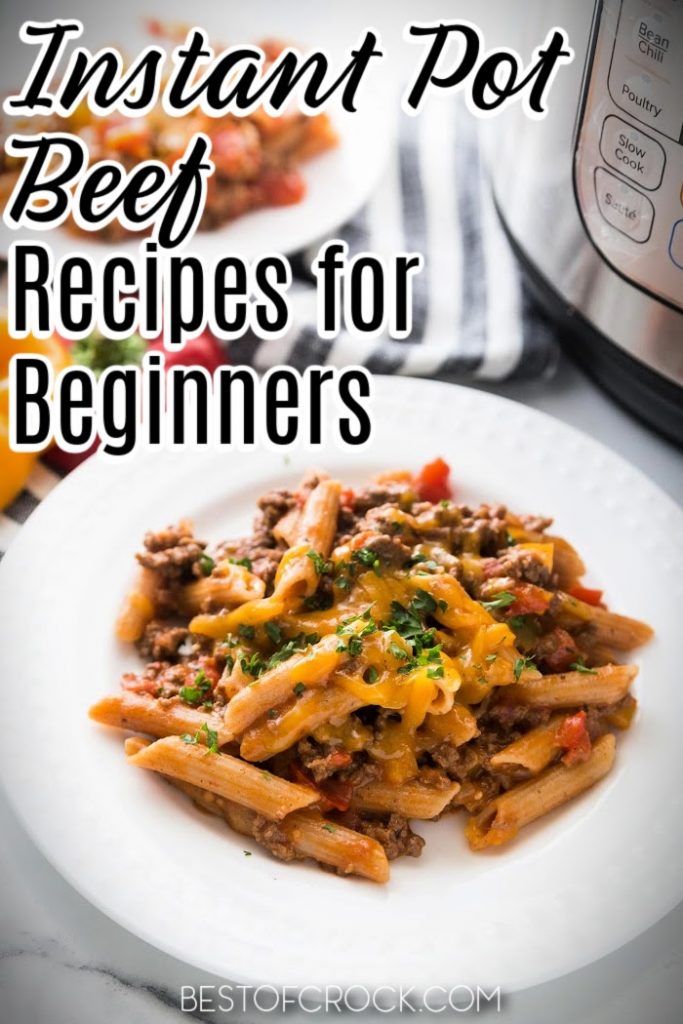 More Instant Pot Recipes
Instant Pot Kale Soup with Sausage Recipes | Every meal should start with something lighter and healthier. You can use this kale soup as a starting dish for your beef dinner.
Instant Pot Chicken Noodle Soup | You can also make a deliciously homemade chicken noodle soup to start a meal or when you just want a delicious soup.
How to Make Mashed Potatoes in an Instant Pot | You will also need a good side dish and the Instant Pot can help with that as well.
Instant Pot Sour Cream Scalloped Potatoes | Scalloped potatoes are a breeze in an Instant Pot. This recipe will go perfectly with a beef dinner.
Healthy Instant Pot Teriyaki Chicken | Of course, you don't need to stick with beef in your recipes. You can go with a healthy chicken teriyaki dish instead.