Best College Dorm Instant Pot Recipes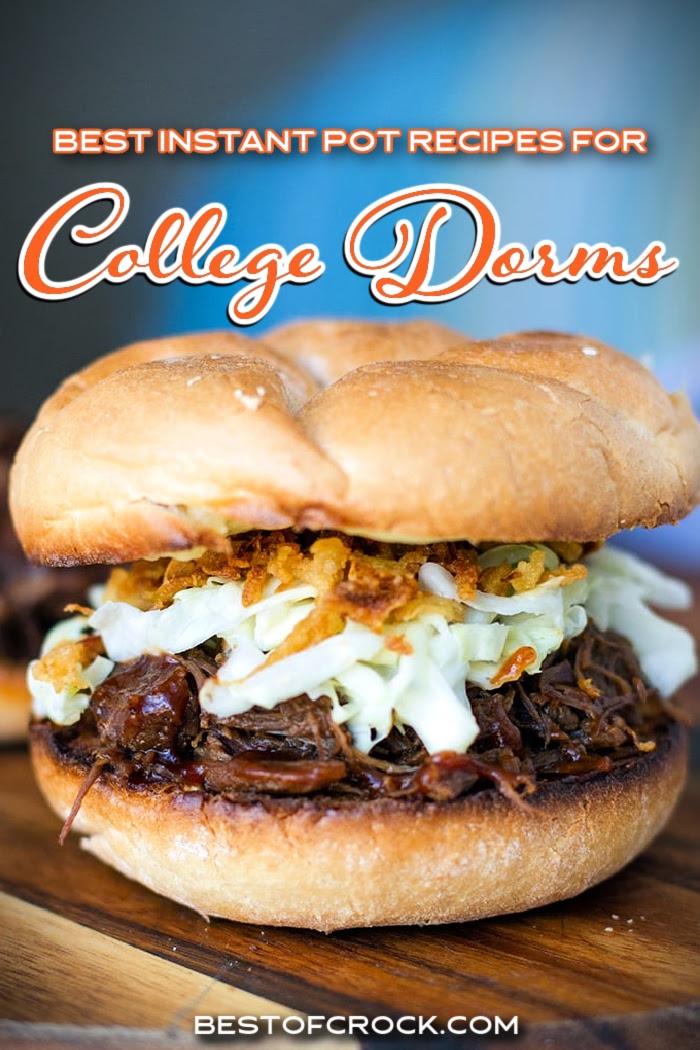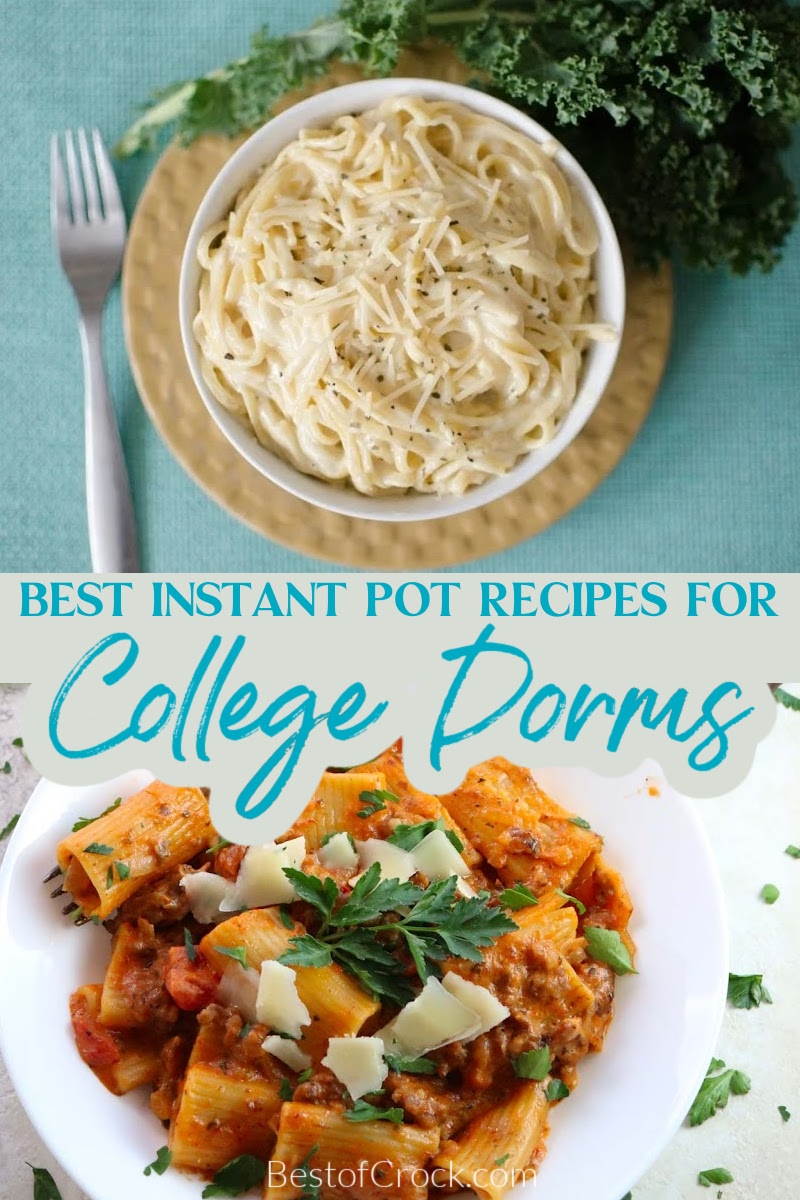 College life is a busy one, and that leaves little time for cooking. College students usually end up with fast food or ramen; there's little wiggle room. But the best college dorm Instant Pot recipes can change things up for better meals.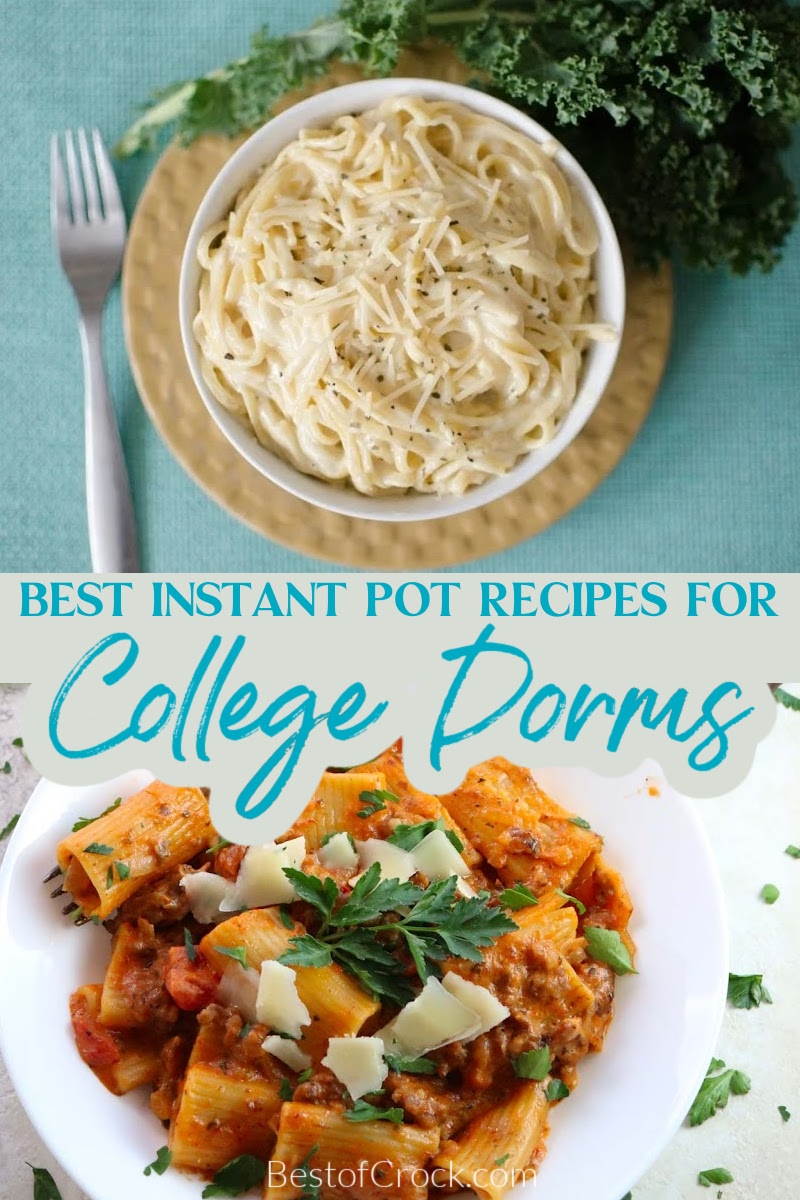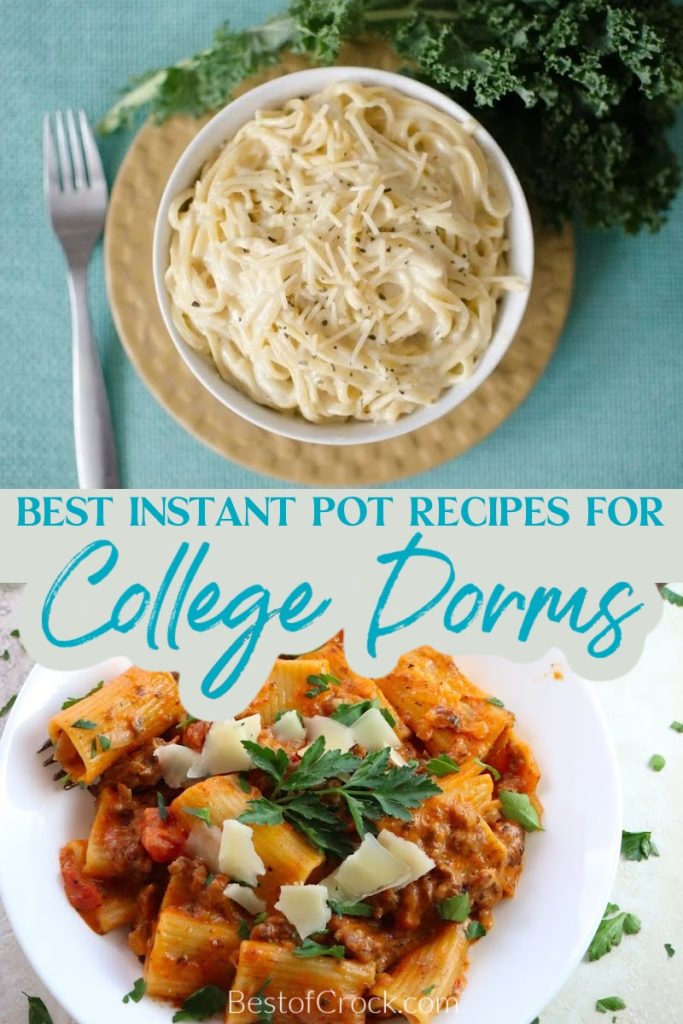 Ditch that bag of ramen for better recipes for college students, and use the best college dorm Instant Pot recipes. College life is filled with quick bites and smaller meals. There's nothing wrong with that; our bodies can handle that kind of diet at that age.
But not all of us enjoy ramen noodles for every meal, every day. Fast food is fine for a while, but that, too, gets old after the 100th meal. We long for home-cooked meals, and some of us are fortunate enough to be able to travel for that meal.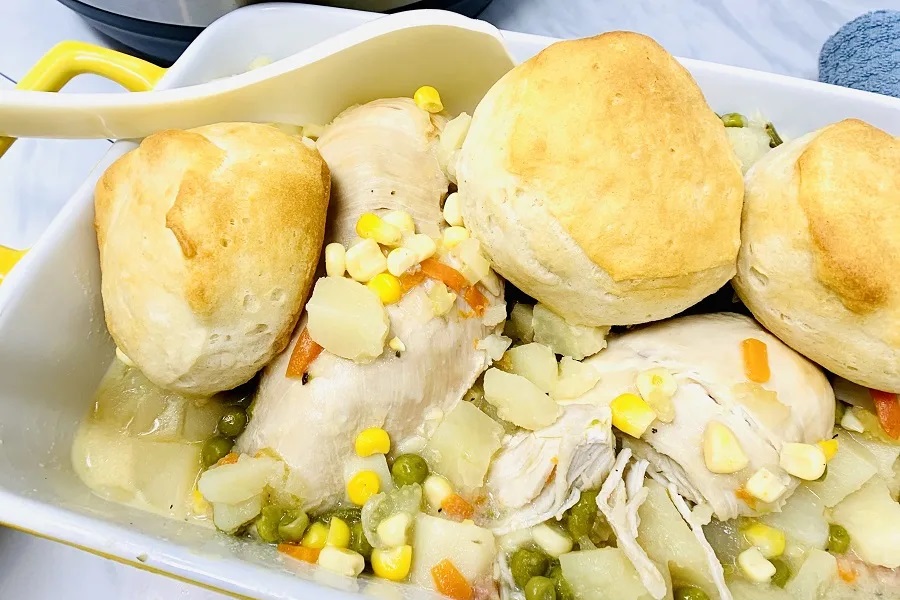 But there is an easier way, a better way, the Instant Pot way. Instant Pots don't need a big kitchen to cook a meal. Instead, these devices can be plugged into a wall and cook a meal quicker than any other method. Students can easily combine this device with a mini fridge to make some great college dorm recipes.
Of course, there is the prepping aspect to deal with, but that's why we turn to dump-and-go recipes. A dump-and-go recipe is a recipe that only requires you to dump ingredients into the pot, turn it on and cook the food.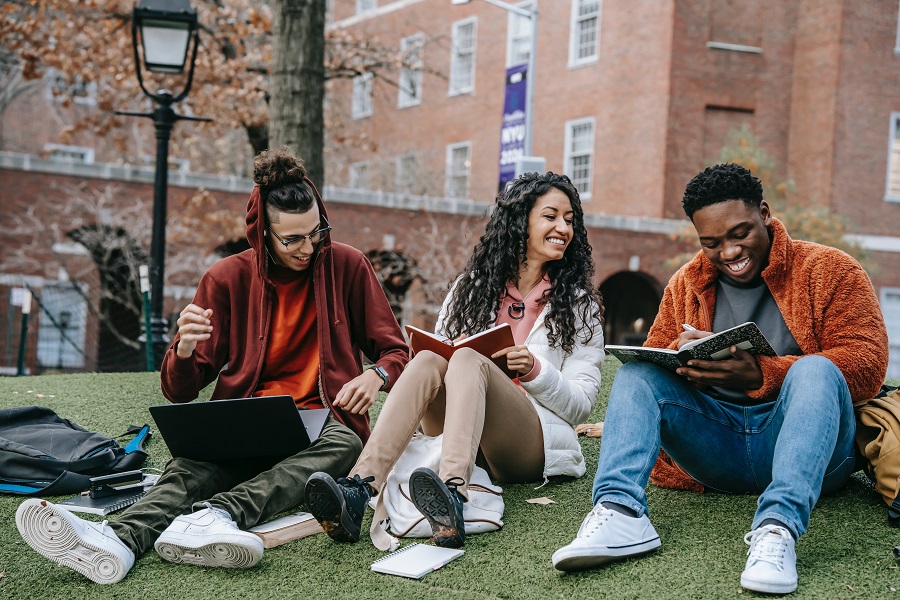 The end result is usually a casserole or an ingredient that you can use in different ways. Take shredded chicken, for example. You can easily make shredded chicken in an Instant Pot in your dorm room and then separate that chicken into different containers in your mini fridge.
Add BBQ sauce to one container for shredded BBQ chicken sandwiches or lettuce wraps. Then, add buffalo sauce to another container for buffalo chicken and celery. The list goes on and on, but the best college dorm Instant Pot recipes will make eating better meals in college a lot easier.
How to Make Instant Pot Shredded Chicken
Instant Pot Chicken Pot Pie Casserole
Healthy Instant Pot Teriyaki Chicken
Instant Pot Cheater Lasagna | 365 Days of Slow Pressure
Creamy Instant Pot Taco Casserole | The Typical Mom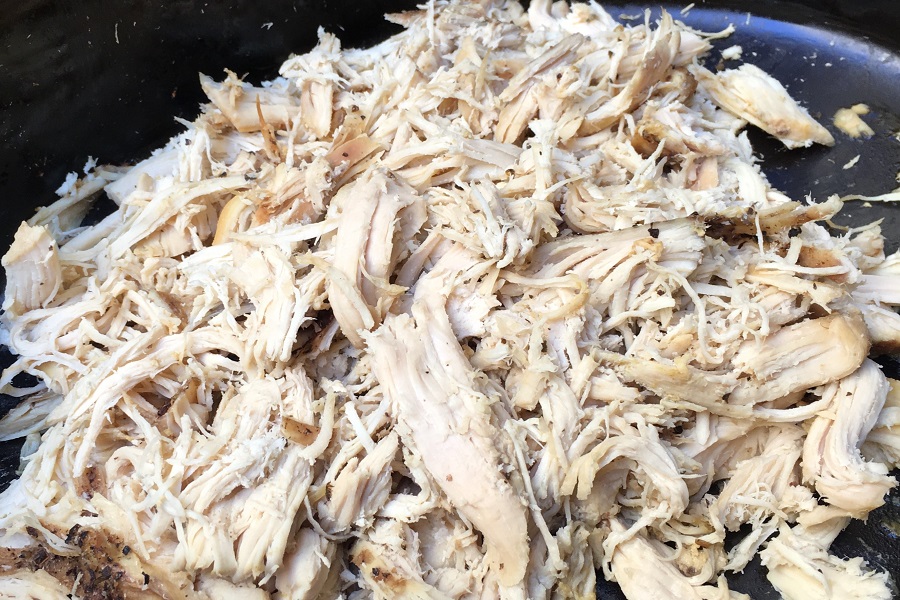 Best College Dorm Instant Pot Recipes
What makes Instant Pot recipes dorm room Instant Pot recipes? The answer is simple, as little work as possible. The goal is to make sure you don't have a lot of dishes you'd need to clean and you have enough space to prep the recipe.
There are some tricks to prep that we can get into later. But for now, we need to focus on the dump-and-go idea. Dump-and-go recipes will ask you to gather the ingredients, put them in the Instant Pot, turn it on, and go.
The Instant Pot will do most of the work. But be sure you have the tools you need. The first thing you will need is an Instant Pot, then a mini fridge, some food storage containers that fit in that fridge, and a can opener. More on that investment later.
Instant Pot Pancake Bites | Recipes from a Pantry
Alfredo Pasta | Cooking with Karli
Shredded Beef Sandwiches | Instant Pot Eats
Sausage Rigatoni with Tomato Cream Sauce | Mom's Dinner
Bruschetta Chicken | This Old Gal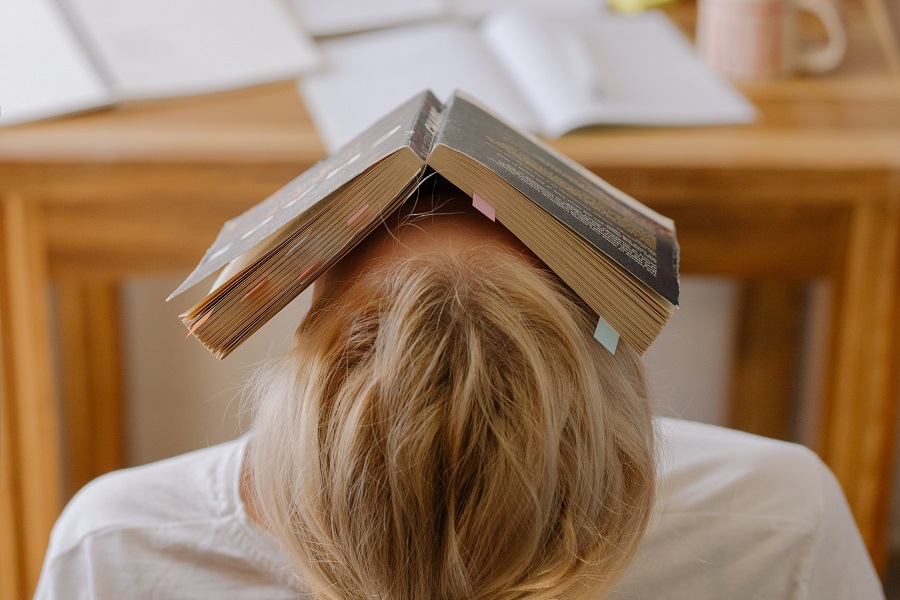 Prepping Ingredients for Dorm Recipes
College dorm Instant Pot recipes will require some creativity at the grocery store. These recipes are mostly dump-and-go recipes. However, some recipes may call for minced garlic (almost every recipe on the planet calls for minced garlic.)
You don't exactly have a knife set, cutting board, or even the space to do that mincing. Don't even get started thinking about how you will clean up afterward. The trick is to find pre-minced, cut, sliced, diced ingredients.
You can easily find jars of minced garlic ready to go that can fit in a mini fridge. The same goes for diced, sliced, and cut ingredients ready to go. Just be sure to invest in that mini fridge and a can opener.
Hawaiian BBQ Chicken Tacos | Six Sisters' Stuff
Creamy Feta and Tomato Pasta | Lynn's Way of Life
Crack Chicken | Pressure Cooking Today
Dr. Pepper Pulled Pork | Adventures of a Nurse
Barbacoa | Noshtastic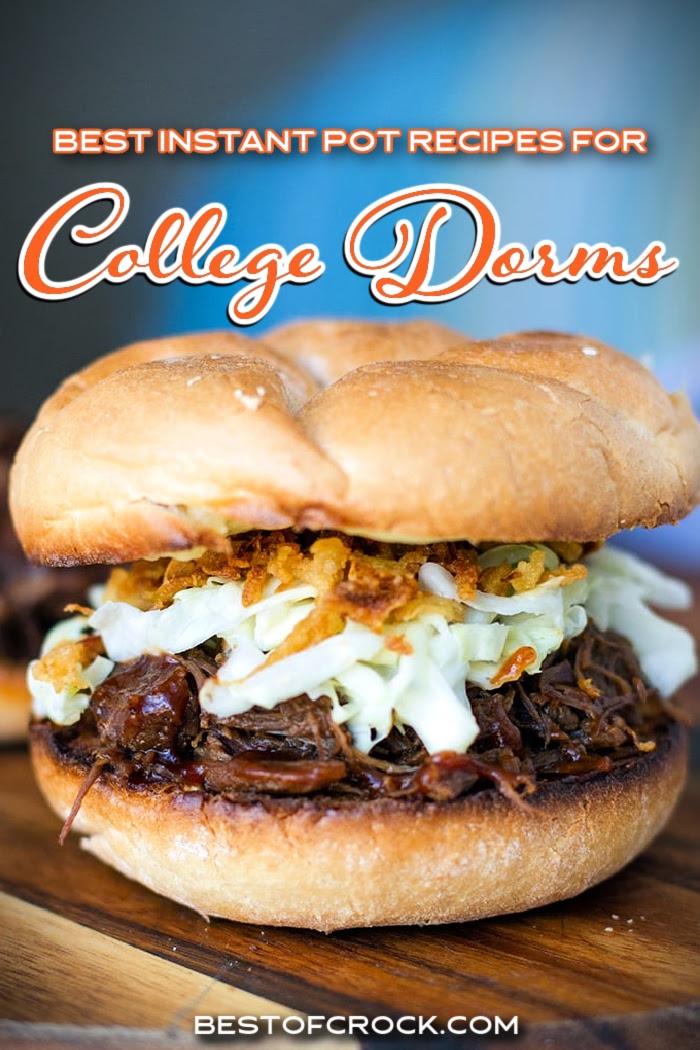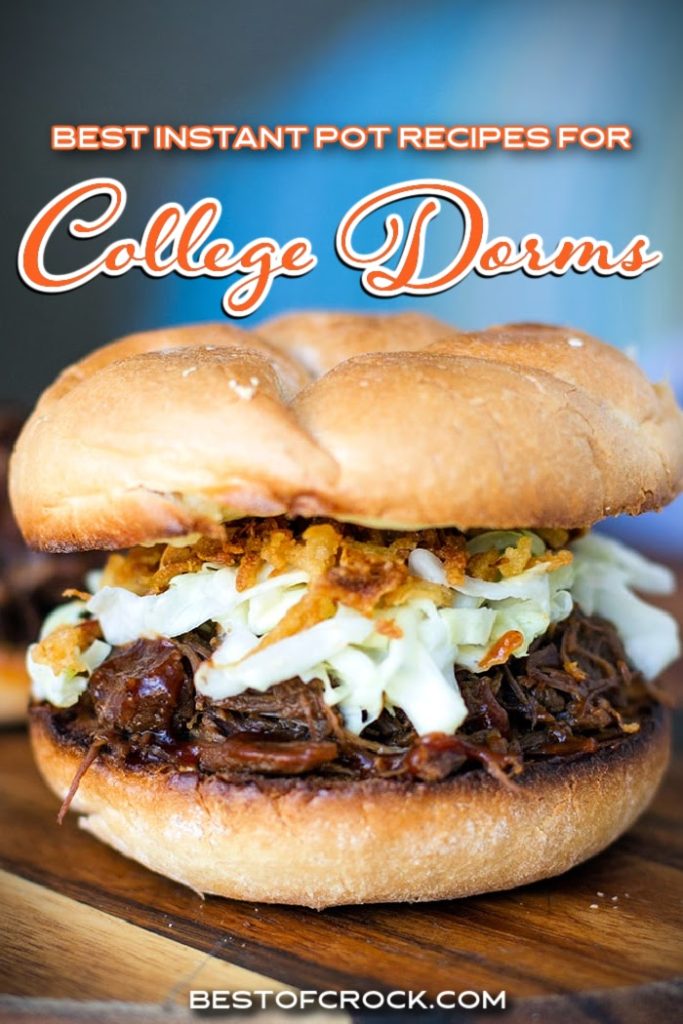 More Instant Pot Recipes
Instant Pot Copycat Recipes from Your Favorite Restaurants | Sometimes you crave that one dish from that one place but don't feel like going through that process.
Instant Pot Shrimp Recipes for Summer | Shrimp might not be the best thing to cook in a dorm. But you never know what opportunities may arise.
Chicken and Gravy Recipes | Chicken and gravy is delicious. But things could get messy in a small space. Tread carefully down this delicious road.
Instant Pot Rice Recipes from Around the World | Pretty much every culture has at least one rice dish. Which is your favorite?
Instant Pot Mac and Cheese Recipes | Macaroni and cheese. There's really nothing more that needs to be said.