How to Make Instant Pot Chicken Noodle Soup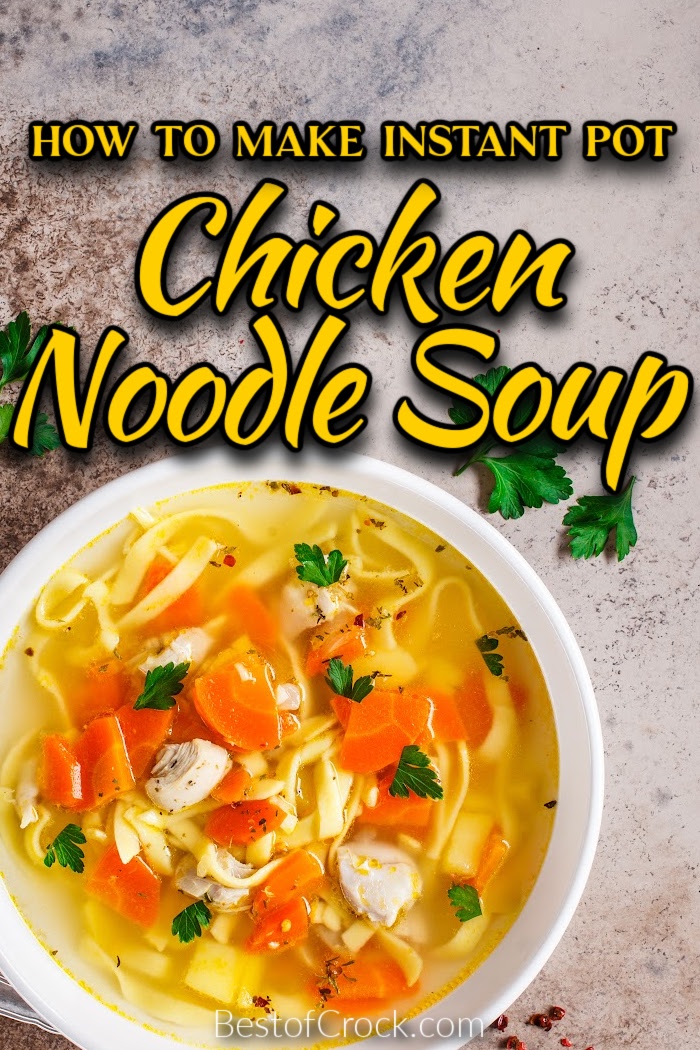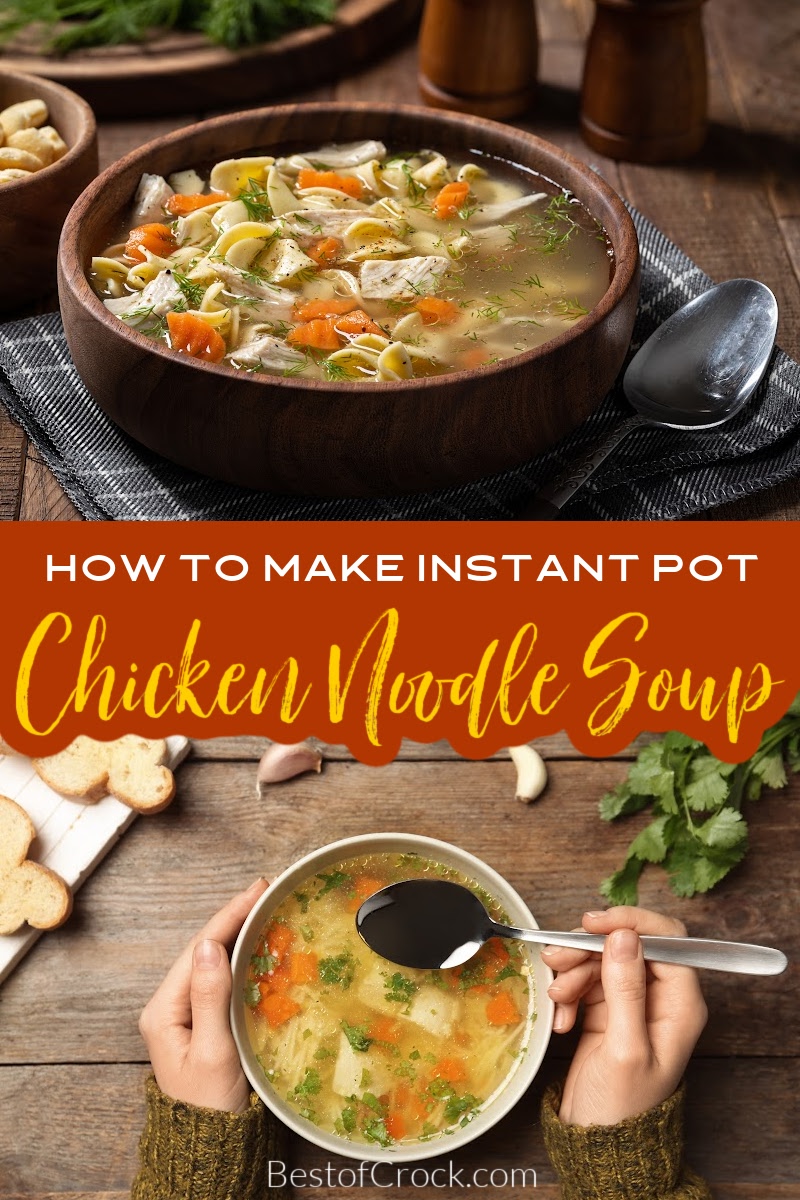 We all have had chicken noodle soup from a can, and some of us like it, and some of us don't. But why aren't we making chicken noodle soup using raw ingredients instead? The Instant Pot can make things easier, and learning how to make Instant Pot chicken noodle soup is easy, too.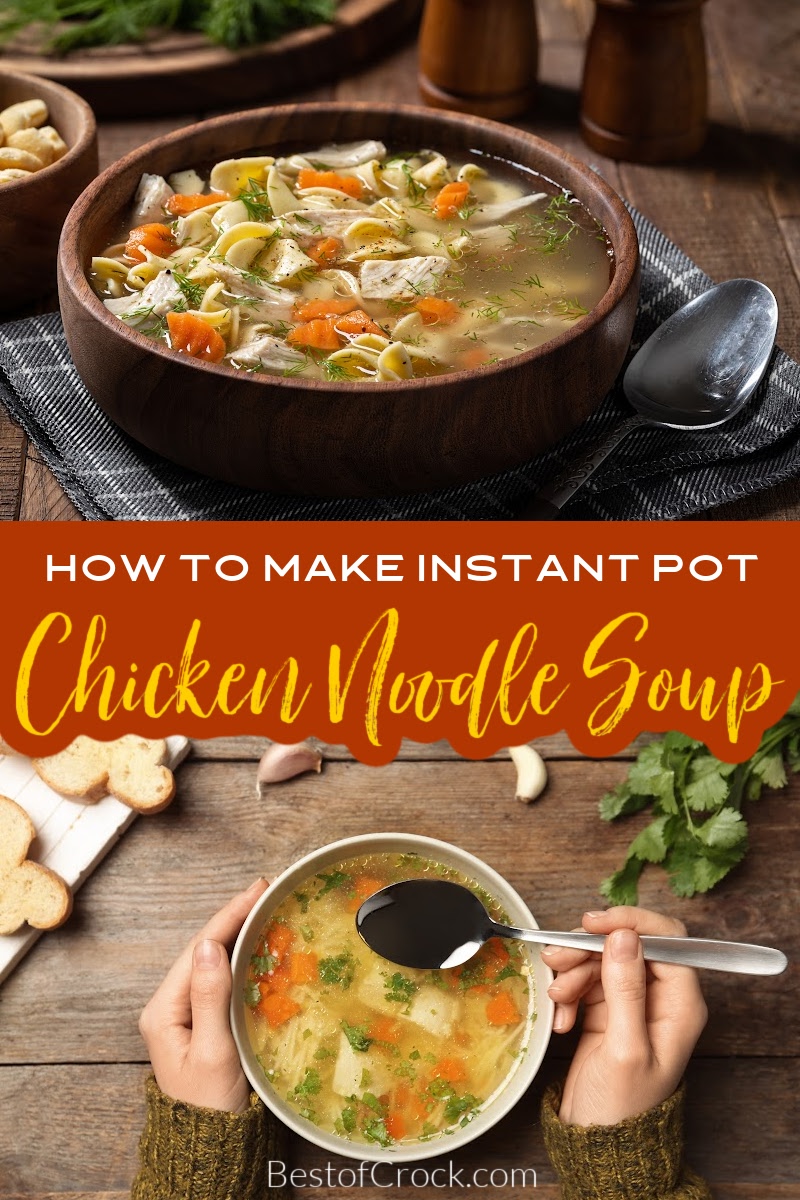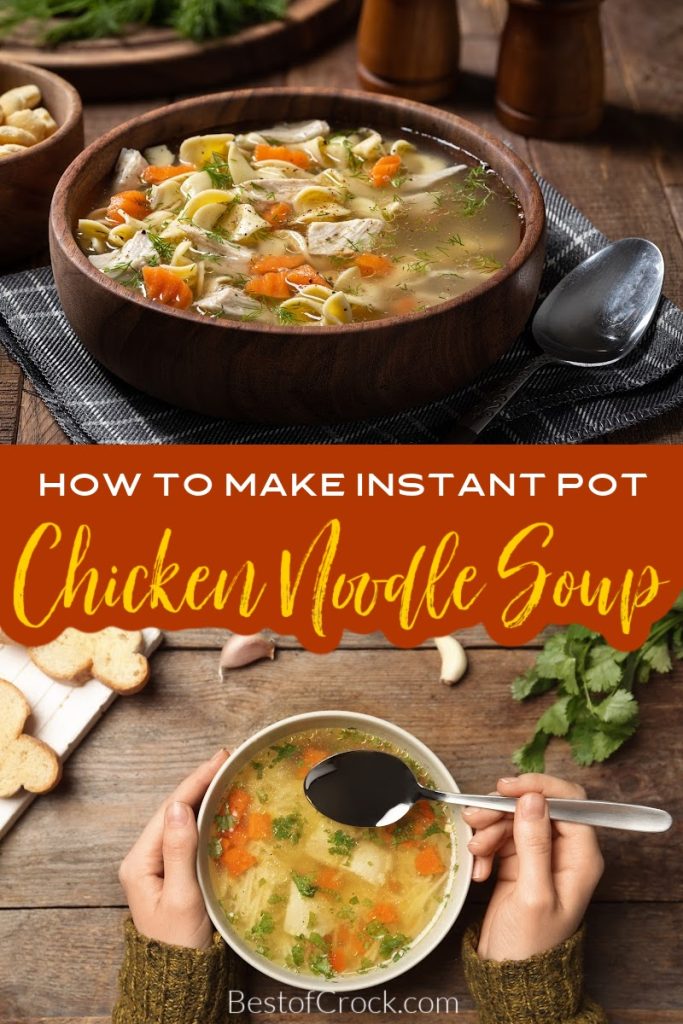 We can easily learn how to make Instant Pot chicken noodle soup so we can ditch the can and enjoy homemade soup recipes more often. Why would you make chicken noodle soup from scratch when you can open a can in far less time? One benefit of homemade chicken noodle soup recipes is freshness.
The ingredients will be far fresher, and you get to experience what soup tastes like when it is fresh from the pot. There really isn't anything wrong with canned soup. But it is not the freshest, no matter how quickly they canned it at the plant. This is the sacrifice we make in exchange for quicker cooking times.
Another benefit to homemade chicken soup recipes is that you get all of the nutrients from the ingredients. Canned chicken noodle soup goes through two cooking stages, if not more. The manufacturer will cook the ingredients, combine them, and toss them in a can before sealing them.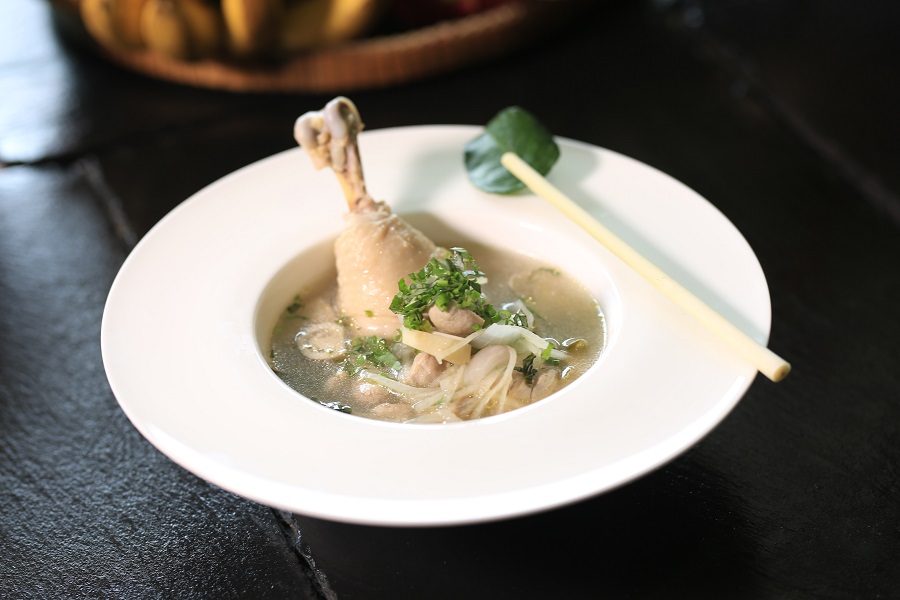 You then open the can and cook the soup again, which diminishes the nutrients in the ingredients. Again, nothing wrong with that, as it is the norm. But we don't have to miss out on those nutrients when we make soup at home with raw ingredients.
We will get a far healthier bowl of soup and the bragging rights that we made the soup ourselves. The last benefit is how simple it is to do. You can easily learn how to make Instant Pot chicken noodle soup. In fact, it's so simple that you might end up making it more often.
You may even start making your own and canning it. Just remember, cooking twice will diminish nutrients. But still, giving homemade cans of chicken noodle soup to family and friends adds those bragging rights.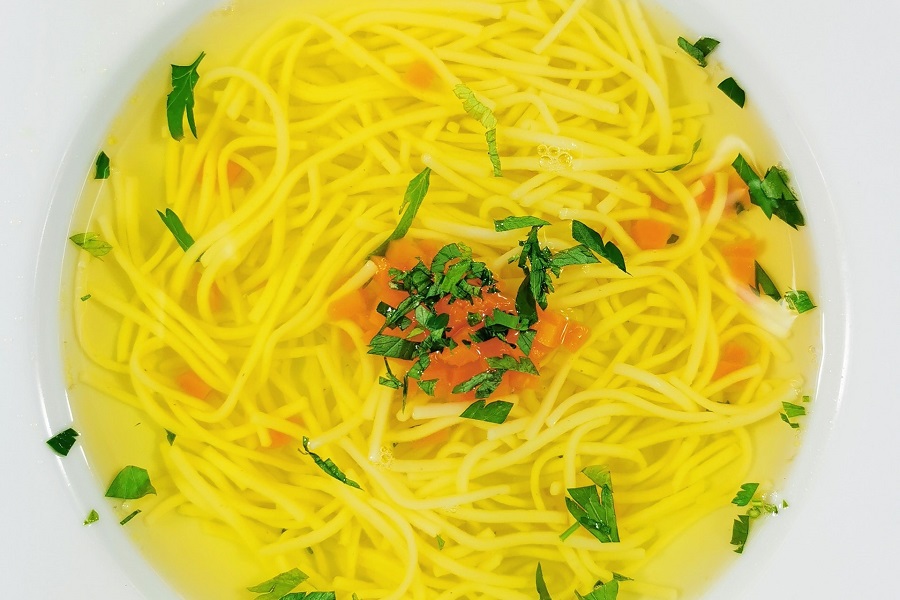 How to Make Instant Pot Chicken Noodle Soup | The Broth
The first thing we need to learn how to make is broth. The broth is where the majority of the flavor will come from. But we already know how easy it is to make chicken broth. You can use leftover chicken to make this broth, just be sure the chicken isn't covered in BBQ sauce.
You can even use the chicken you plan to use in the soup as the ingredient in the chicken broth. Another important reminder is the difference between broth and stock. The broth is made using entire pieces of chicken.
Meaning you will want to use raw chicken for the broth and leave the meat on the bone. Stock is when you just use chicken bones. We want to make a broth because this is a soup that will require a more robust flavor in the broth.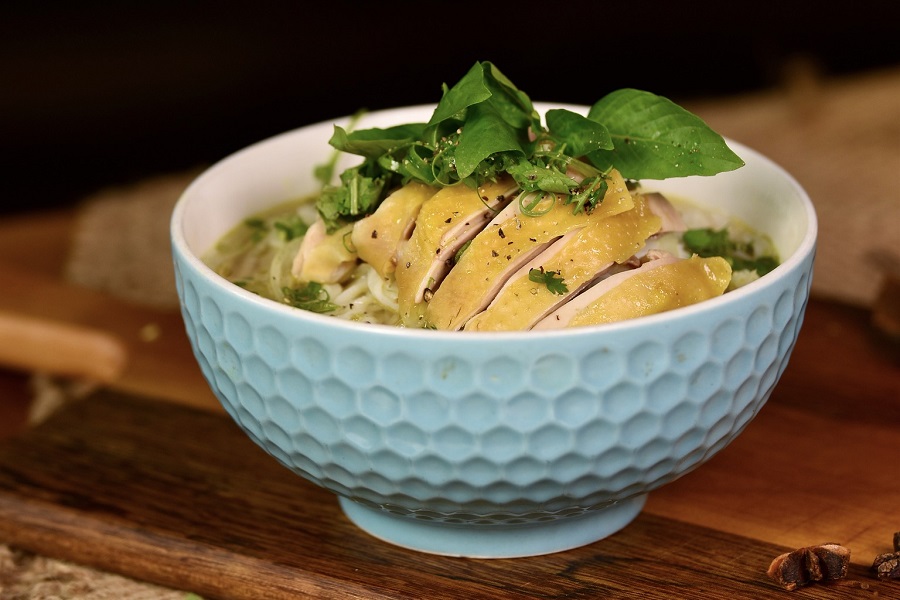 Chicken for Broth
We now know that the most important part is the broth, but that means you will need some chicken. You can use leftover chicken, which has been done before. But learning how to make Instant Pot chicken noodle soup means starting from scratch.
You will want to use 2 pounds of chicken with bones. This will ensure that the broth gets nutrients from both the chicken meat and the chicken bones. But you will want to make sure that you have at least one boneless chicken breast in the mix as well.
That chicken breast is the chicken that will be shredded later for the soup. You can use the chicken off the drumsticks or thighs that you use with bones. But that is just making things more challenging. Those would be better used in a chicken salad or dipped in a sauce later.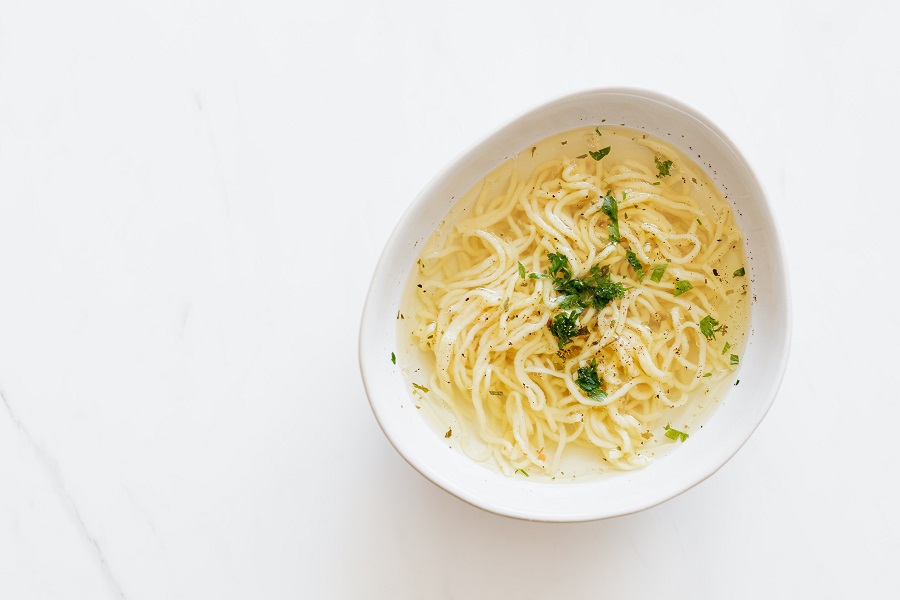 Noodles
We are actually almost done! So far, it has been easy. We have made a chicken broth using chicken that will be shredded for the chicken in the soup. That's two ingredients done in one move. But let's dive into the more challenging aspect of the soup; the noodles.
There are a couple of ways we can make the noodles themselves. You can use any shape of noodles you want; however, egg noodles will be the best option. The first option is the easiest and will increase your chances of getting soup noodles you can enjoy.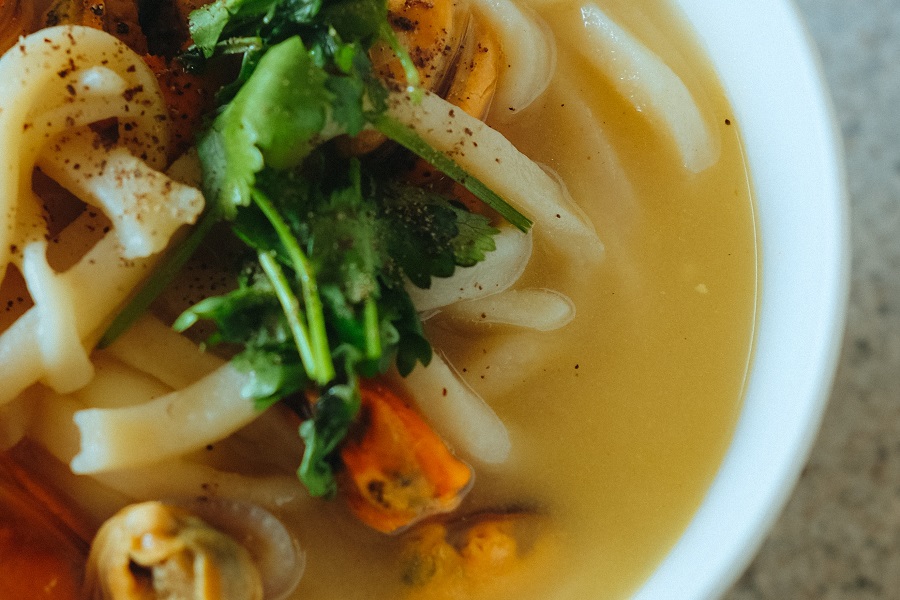 Cook the egg noodles separately in a pot while the broth and chicken and being worked on in the Instant Pot. You can then combine the shredded chicken, broth, and noodles afterward. But there is another way that is cleaner, more flavorful, and a bit more challenging.
You have the seasonings and broth simmering while you let the chicken cool on a plate before shredding. This is the perfect time to allow the noodles to cook right in the broth. This will give the noodles so much more depth of flavor, but you will need to time it right.
The most important thing is that you turn off the Instant Pot when the noodles are al dente. They will continue to cook for a bit after, so you get that perfect bite of chicken noodle soup. That's it; you've learned how to make Instant Pot chicken noodle soup!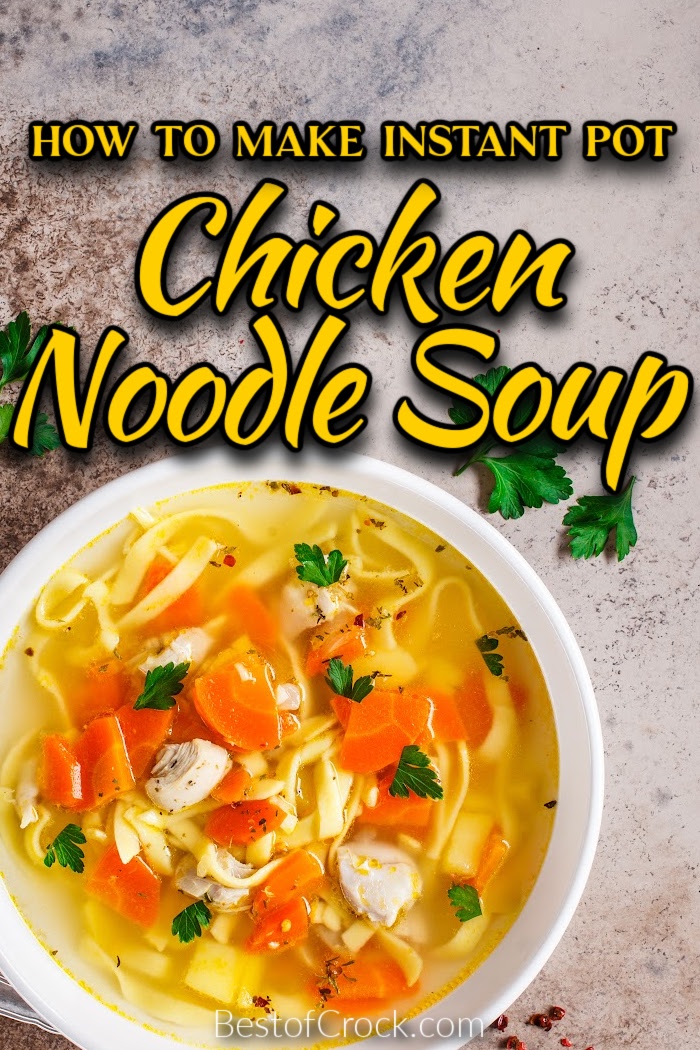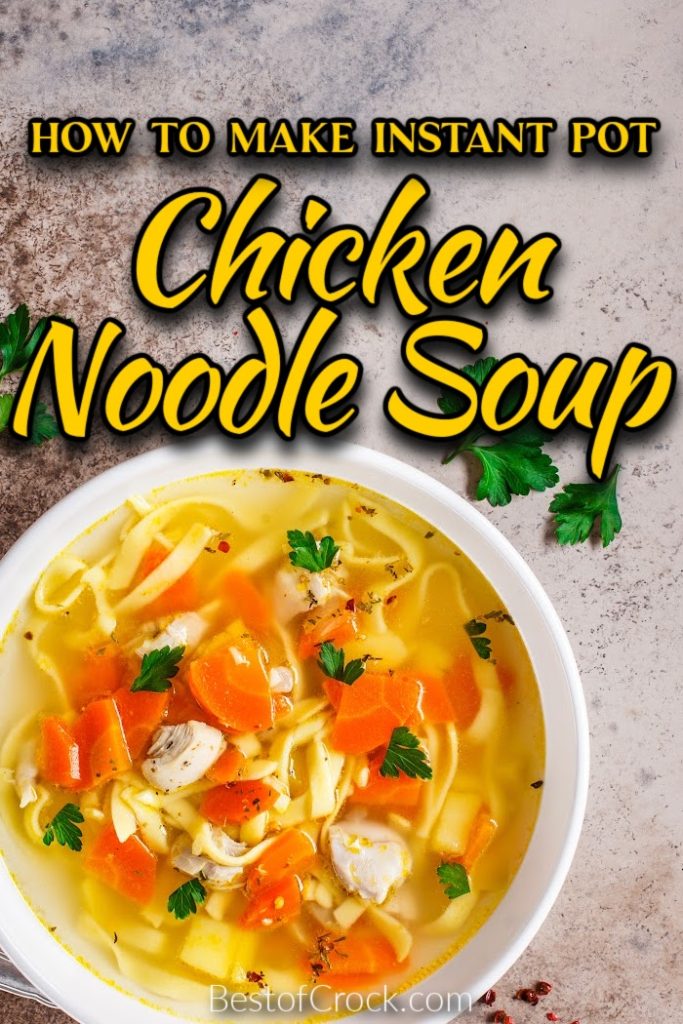 More Instant Pot Recipes
Healthy Instant Pot Sausage and Kale Soup Recipe | Chicken noodle soup is just the beginning. It is time to branch out and make some more unique soup recipes.
Instant Pot Teriyaki Chicken | Teriyaki chicken is another delicious dish you can make using your Instant Pot.
No Sugar Instant Pot Cinnamon Apples | You don't have to stick to soups and main courses with your Instant Pot. You can easily make some desserts in a hurry as well.
Low Carb Instant Pot Pork Chops Recipe | Pork chops will be a nice change of pace after enjoying chicken noodle soup made from scratch.
Instant Pot Goulash Recipe with Beef | Goulash is another pasta dish that is filled with flavor and can be made with ease.