Healthy Crockpot Meals on a Budget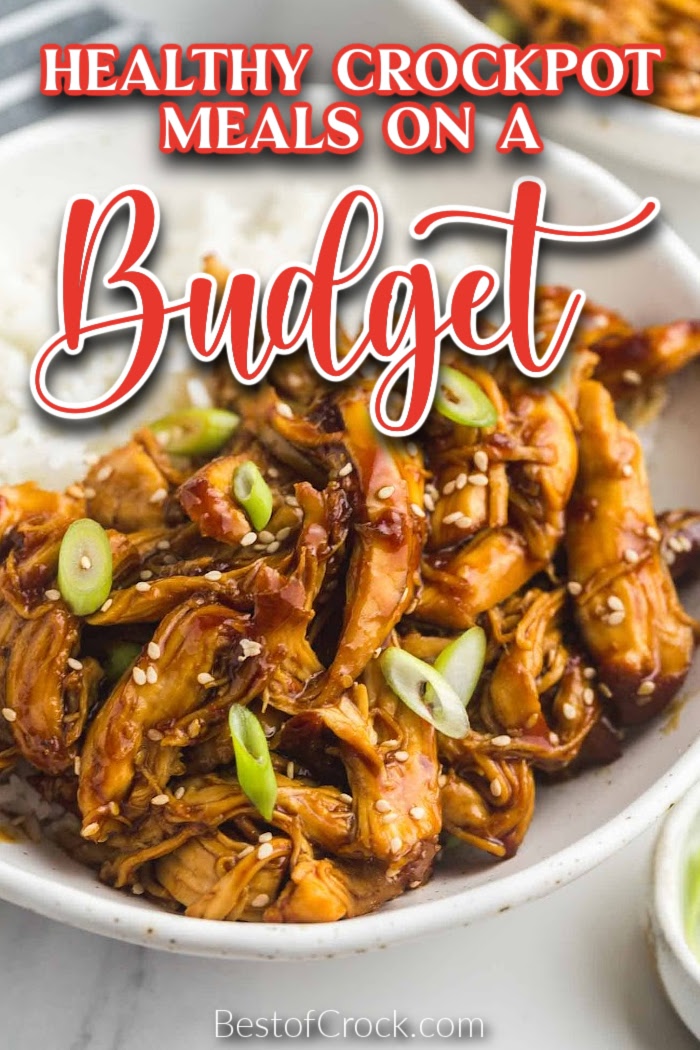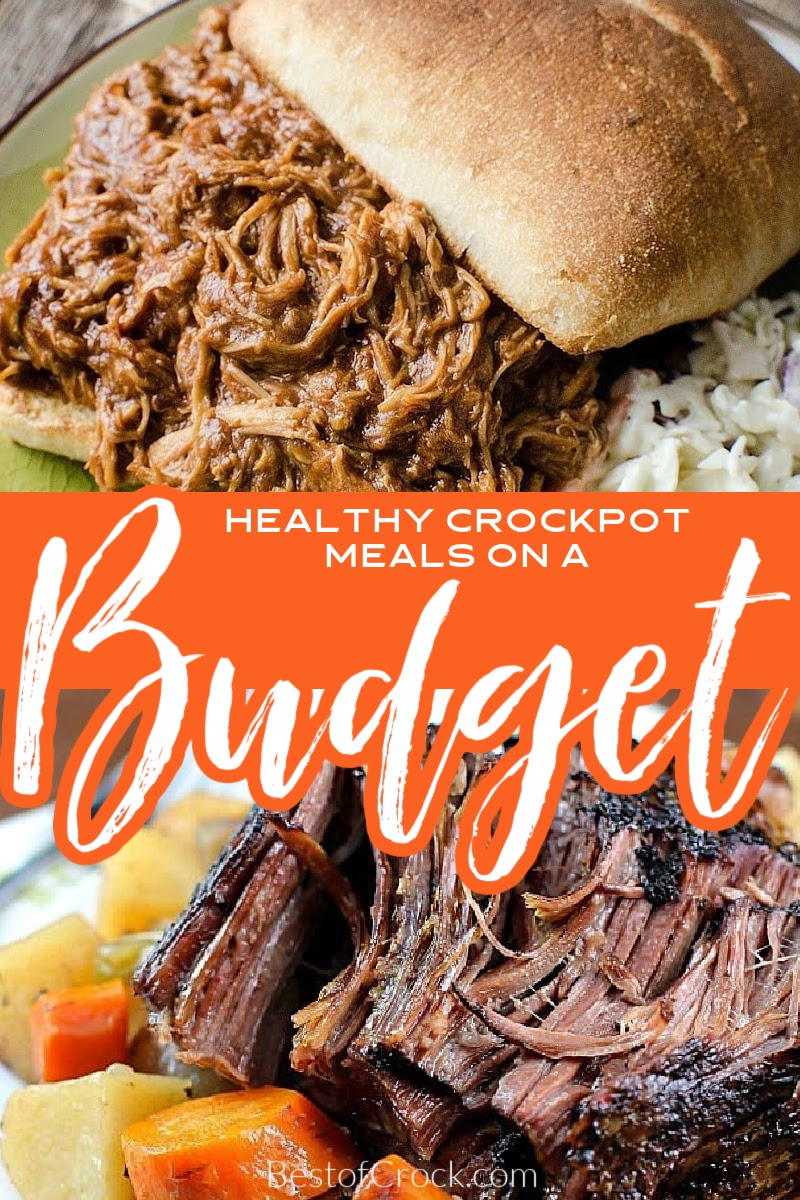 Eating healthy is on the top of everyone's to-do list. Unfortunately, we run out of time or funds to make it happen. We end up grabbing a value meal on the way home from work instead. But there is another option; you just need healthy crockpot meals on a budget.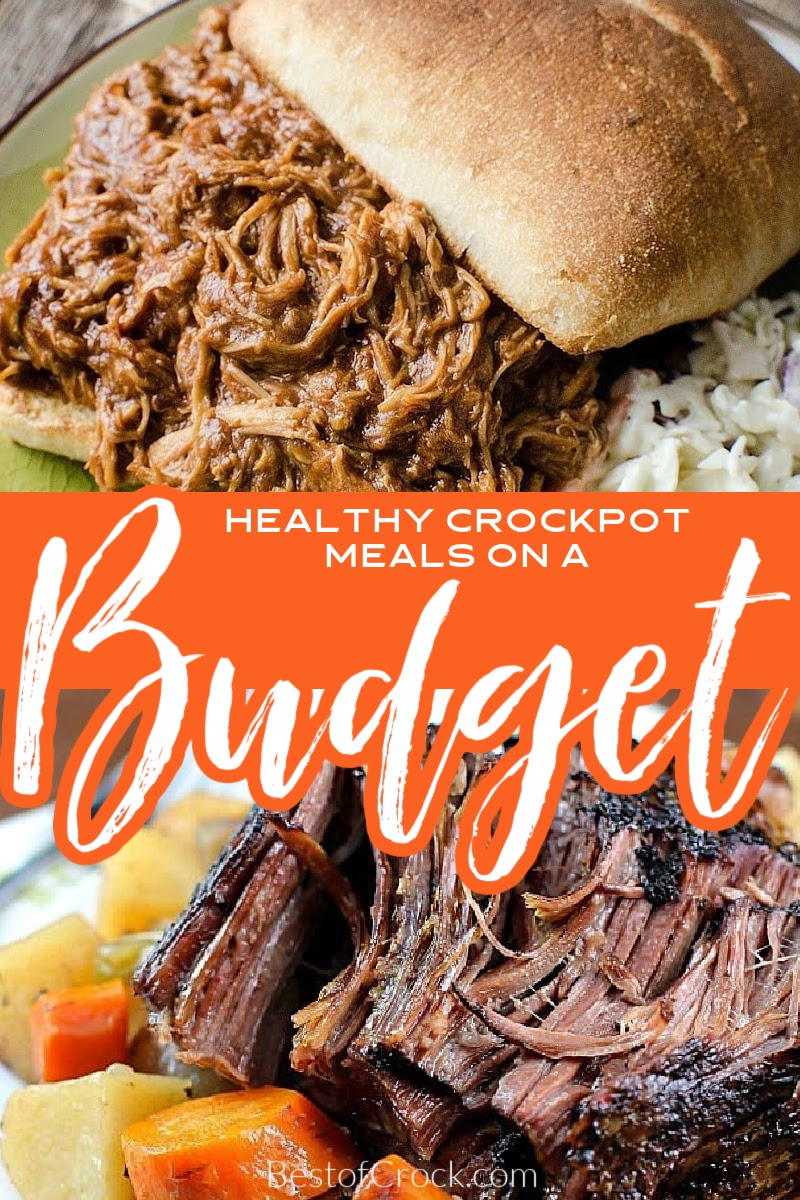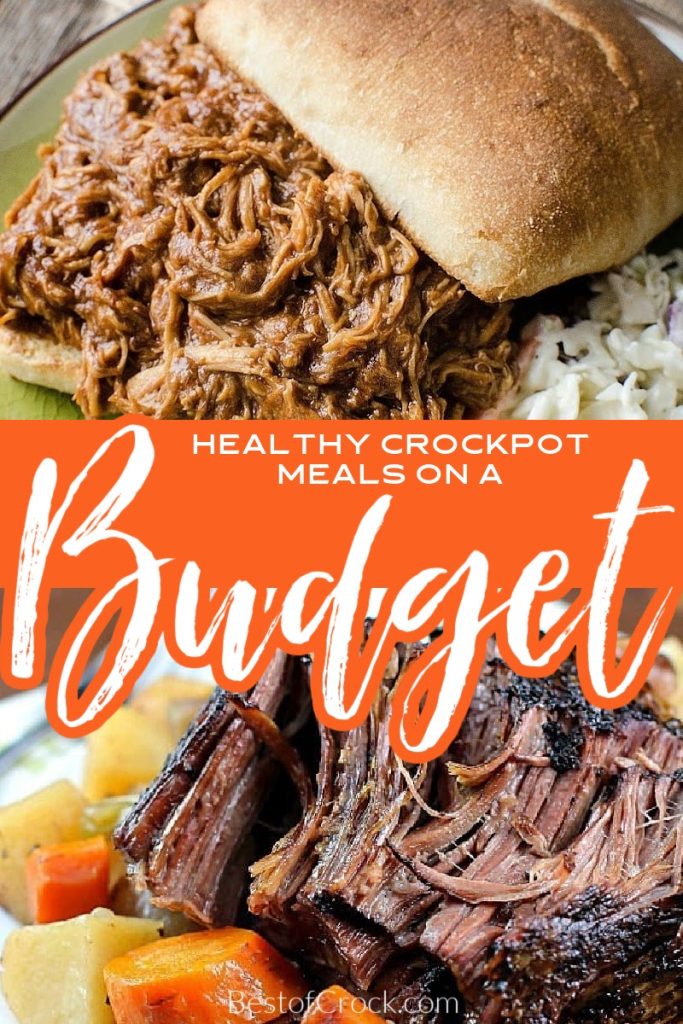 The best healthy crockpot meals on a budget can help you save time and money on a more healthy nutrition plan for you and your family. There are many excuses we can rely on when we find ourselves ordering food through a speaker in a drive-thru lane.
We can tell ourselves that we are saving money. Eating healthy isn't always affordable, but that's just because we aren't in the right mindset. We can easily find discounted or more inexpensive ingredients online or even locally.
Farmer's markets are a great example, but so is Amazon or Target or Walmart, or any discount grocery store and find ingredients that will work. Another excuse would be time. Cooking a healthy meal 7 nights a week or even multiple times a day, 7 days a week, is just inconceivable for most of us.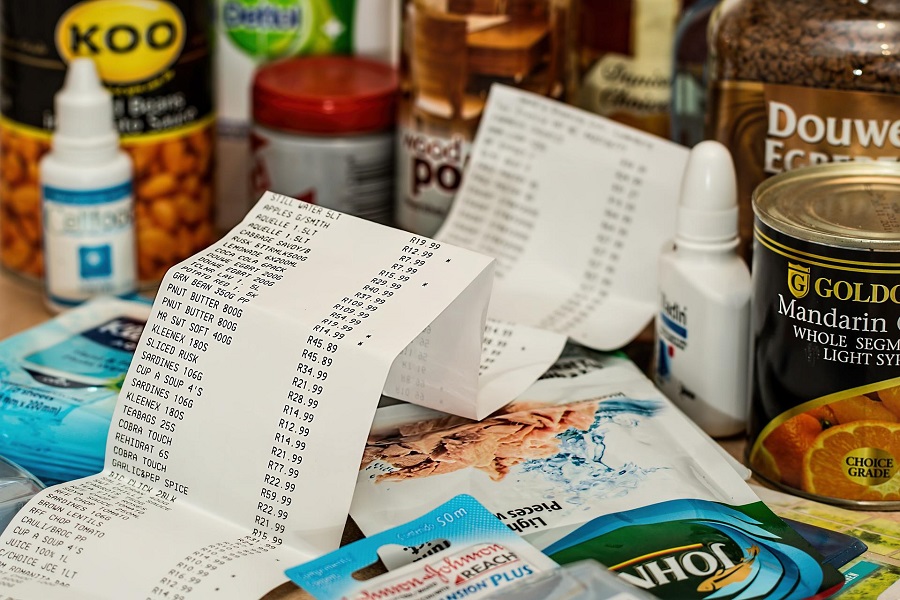 We have to work, we have to live a little, and we have to take care of our mental health. But all of that leaves very little time to spend in the kitchen, let alone three times a day. What would that even look like? There are other excuses as well, but they are basically offshoots of the two most common excuses; time and money.
Luckily, some things can help us get through the week, eating nothing but healthy meals. In fact, these things will help keep it sustainable. First, we need a crockpot; crockpots do all of the cooking for us—no need to stand in the kitchen for multiple hours a day cooking.
Then we need budget recipes that can fit any budget. Together, healthy crockpot meals on a budget can get and keep us eating healthy more often.
Budget Friendly Beef Stroganoff | $21
Budget Friendly Slow Cooker Macaroni and Cheese
Pulled Chicken | Dancing Through the Rain
Shredded Beef Tacos | Kid's Activities
Teriyaki Chicken | Little Sunner Kitchen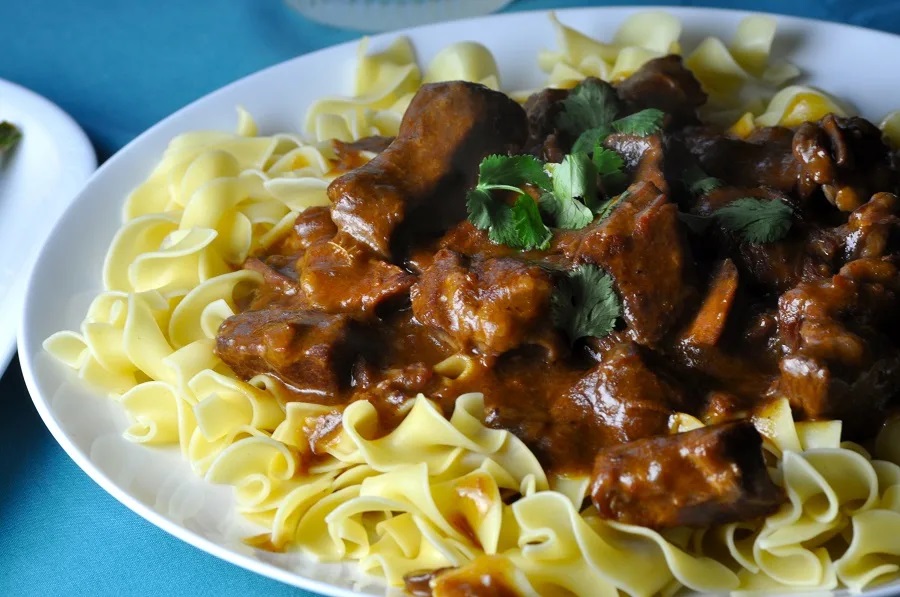 Healthy Crockpot Meals on a Budget
Meals on a budget are not unhealthy or less than any other recipe. These meals are just as delicious as the ones you'd pay big bucks for at a restaurant. They may not be as pretty, and they may not take as much skill to make.
However, they are tasty, they are healthy, and they are time-saving recipes. There is nothing more we can ask for from the recipes we use throughout the weeks.
Mississippi Chicken | Moore or Less Cooking
Pulled Pork | The Clean Eating Couple
Pot Roast with Veggies | Yummy Healthy Easy
Spaghetti Sauce | Dash of Herbs
Asian Shredded Pork | Joyous Apron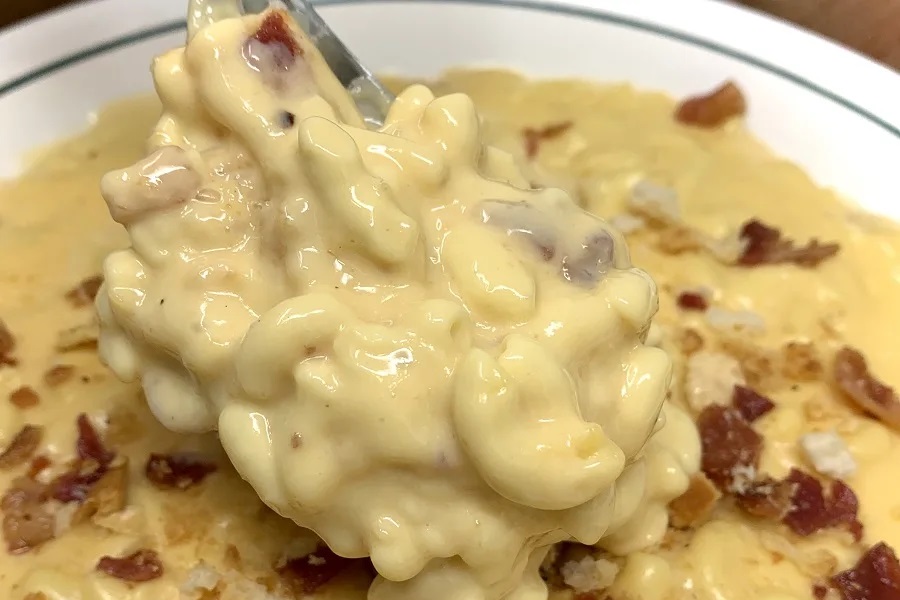 Meal Prepping
Another great tool we have for tackling healthy crockpot meals on a budget is meal prepping. The most inconvenient thing about cooking food is the schedule. We cook breakfast in the morning, cook lunch right in the middle of our day, and then it's time to cook dinner.
We all just want to relax at the end of the day, not think about cooking and cleaning before finally getting to relax. Meal prep allows you to cook on your schedule rather than fit into a cooking schedule. You cook multiple meals in one day and then store them in the fridge or freezer to warm up throughout the week.
Pineapple Salsa Chicken | Dash of Jazz
Honey Garlic Chicken and Veggies | Damn Delicious
Mexican Slow Cooker Chicken | Peace, Love, and Low Carb
Ham and Cheese Potatoes | Teaspoon of Goodness
Chicken Parmesan | Low Carb Inspirations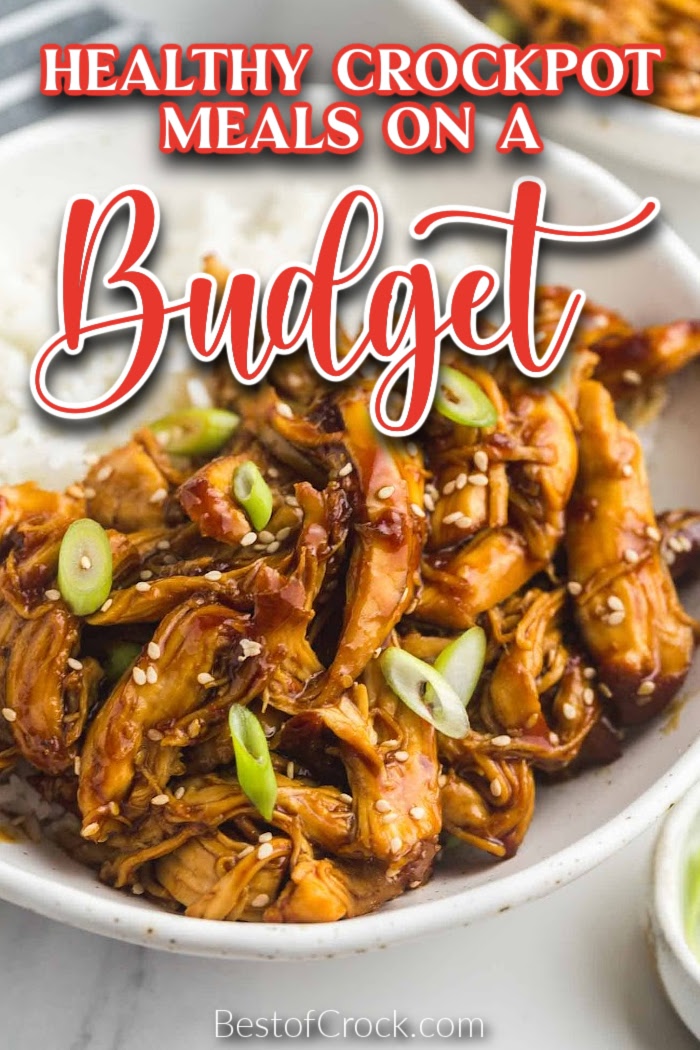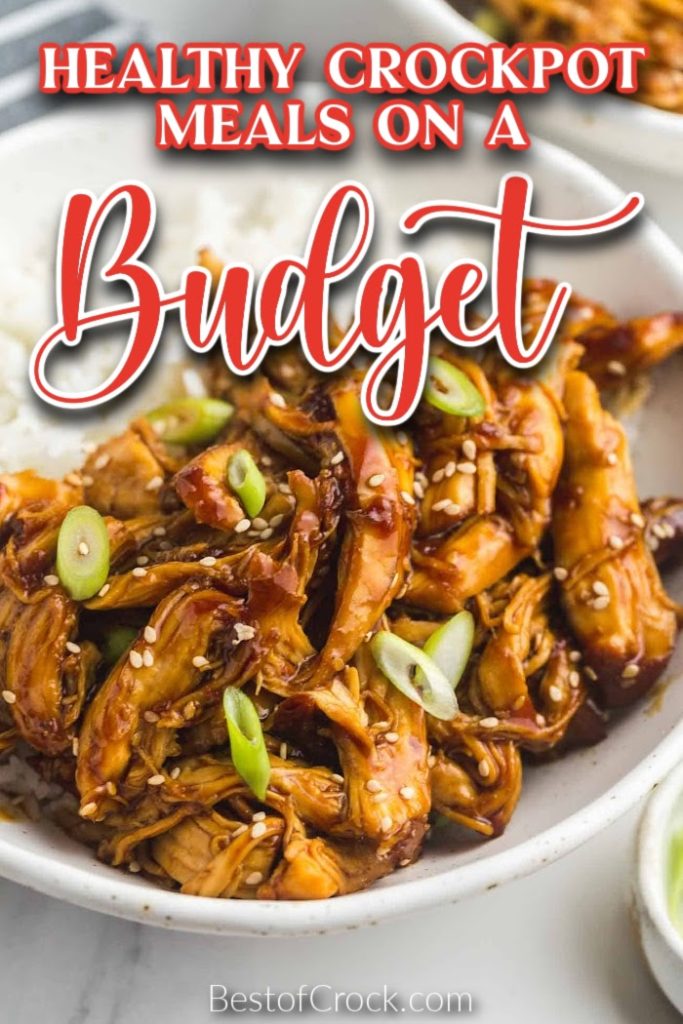 More Crockpot Recipes
Crockpot Turkey Chili Without Beans | The best chilis are the ones you cook slow, or at least from scratch.
How to Make Crockpot BBQ Ribs | Making ribs is not as difficult as you may think with a crockpot and is a great splurge meal.
Healthy Crockpot Breakfast Casserole Recipe | Breakfast casseroles can have you waking up to a healthy meal that is ready to eat.
Crockpot Pulled Pork Tacos Recipe | Pulled pork can be used in many different ways; in tacos is a great way to save some money.
Crockpot Sloppy Joes Recipe | Sloppy Joes get a lot of flack for what e remember them as from childhood. But it is time to revisit this recipe in a new era.