Easy Crockpot Easter Recipes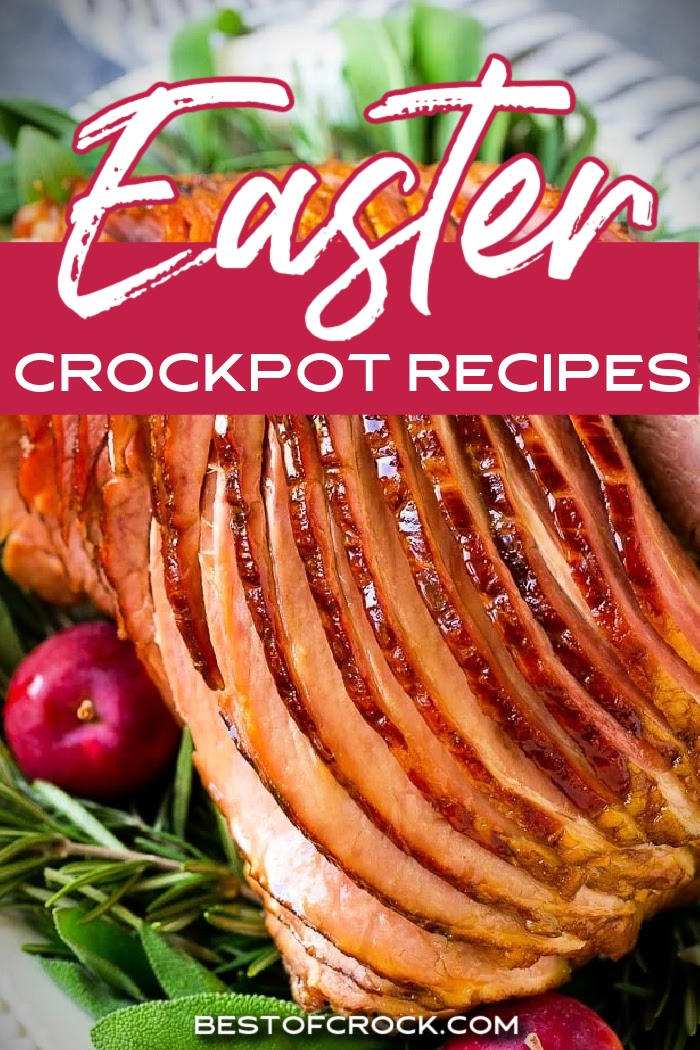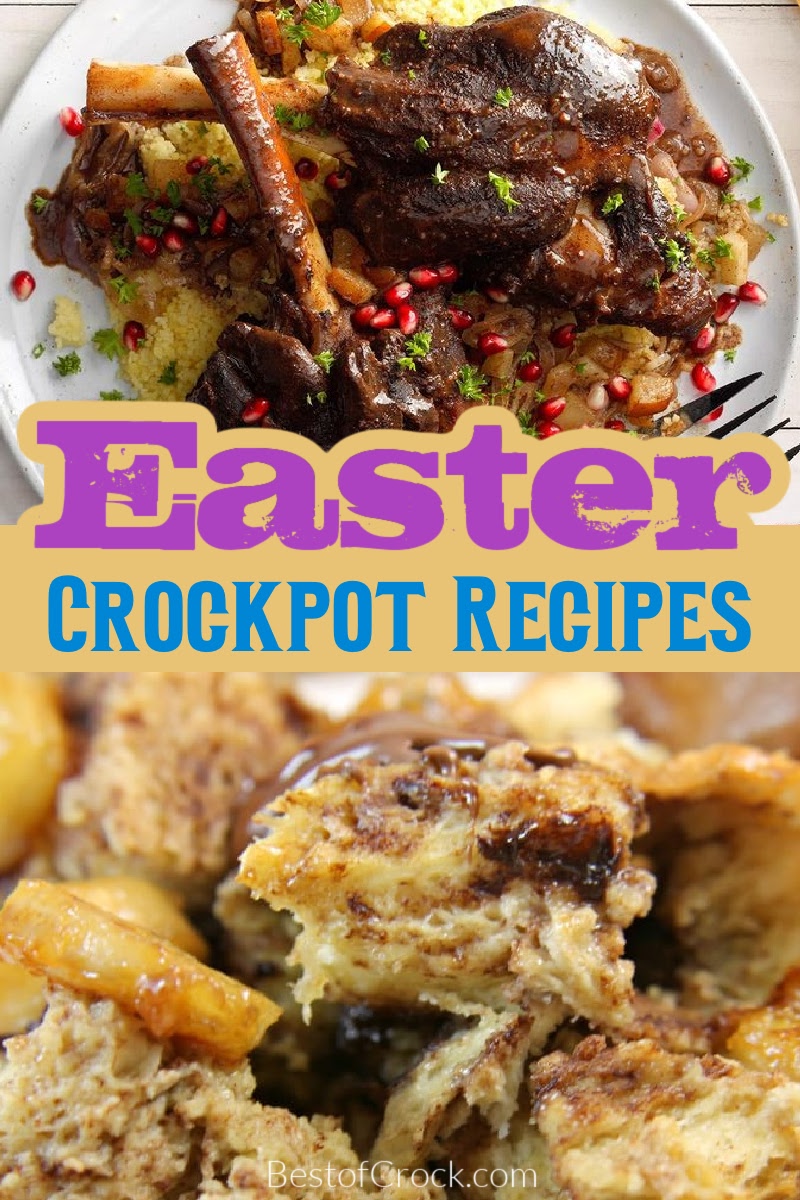 Crockpots might just be the perfect kitchen appliance. You can use crockpots to make some fantastic recipes any time of the week. But you can also break yours out to help with special occasions. Crockpot Easter recipes show us how to use a crockpot for a holiday.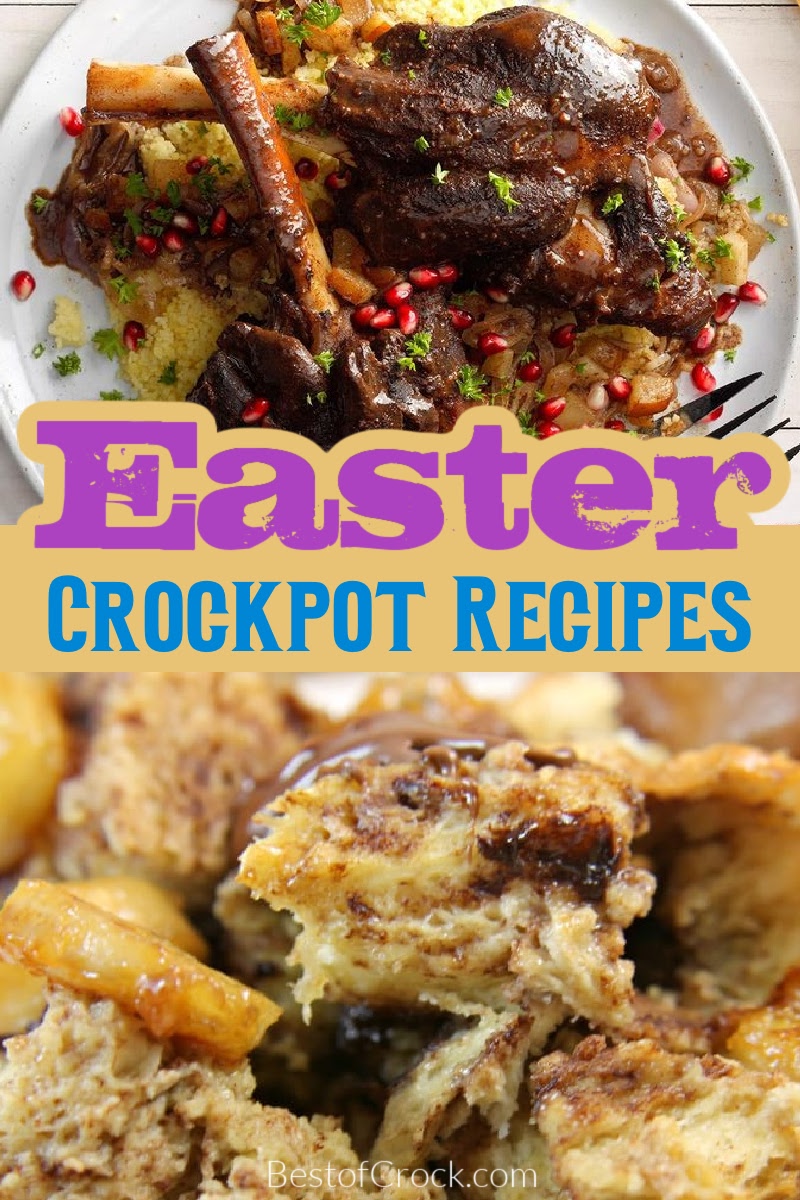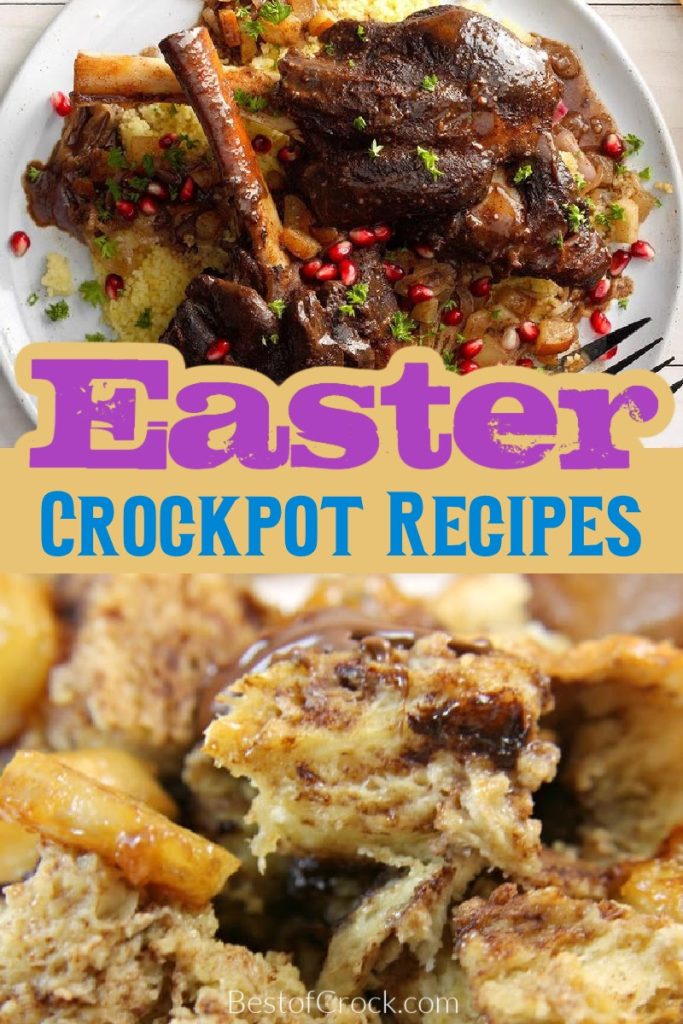 The best crockpot Easter recipes can help you pull off an amazing Easter breakfast, lunch, or dinner without running around the kitchen. Every holiday has its meal; Thanksgiving is obvious, Christmas is dinner, Halloween is snack time, and New Year's Day is breakfast.
But Easter is a bit different than the rest of the holidays. You can have any meal of the day and make it fit for Easter. You can use Easter breakfast recipes to start your holiday on a tasty beat. There are also Easter lunch recipes you can use to take a break from egg hunting.
Lastly, Easter dinner recipes are filled with flavor and usually consist of either ham or lamb as the main dish. But doing all of that cooking can be a pain, especially if the family is visiting. You would have to buy the ingredients for each meal and then prep them all and cook.
But there is an easier way, a more hands-off approach you can take; you just need a crockpot. Crockpot Easter recipes can help you cover every single meal of the day or one big one. The crockpot will save you time, energy, and sanity.
However, you don't have to stop at the basics; Easter recipes cover everything, breakfast, lunch, dinner, and snacks. You simply can't avoid planning meals for holidays, no matter what holiday you're planning. But you can make things easier, and that's what these recipes will help you achieve.
Crockpot Monkey Bread Recipes with Canned Cinnamon Rolls | Best of Crock
Slow Cooker Beef Roast with Potatoes and Carrots | Best of Crock
Budget Friendly Slow Cooker Macaroni and Cheese | Best of Crock
Ultimate Crockpot Ham | Dinner at the Zoo
Honey Cinnamon Carrots | Five Heart Home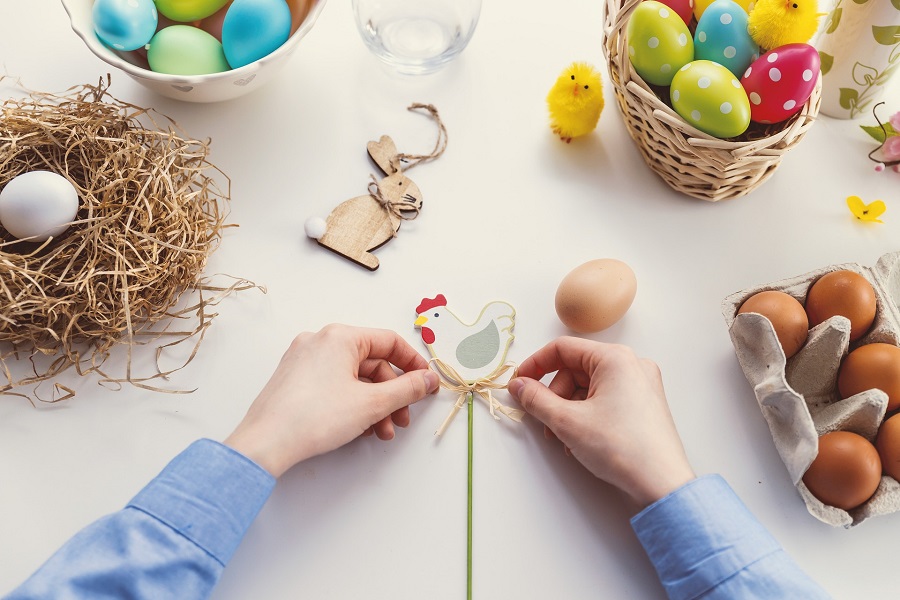 Crockpot Easter Recipes
Cooking for Easter is pretty simple but can get crazy depending on how many people you're feeding. Crockpots take a lot of the work out of the equation. Most of these Easter recipes are set-it-and-forget-it recipes.
These recipes require you to prep the ingredients, toss them in the crockpot, turn it on and let it work for you. You can come back to the crockpot after a few hours to food ready to serve. Does it get any better than that?
Pear and Pomegranate Lamb Tagine | Taste of Home
Cheesy Potatoes | Tornadough Alli
Cheesy Cauliflower | The Frugal Girls
Crockpot Candy | The Slow Roasted Italian
Brown Sugar Ham | Go Go Go Gourmet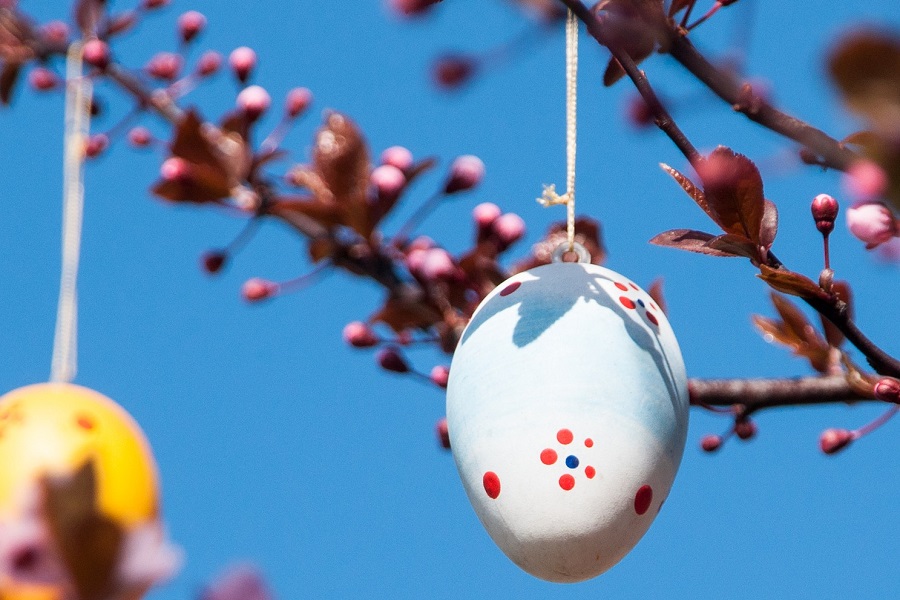 Easter Recipe Tips
Crockpot Easter recipes will help make hosting an Easter event easier. However, some planning still needs to go into the holiday food. For example, you should definitely make as much ahead of time as possible.
You will want to start with snacks since those often can be easily reheated or served cold. You will also want to use the crockpot as a supplemental tool, not the main star. Crockpots cook low and slow after all, which means one of your crockpots may be taken up all day, so plan accordingly.
Easter Brunch Cinnamon Rolls | Fun Happy Home
Slow Cooker Black Bread | Kleinworth Co
Nutella French Toast | I Can Cook That
Balsamic Root Veggies | My Recipes
Lemon Bar Cake | Southern Living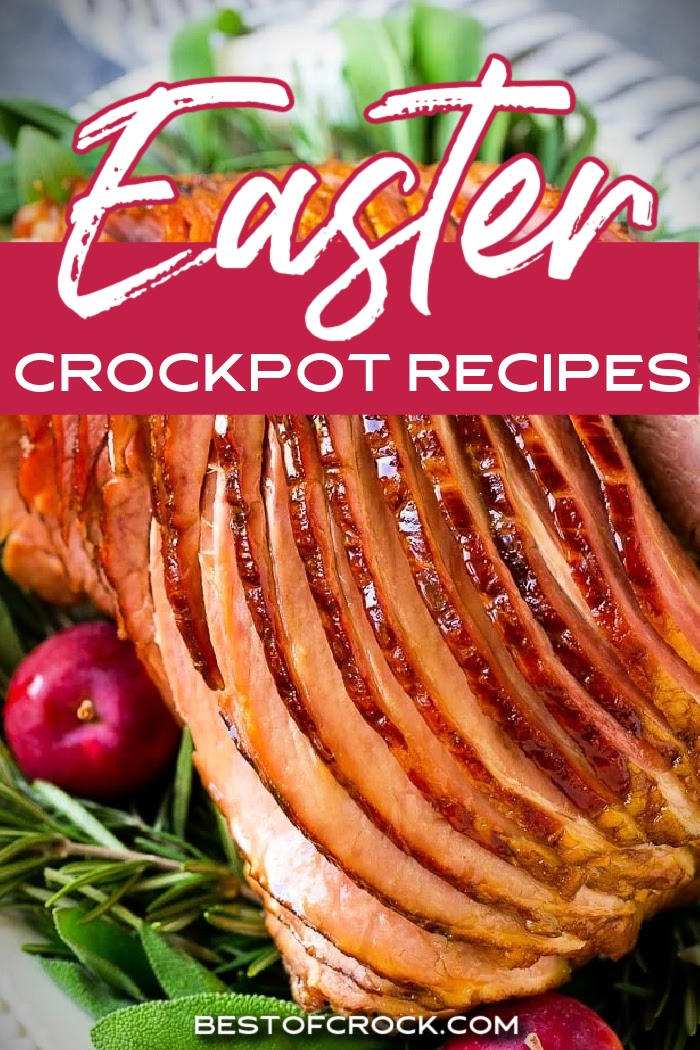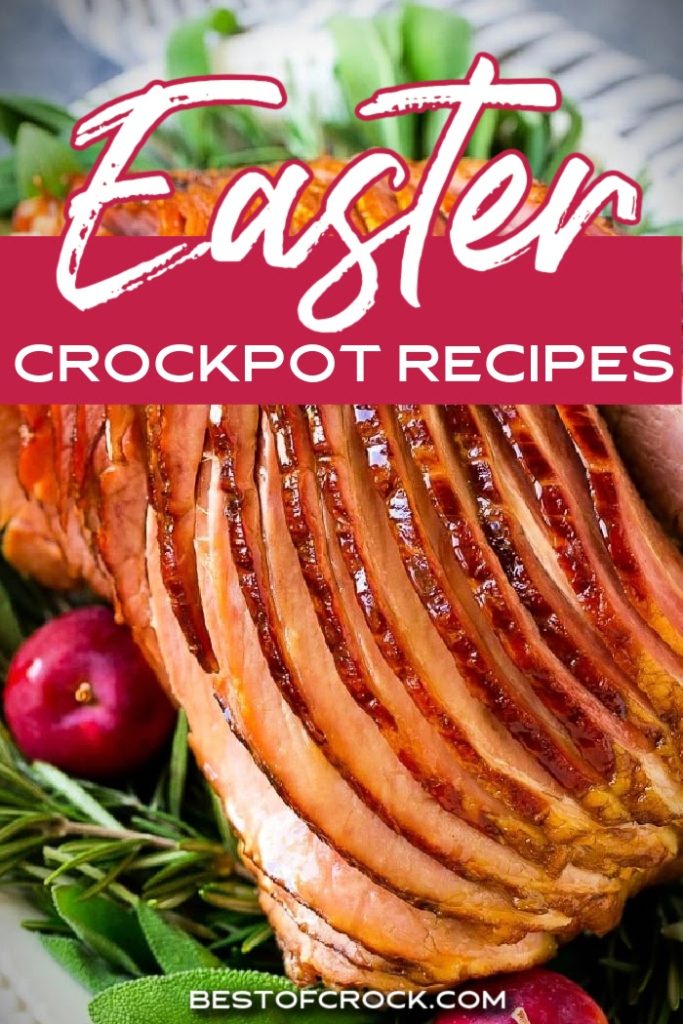 More Crockpot Recipes
Crockpot Turkey Chili Without Beans | Crockpots are great for making dishes that require low and slow cooking, like chili.
How to Make Crockpot BBQ Ribs | You can also get amazing ribs that slide right off the bone using a crockpot.
Slow Cooker Salsa Chicken for Tacos | Tacos are great but there is something that can make them better, salsa chicken.
Healthy Crockpot Breakfast Casserole Recipe | Wake up to a meal that is finished cooking and ready for you to eat with crockpot breakfast recipes.
John Wayne Casserole with Tater Tots Recipes | You can toss together a delicious dinner that the kids will love and so would you.