Hawaiian Crockpot Recipes for at Home Luau Parties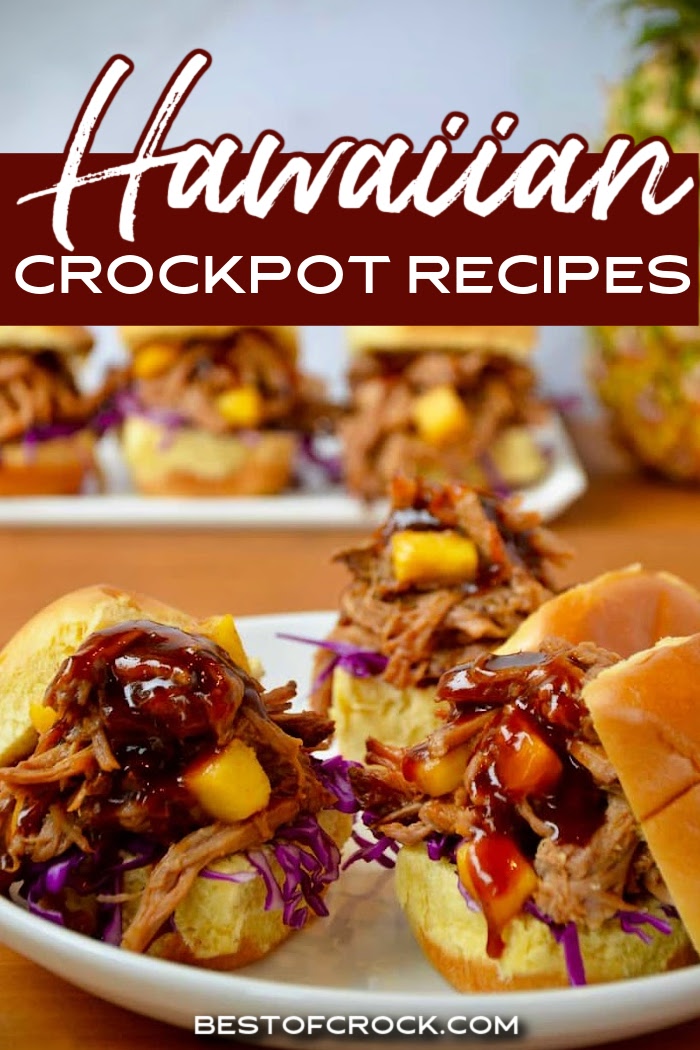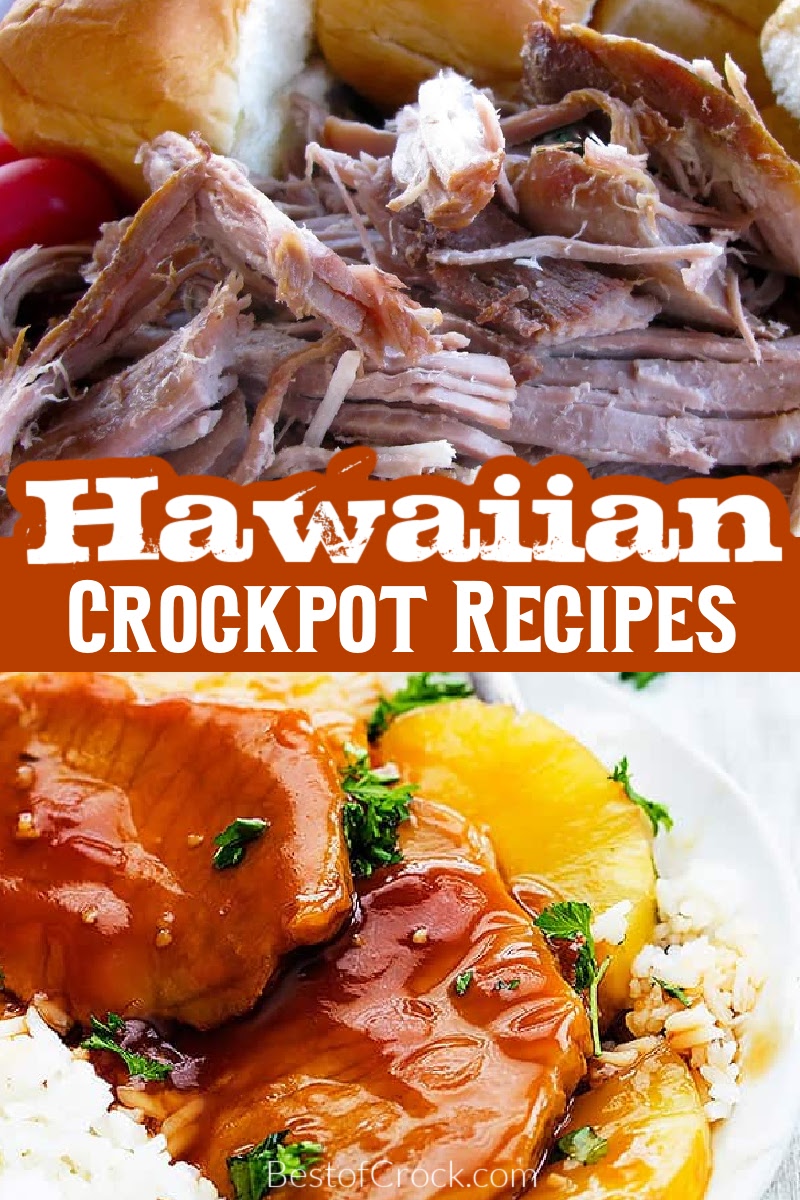 Hawaii is a beautiful place filled with fun activities for the entire family. But getting to the islands can be challenging. Luckily, one of the best ways to experience Hawaii is through food. You can even make Hawaiian crockpot recipes to feel like you're in Hawaii without leaving home.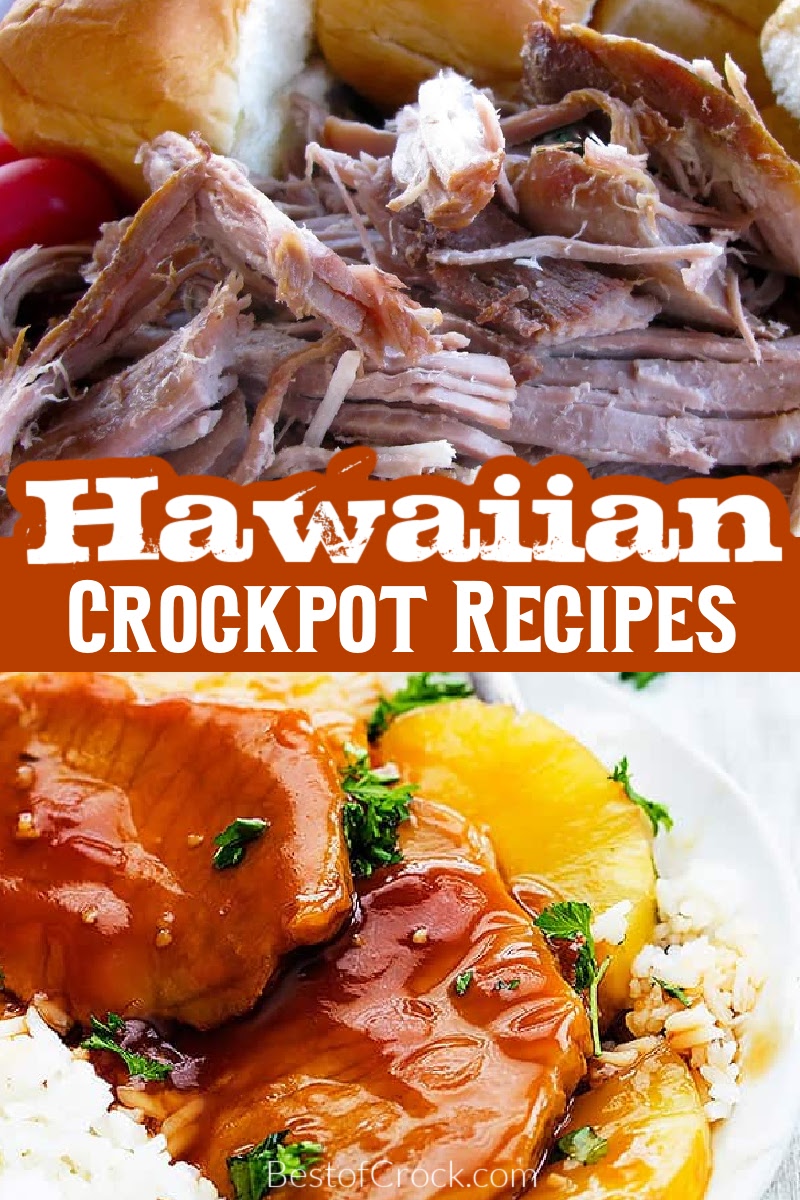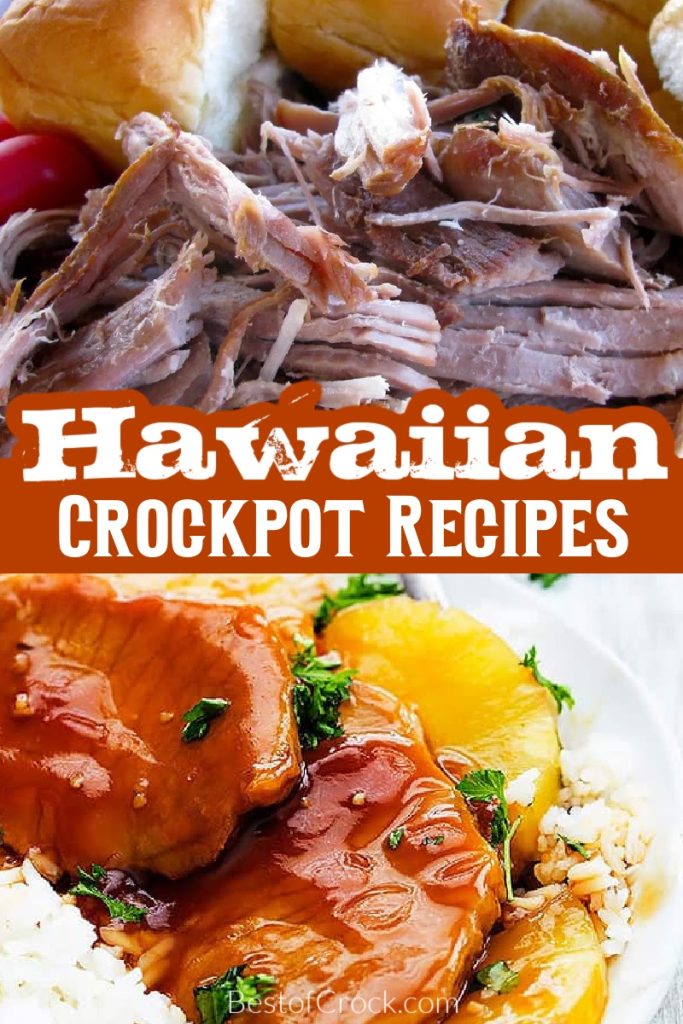 Take a trip to Hawaii without leaving your home with some of the best Hawaiian crockpot recipes for dinner. Hawaiian cuisine is a combination of different cultures from around the world. The most significant influence of food came from Polynesian settlers from the Marquesas Islands.
These settlers brought plants and animals from their home islands. But Polynesian settlers aren't the only influence on Hawaiian Cuisine. European and American cuisine arrived, and so did the immigrant workers.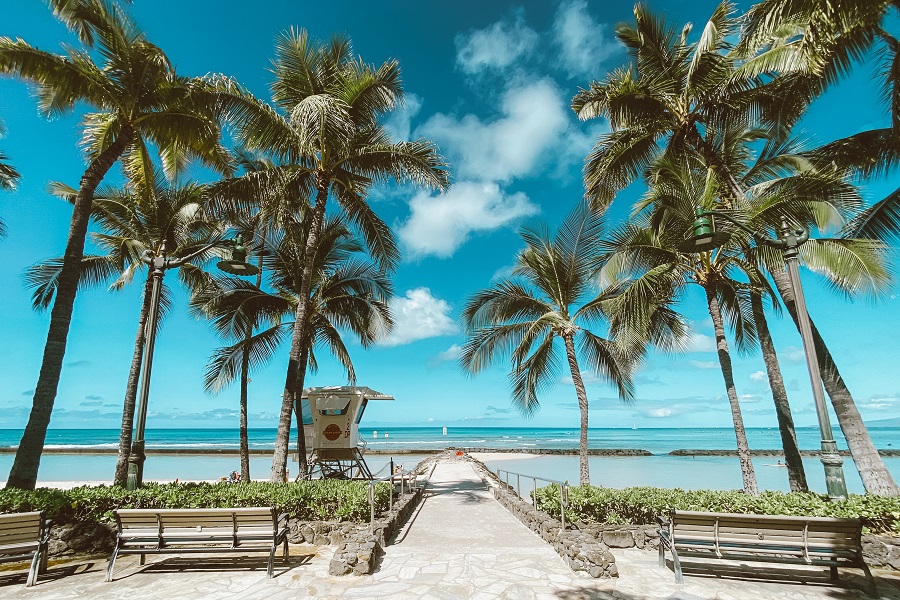 These immigrant workers brought their own foods from China, Korea, the Philippines, Puerto Rico, and Portugal. These cultures and cuisines created amazing dishes like musubi, loco moco, and plate lunch. The flavors are often sweeter thanks to the tropical fruits that grow so easily in Hawaii.
Cooking in Hawaii evolved over the decades as local chefs wanted to spotlight the Hawaiian fusion style. The goal was to incorporate as many regional flavors from natural sources as possible. You will find a lot of seafood, beef, pineapple, pork, algae, and avocados.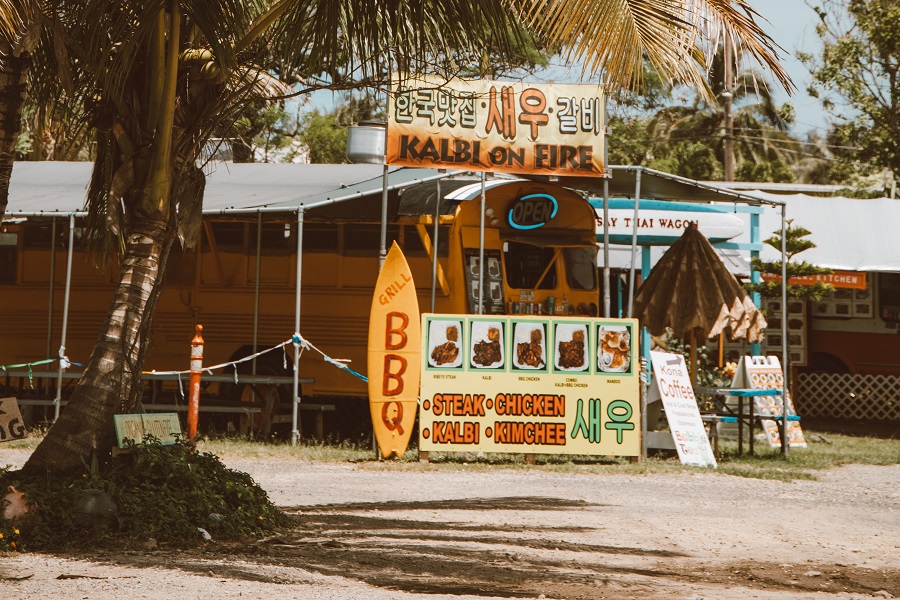 Then Hawaii's traditional cooking methods brought distinct flavors to each dish. For example, every culture has a pork dish, but Hawaii has kalua pork. You can make many of these dishes at home and don't have to build an outdoor fire to get them.
Instead, you can use a crockpot to get similar flavors. It is like traveling to Hawaii for dinner without leaving your home.
How to Make Crockpot Hawaiian Chicken | Best of Crock
Hawaiian Pineapple Chicken | Salty Side Dish
Hawaiian Haystacks | Crock-Pot Ladies
Meatballs | A Southern Soul
Hawaiian Pulled Pork | Just a Taste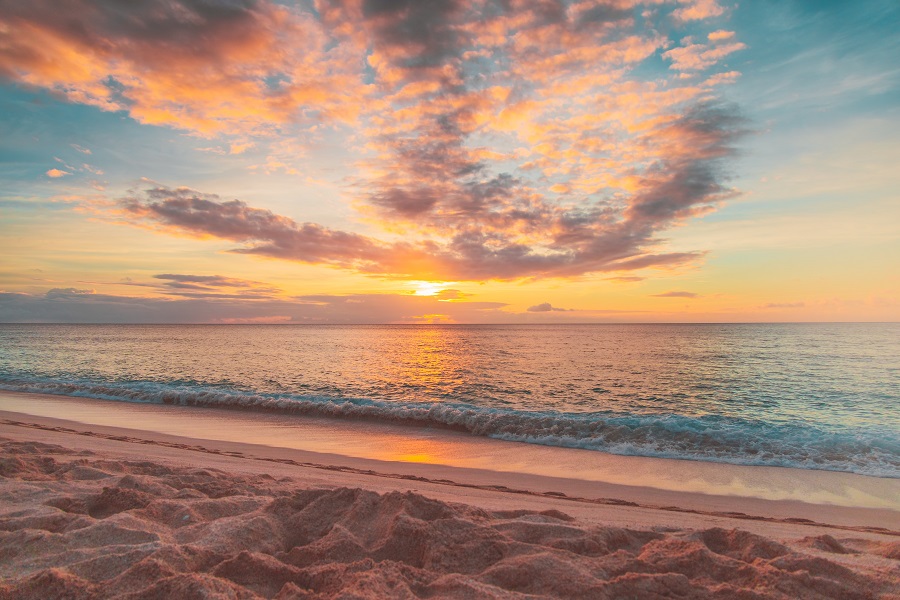 Hawaiian Crockpot Recipes | Seafood
Hawaii has a good number of seafood recipes we can enjoy. However, cooking seafood in a crockpot can be difficult. The last thing you want to do is scrape delicate fish off the bottom of your crockpot.
The most important tip when making seafood in a crockpot is to use a liner. Liners help make it easier to remove the food from your crockpot. But they also ensure the smell isn't too difficult to remove.
Pineapple BBQ Chicken | The Diary of a Real Housewife
Sticky Hawaiian Chicken | Spicy Southern Kitchen
Hawaiian Pork Chops | Creme De La Crumb
Kalua Pig | All Recipes
Shoyu Chicken | Heather Likes Food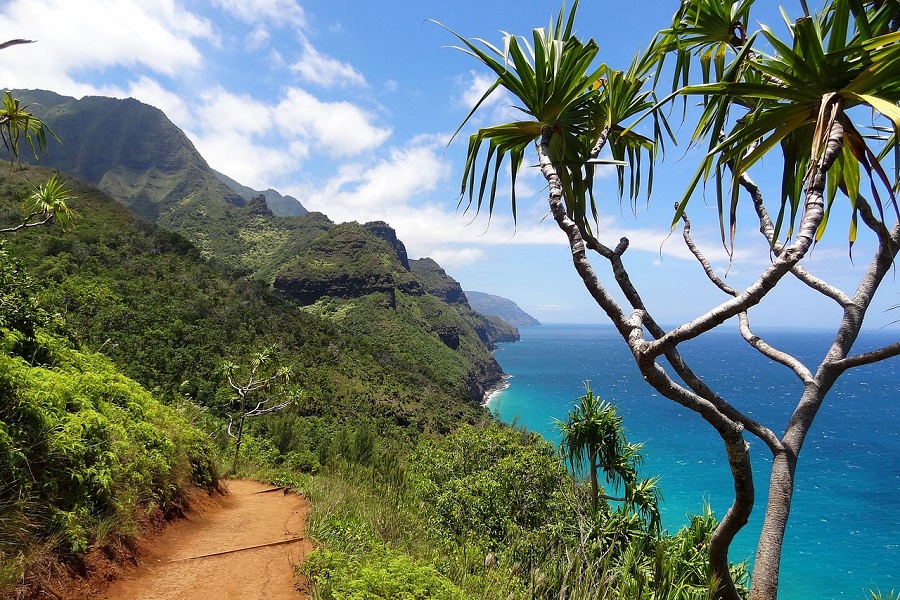 Hawaiian Rice
You can be sure that rice will pair well with most of the Hawaiian crockpot recipes you come across. There are heavy rice influences coming from the Asian cultures that settled in Hawaii. Rice can easily be made on the stovetop while you wrap things up with the crockpot.
But another easy way to make rice is in an Instant Pot. Could you imagine a meal that is made complete with a crockpot and an Instant Pot?
Hawaiian Teriyaki Chicken | Together as Family
Ribs Hawaiian-Style | The Cookie Rookie
Hawaiian Chicken Sandwiches | Jamie Cooks It Up
Pineapple Pork | 31 Daily
Hawaiian Chicken Tacos | Get on My Plate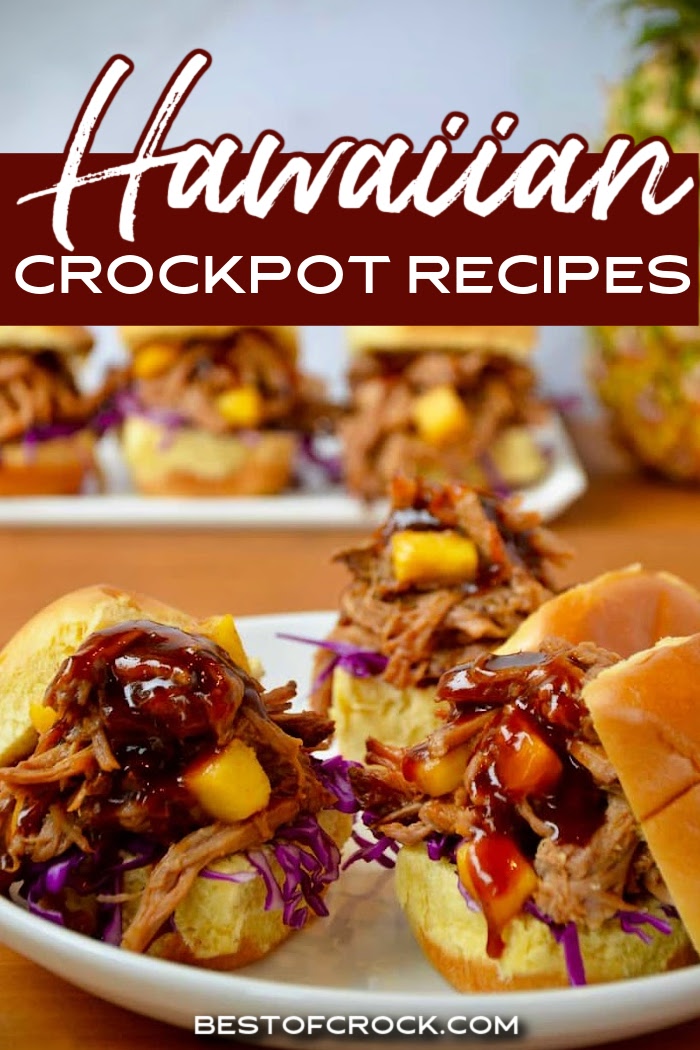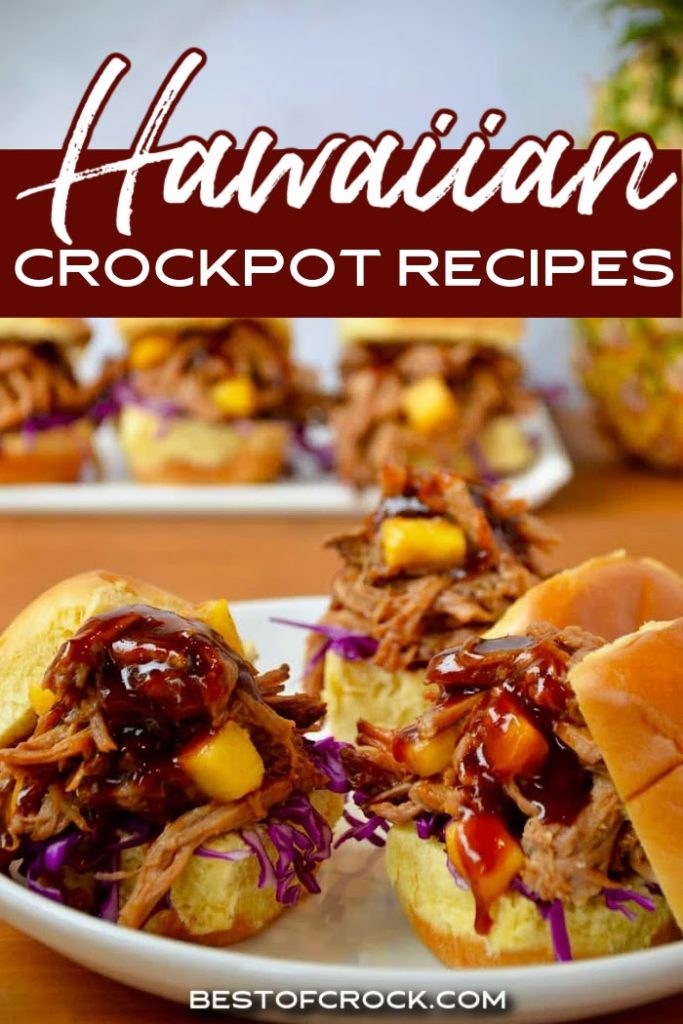 More Crockpot Recipes
Easy Slow Cooker Chicken Teriyaki Freezer Meal Recipe | Teriyaki chicken is a delicious meal that can be easily made in a crockpot.
Slow Cooker Chicken and Spinach Rice Bowl Recipe | An entire meal can fit in a bowl.
Clean and Healthy Crockpot Chicken Tikka Masala Recipe | Tikka masala is a dish filled with flavor and easy to make.
Crockpot Little Smokies with Grape Jelly | Little Smokies are party staples, and this recipe will take them to the next level.
Easy Crockpot Hashbrown Casserole Recipe | Crockpots can also be used for breakfast!