Instant Pot Chicken Tacos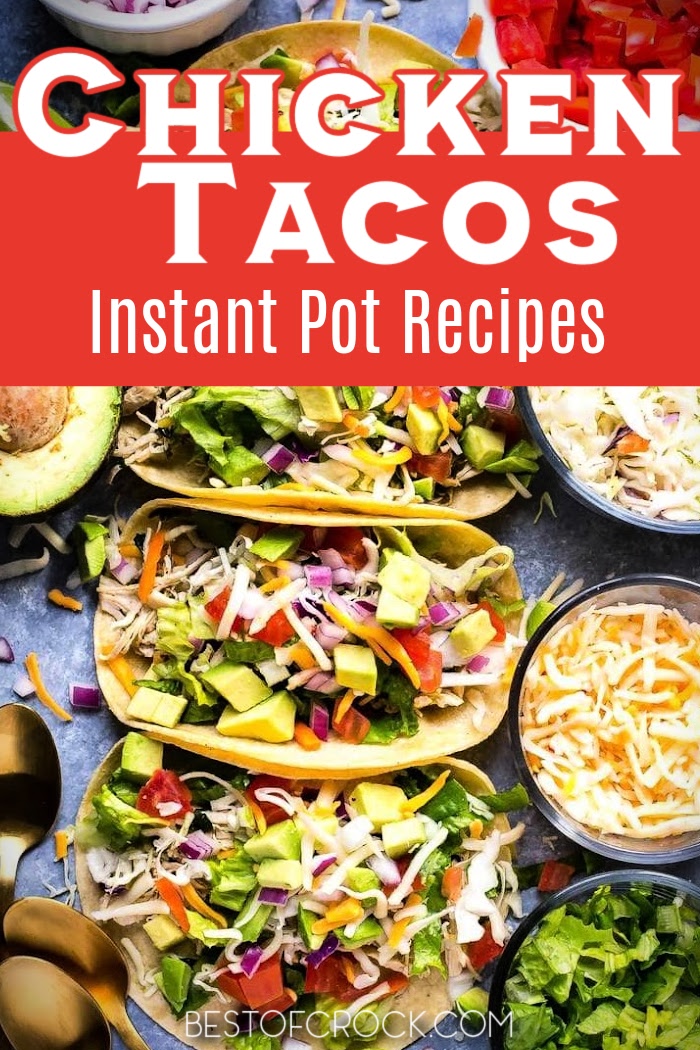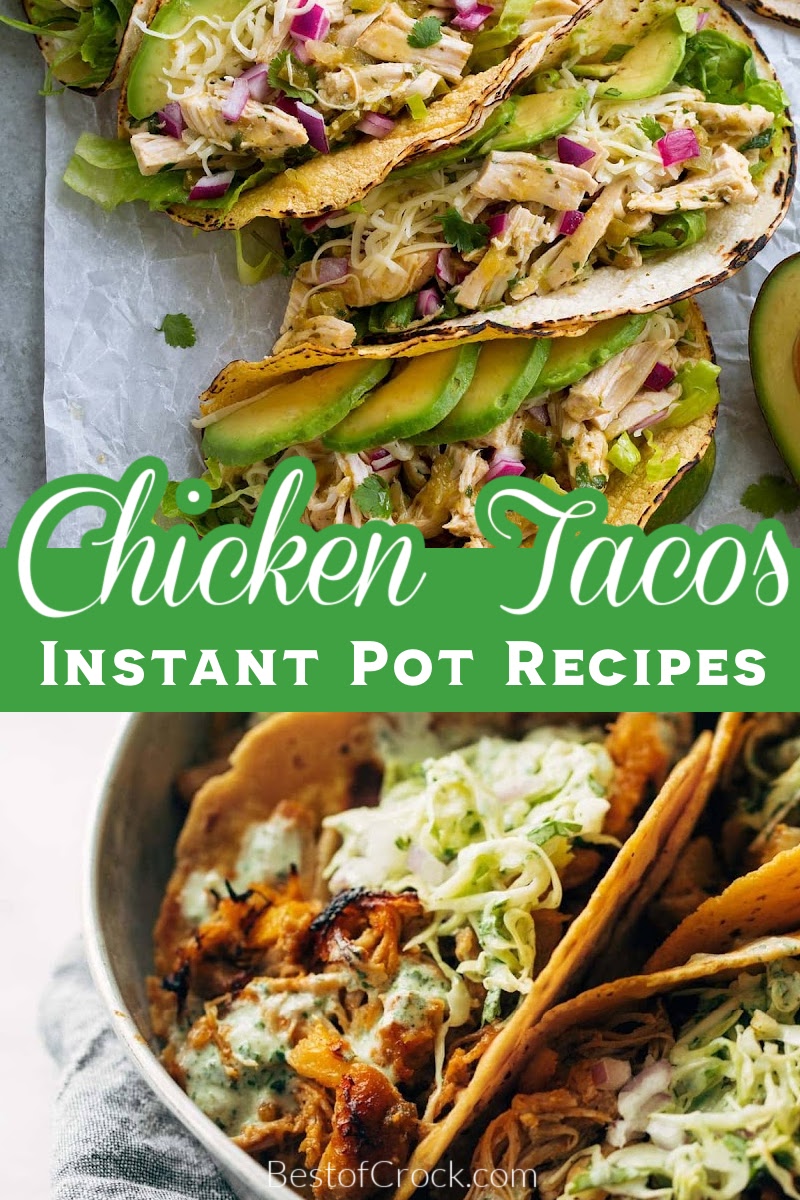 There is more than one way to make chicken. You can have BBQ chicken, shredded chicken, teriyaki chicken the list goes on and on. But did you know that there are just as many flavors for chicken tacos? Try as many flavors as possible with these Instant Pot chicken tacos recipes.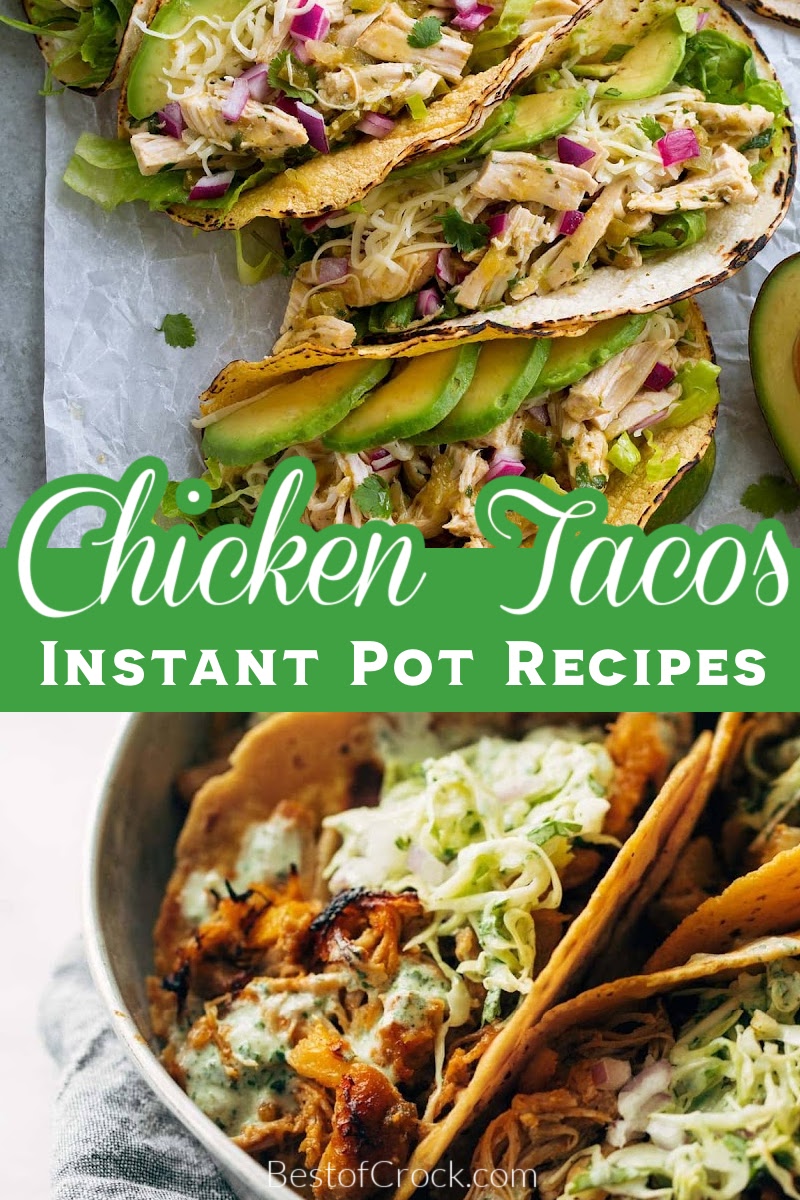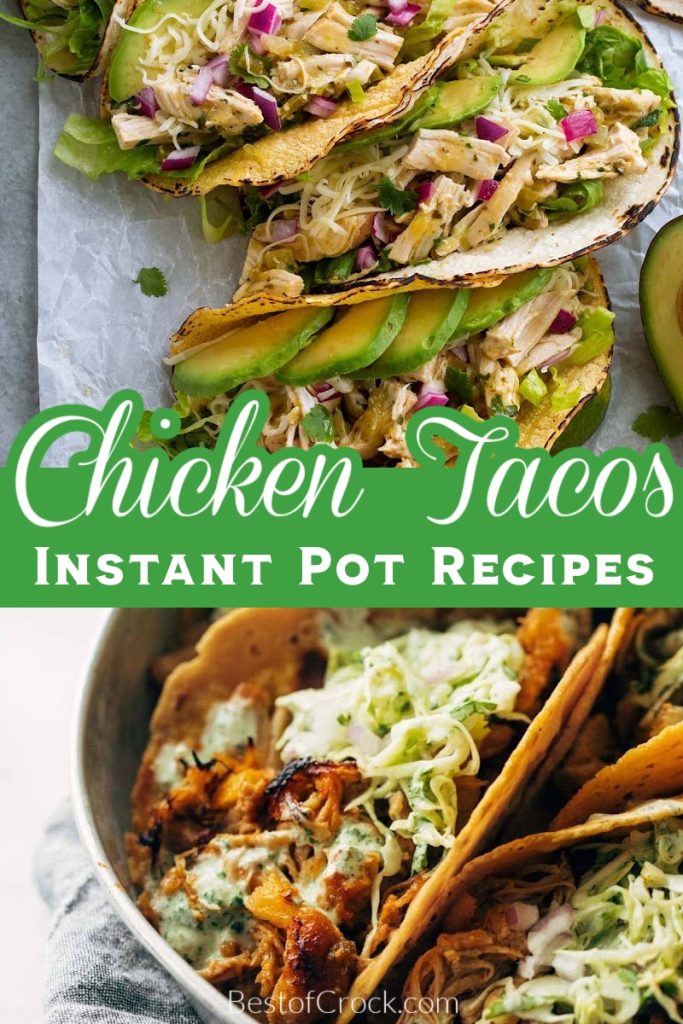 Instant Pot chicken tacos give you another option for chicken dinner recipes be it for a family dinner recipe or a party recipe! Instant Pots cook food faster. These devices use a combination of heat and pressure to get food to a safe zone to eat quicker than traditional methods.
This is important because it saves us time in the kitchen. We don't have to plan ahead to give ourselves more time to cook a meal. In fact, you can find plenty of recipes that just require you to dump the ingredients into the Instant Pot and turn it on.
Of course, there are some other recipes that require a bit more work. The point is that you can save time and cook more things in a single day. One of those things can be chicken tacos. You can make so many different types of chicken tacos with the help of some Instant Pot chicken tacos recipes.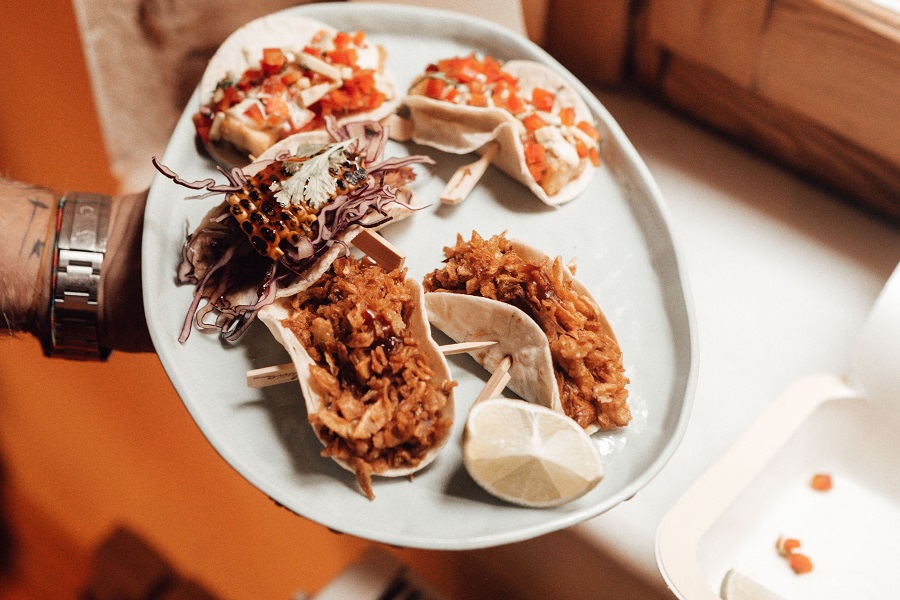 These recipes may not all be authentic, but that doesn't mean they aren't delicious. In fact, these recipes may end up blowing your favorite Mexican spot out of the water. You can even use these recipes for parties to make feeding the guests so much easier.
Imagine making two batches of chicken and then just plating the toppings for guests to build their own tacos. Nothing about hosting a party is easier than that.
Salsa Chicken | Yellow Thyme
Chicken Carnitas | Diethood
Chicken Fajitas | Easy Chicken Recipes
Tinga Chicken Tacos | What Molly Made
Shredded Chicken Tacos | Lemons and Zest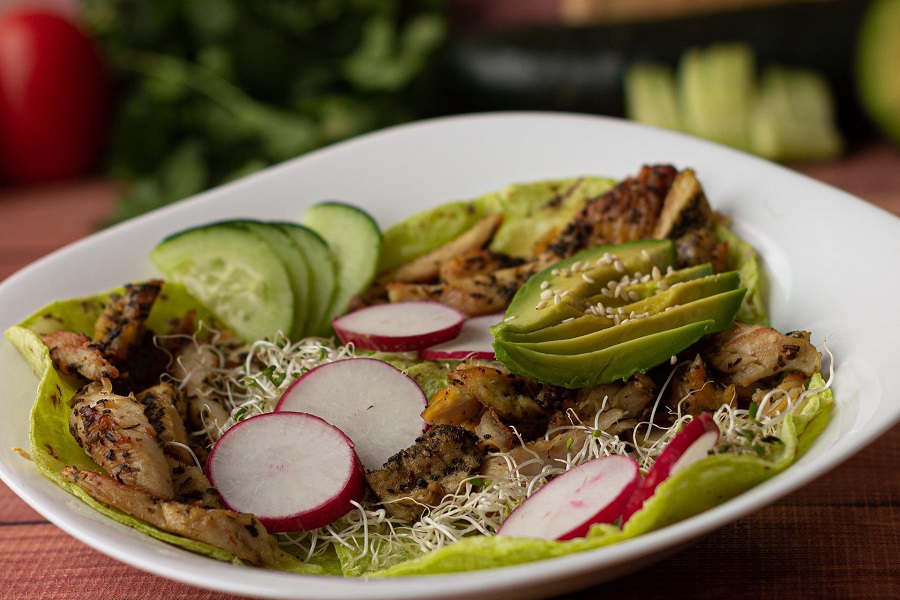 Instant Pot Chicken Tacos
We have all had chicken tacos from the local taqueria and they are usually amazing. But most places serve chicken tacos with either grilled chicken or Mexican-seasoned chicken. There's nothing wrong with those flavors, they taste amazing.
But exploring different flavors can have amazing benefits. You may even find that your new favorite type of a taco isn't a traditional taco at all.
Cilantro Lime Chicken Tacos | The Girl on Bloor
Chicken Taco Bowls | Wondermom Wannabe
Salsa Verde Chicken | Cooking Classy
Chicken Walking Tacos | Bake Me Some Sugar
Buffalo Chicken Tacos | The Skinny-ish Dish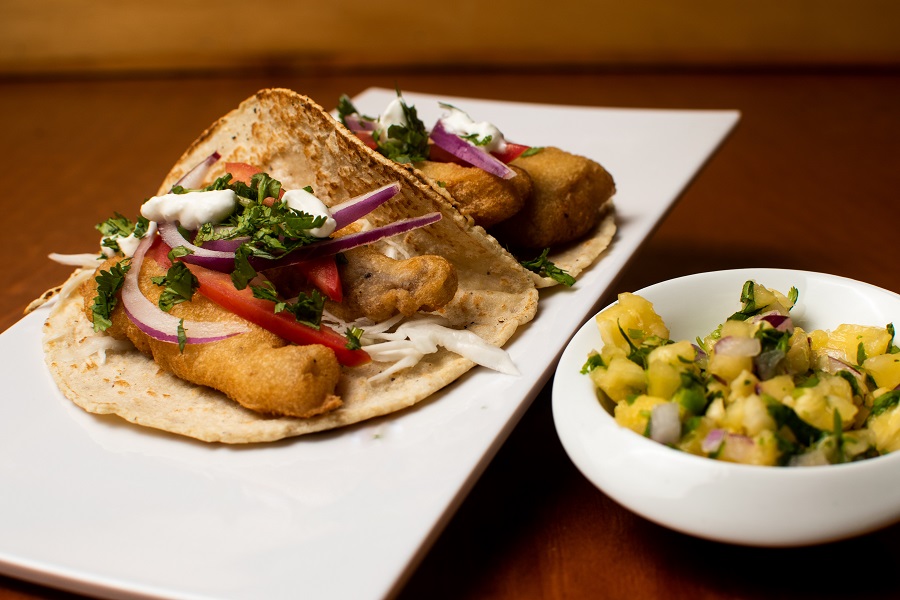 Making Tacos at Home
There are a couple of things you can do to make Instant Pot chicken tacos easier for everyone. The first thing is to create a buffet-style serving station. The station should have small bowls of toppings including cheese, sour cream, guacamole, onions, cilantro, and salsa.
You can also have different types of shells for the tacos ready to go. We are most familiar with hard shells but did you know that is mostly an American thing? We don't have to eat it in traditional manner, but we can open ourselves up to different possibilities.
Hawaiian Chicken Tacos | Pinch of Yum
Street Tacos | 30 Hand Made Days
Sriracha Chicken Tacos | Kalyn's Kitchen
Chipotle Honey Chicken Tacos | Times Cooking
Key Lime Chicken Tacos | Food n Service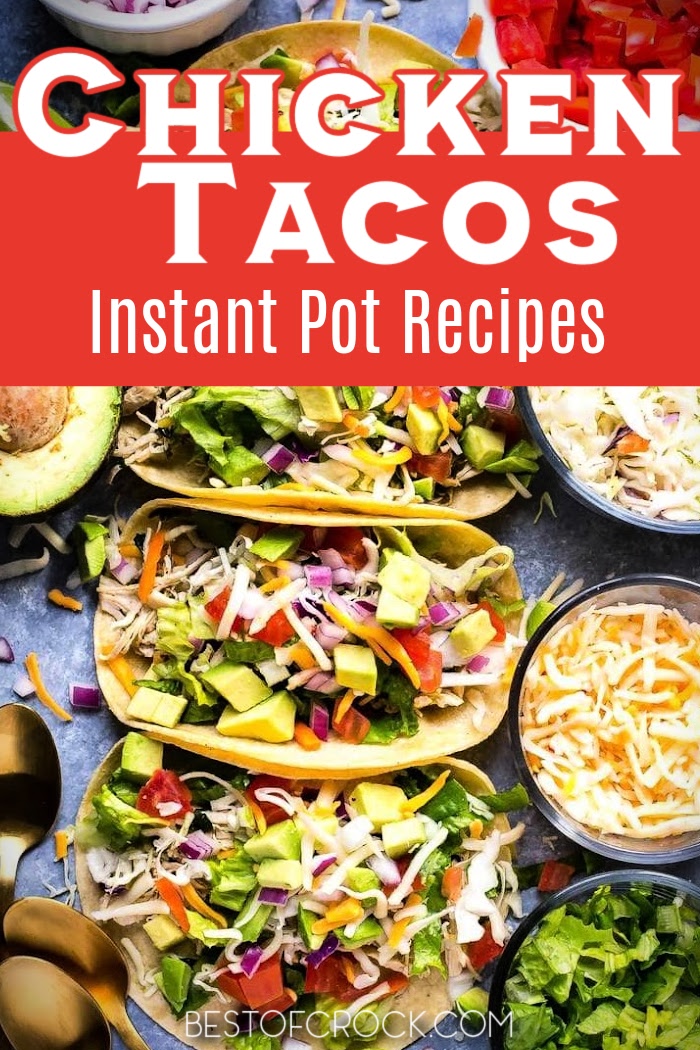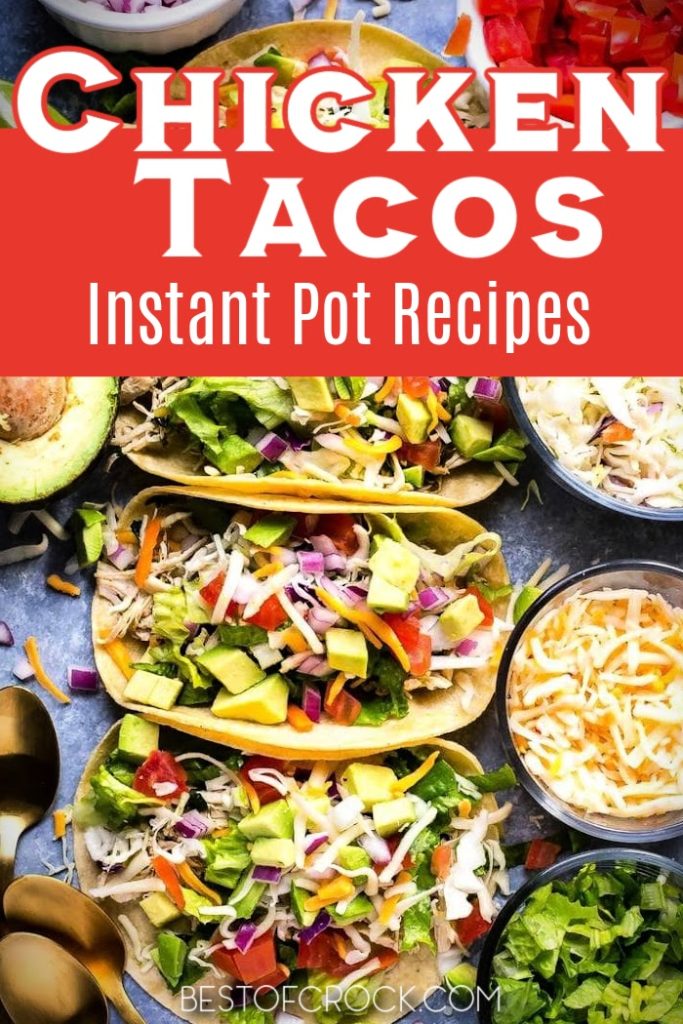 More Instant Pot Recipes
Instant Pot Goulash Recipe with Beef | Goulash is a great pasta recipe that can easily be made in an Instant Pot.
Chicken Pot Pie Casserole | Chicken pot pie has burnt many a mouth. But now, you can turn it into a casserole and burn no more.
Beanless Instant Pot Ketogenic Chili Recipe | Anyone who says chili should have beans in it has clearly not tried the top chili recipes in the nation.
Low Carb Instant Pot Pork Chops Recipe | Pork chops are perfect for low carb diets but this recipe is delicious enough to be enjoyed whenever.
How to Cook Instant Pot Chicken | Did you know that you can make an entire chicken in an Instant pot?