Fall Instant Pot Dinner Recipes for a Cozy Evening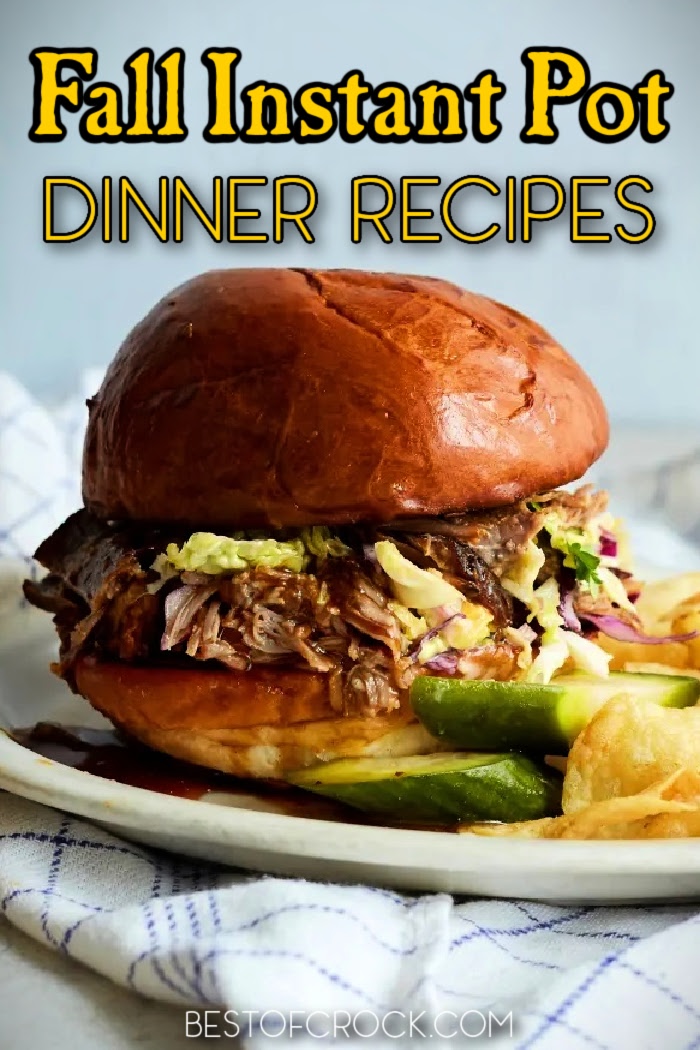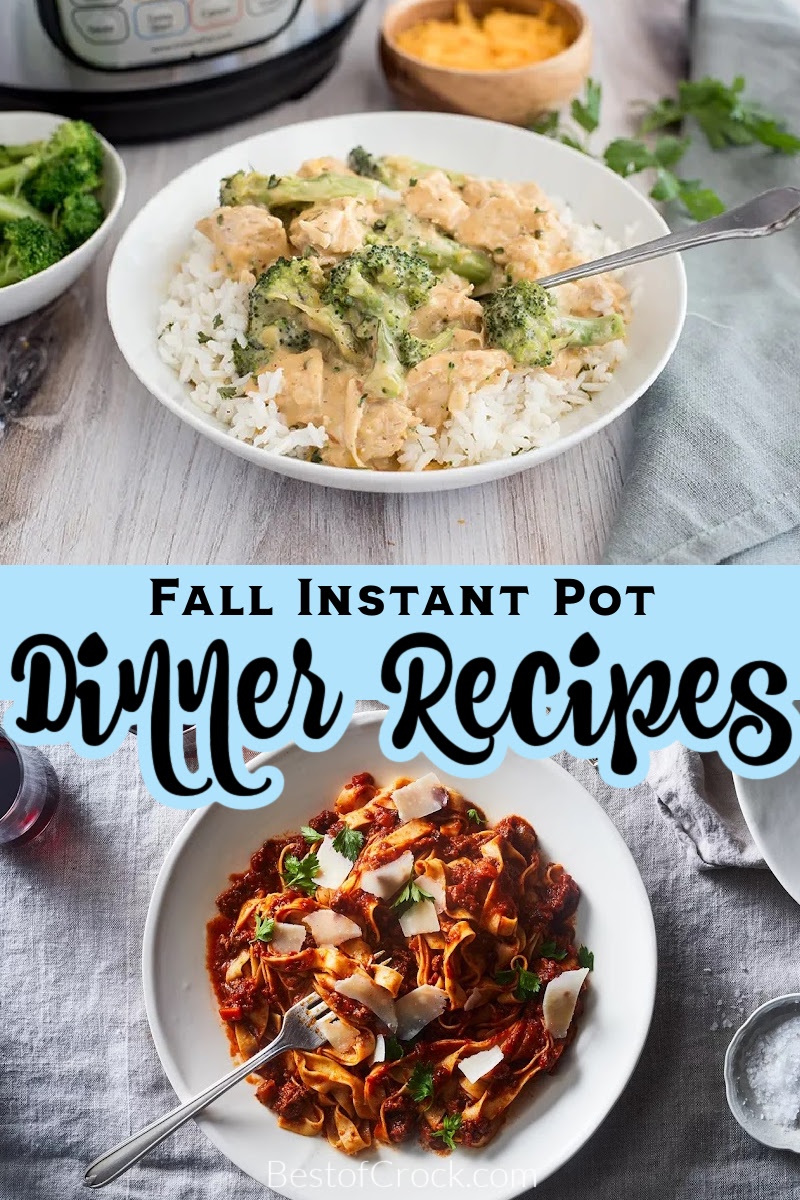 Fall is the season of cozying up together with family and friends. But you can also cozy up with a good book next to a fire or some warm food. There are some fall recipes that are better than others. But the best ones are Fall Instant Pot dinner recipes that cook quickly but keep cozy.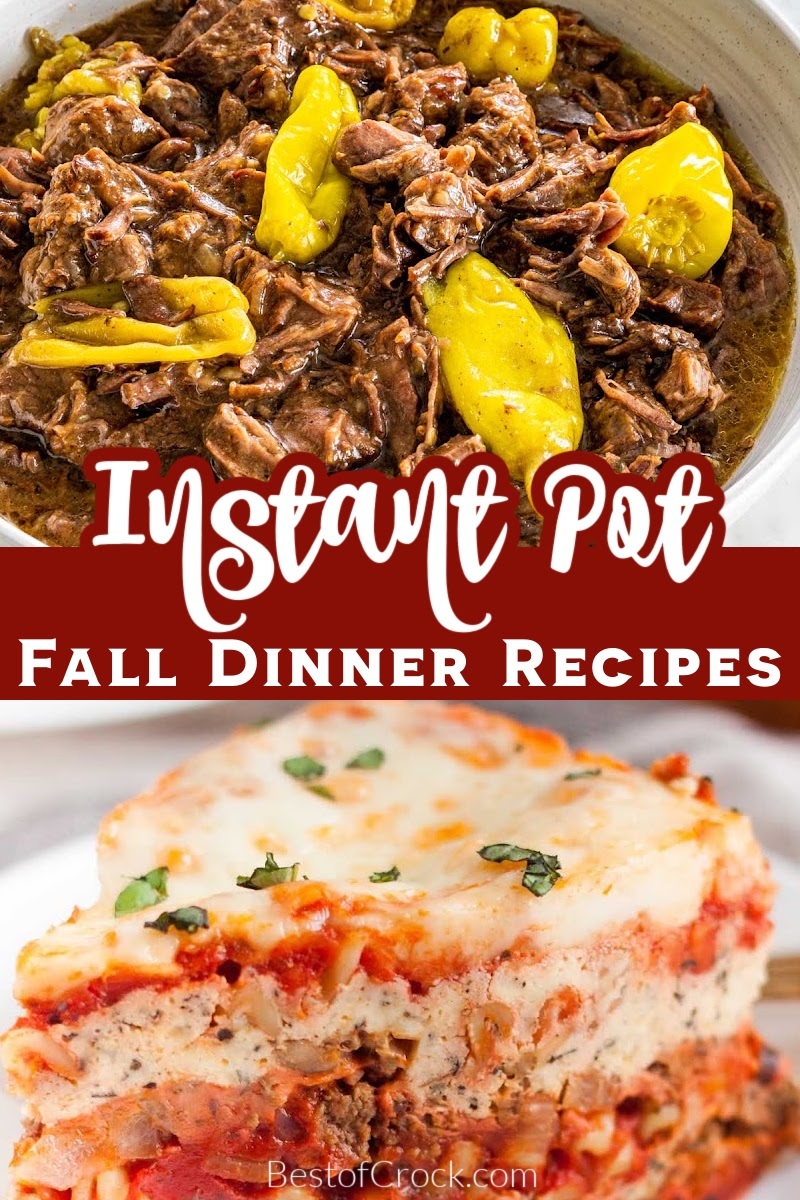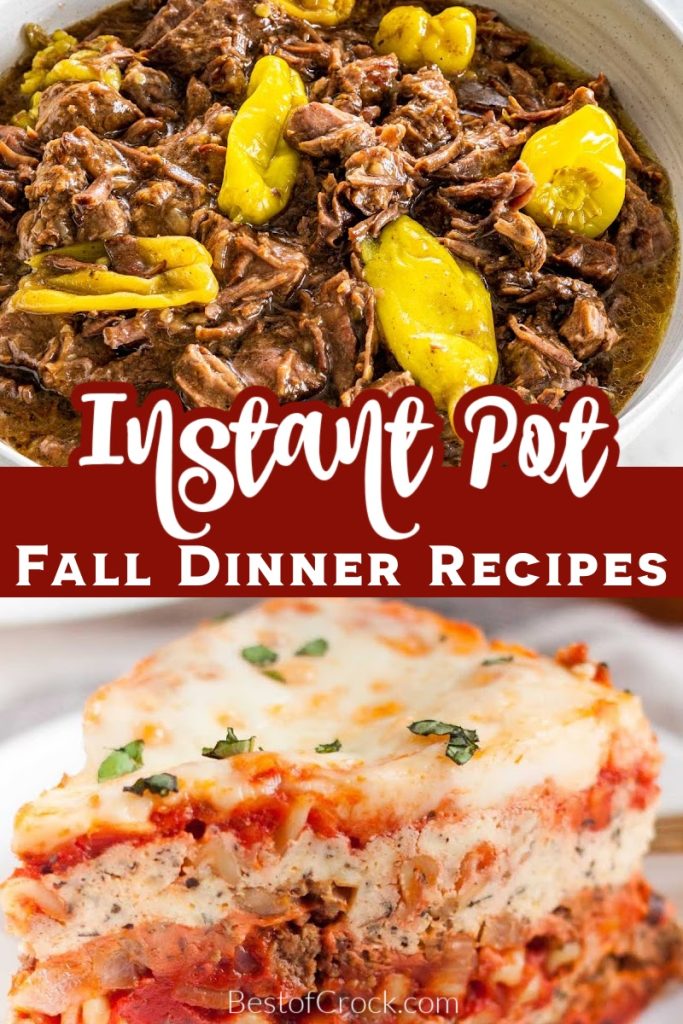 Fall Instant Pot dinner recipes are perfect for a cozy night in or as some Instant Pot comfort foods to keep you comfy on chilly fall nights. There are different things we do for every season that brings us closer to the ambiance of the time.
For example, going to the beach during summer or even just having an ice cream cone. But what about fall? There are a couple of holidays during fall that are obvious traditions. But fall starts weeks before Halloween and more than a month before Thanksgiving.
Some people may say that pumpkin spice is the signal for fall or falling leaves, and they wouldn't be wrong. But those things don't do it for everyone. That is when we turn to comfort food. Comfort food is deliciously comforting and keeps us cozy while we enjoy each bite.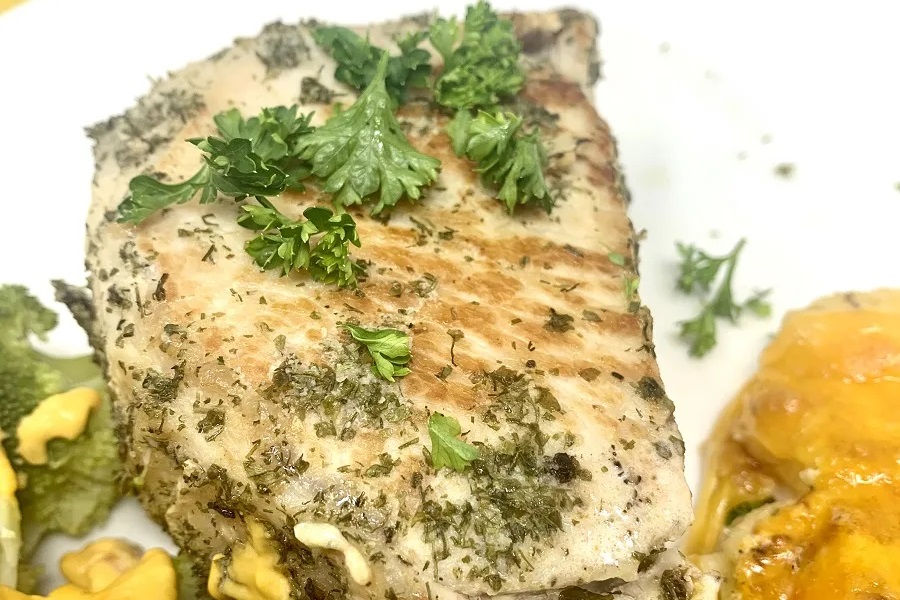 The only problem with comforting food is how long it takes to cook. Most food that is considered comfort food takes more than a while to cook. There is nothing wrong with waiting a bit, but we need to get out of our comfortable spot in order to cook; first-world problems.
But there is also a first-world solution to this problem, the Instant Pot. Instant Pots use pressure and heat to cook food faster than it would normally take to cook. For example, a roast that would take an hour and 45 minutes can cook in half an hour.
That is one of the secret ingredients in all of the fall Instant Pot dinner recipes. You can enjoy them quicker than ever and still have plenty of time to cozy up next to a fire or with someone special.
Instant Pot Mashed Cauliflower Recipe
Low Carb Instant Pot Pork Chops Recipe
Instant Pot Goulash Recipe with Beef
Instant Pot Chicken Pot Pie Casserole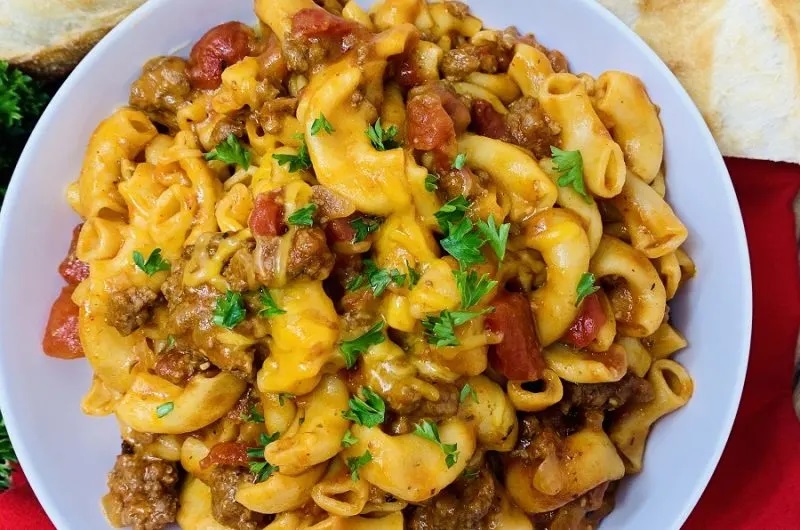 Fall Instant Pot Dinner Recipes
Fall recipes require fall ingredients. You will notice that there are a few specific ingredients that keep repeating in these recipes. But these ingredients are in-season, which means they will be their freshest during fall. That freshness means a stronger flavor.
For example, apples are in-season during fall, which means they will have a lot more flavor if used in cooking. We have developed past the point of only being able to enjoy these ingredients in the fall. In fact, you will come across some recipes that use things that aren't in-season.
But there's nothing wrong with that; they just won't be as flavorful as they could be if in-season.
Butter Chicken | Little Sunny Kitchen
Chicken Mushroom Soup | 365 Days of Slow Pressure Cooking
Tomato & Meat Ragu | Food52
Mississippi Pot Roast | Jo Cooks
Big Mac Sloppy Joes | Six Sisters' Stuff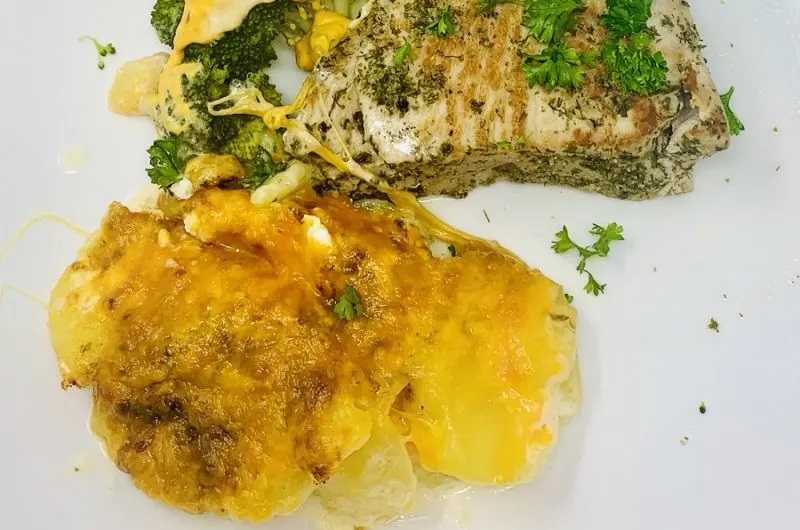 Sharing is Caring
Fall is the season of dinner parties. People start having more dinner parties this time of year as we spend less time outdoors. These fall Instant Pot dinner recipes are perfect for dinner parties. You can give your guests a fresher taste of fall with these recipes.
Not to mention, the Instant Pot will make cooking for a crowd a lot easier. You can even use your Instant Pot to cook multiple dishes; just schedule and plan accordingly.
Lasagna | Spaceships & Laser Beams
Chicken and Broccoli Over Rice | Pressure Cooking Today
Instant Pot Ribs | The Modern Proper
Beef Barley Soup | Little Spice Jar
Pulled Pork | The Kitchn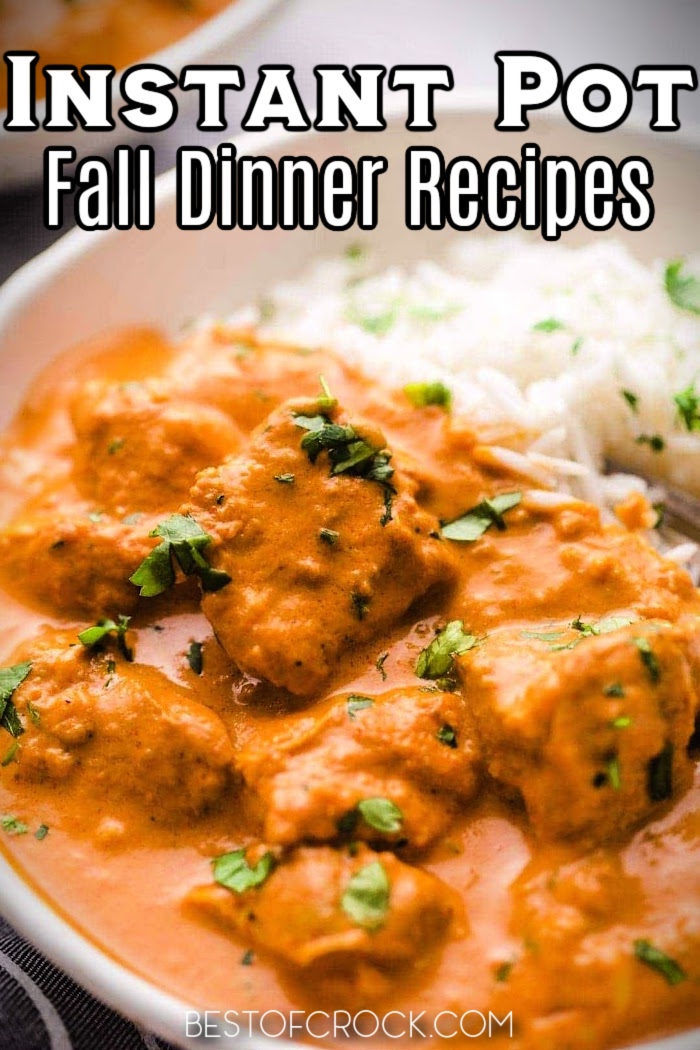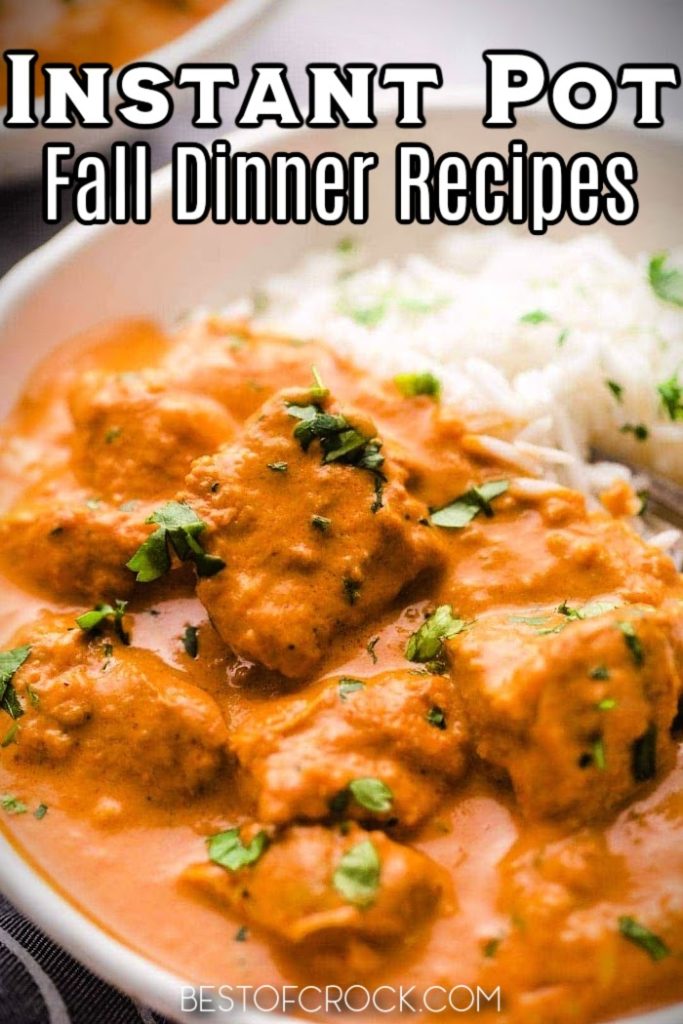 More Instant Pot Recipes
No Sugar Instant Pot Cinnamon Apples | Apples are in-season which means this recipe would be on the list but it's a dessert.
Healthy Instant Pot Teriyaki Chicken | Teriyaki chicken is delicious but not exactly a fall recipe. Still enjoyable and definitely worth trying.
Instant Pot Sausage and Kale Soup Recipe | Kale soup is not something everyone enjoys, but this recipe is one of the best out there.
How to Make Instant Pot Bone Broth | Bone broth can be used so many different ways. You can enjoy it more often when you make your own.
Beanless Instant Pot Ketogenic Chili Recipe | Chili is definitely a fall recipe and belongs on the list but for spacial purposes it is getting an honorable mention.