Best Crockpot Taco Soup Recipe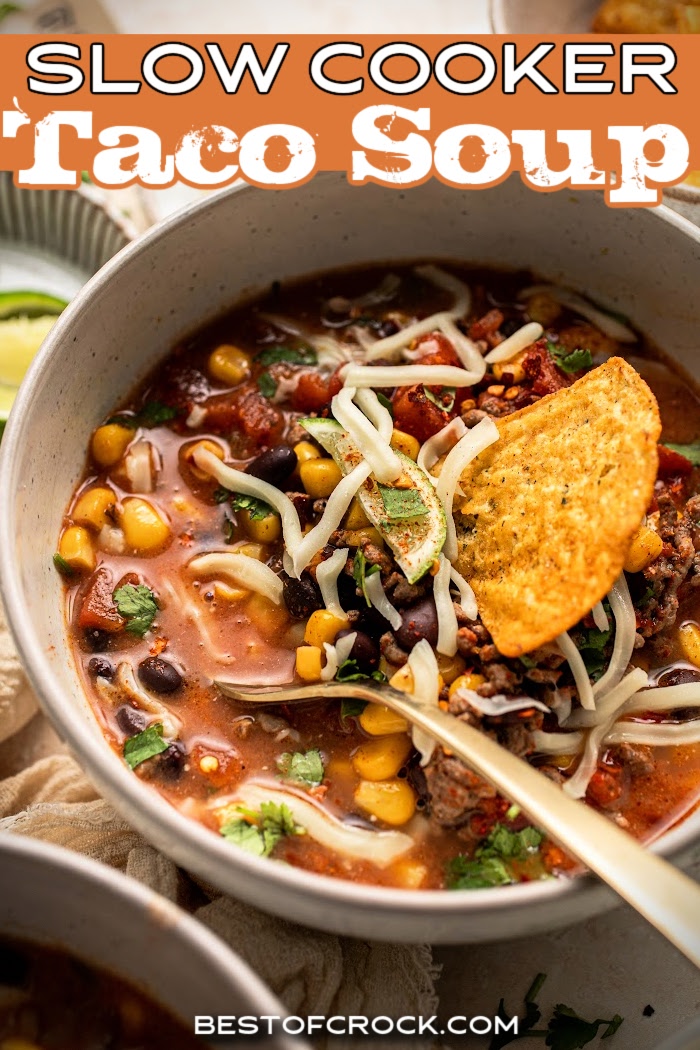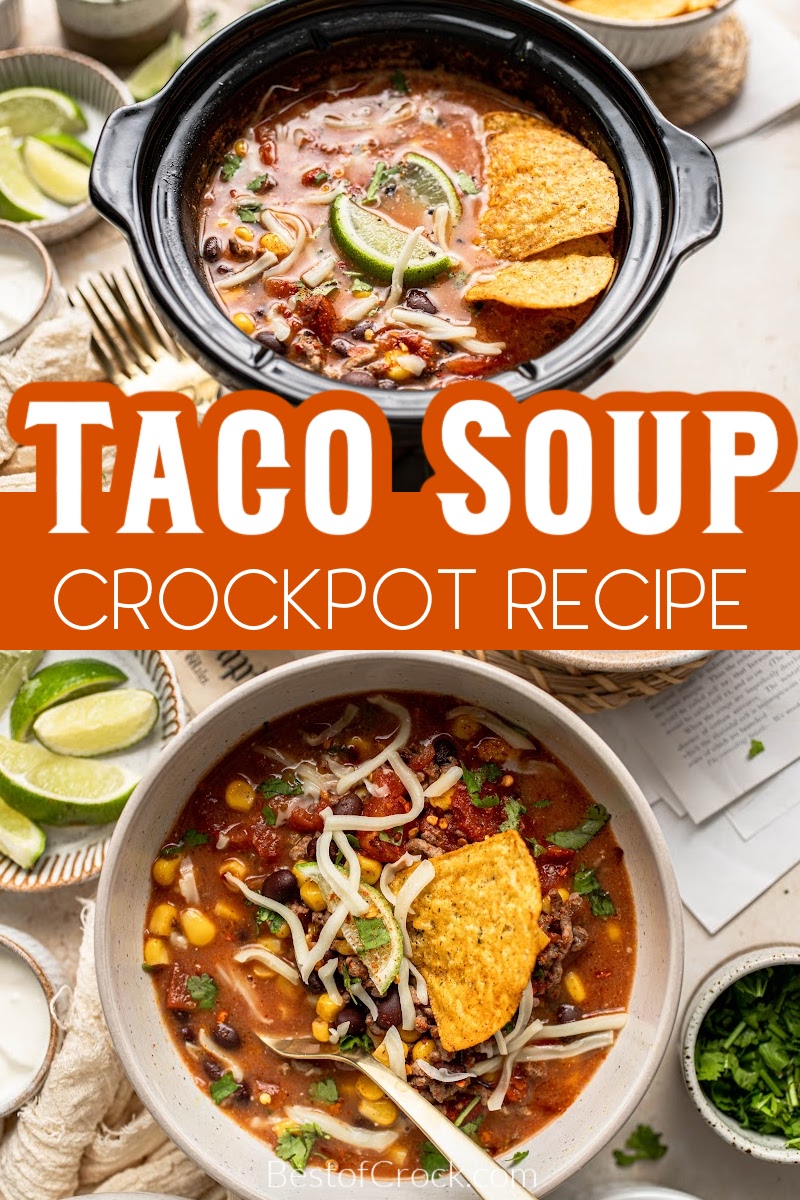 Crockpots are amazing at making soups. The idea of dumping and forgetting is what crockpot fame was built on. But there are few recipes that are as easy and delicious as this crockpot taco soup recipe. There is one warning, you will love this soup so much that you make it repeatedly and again.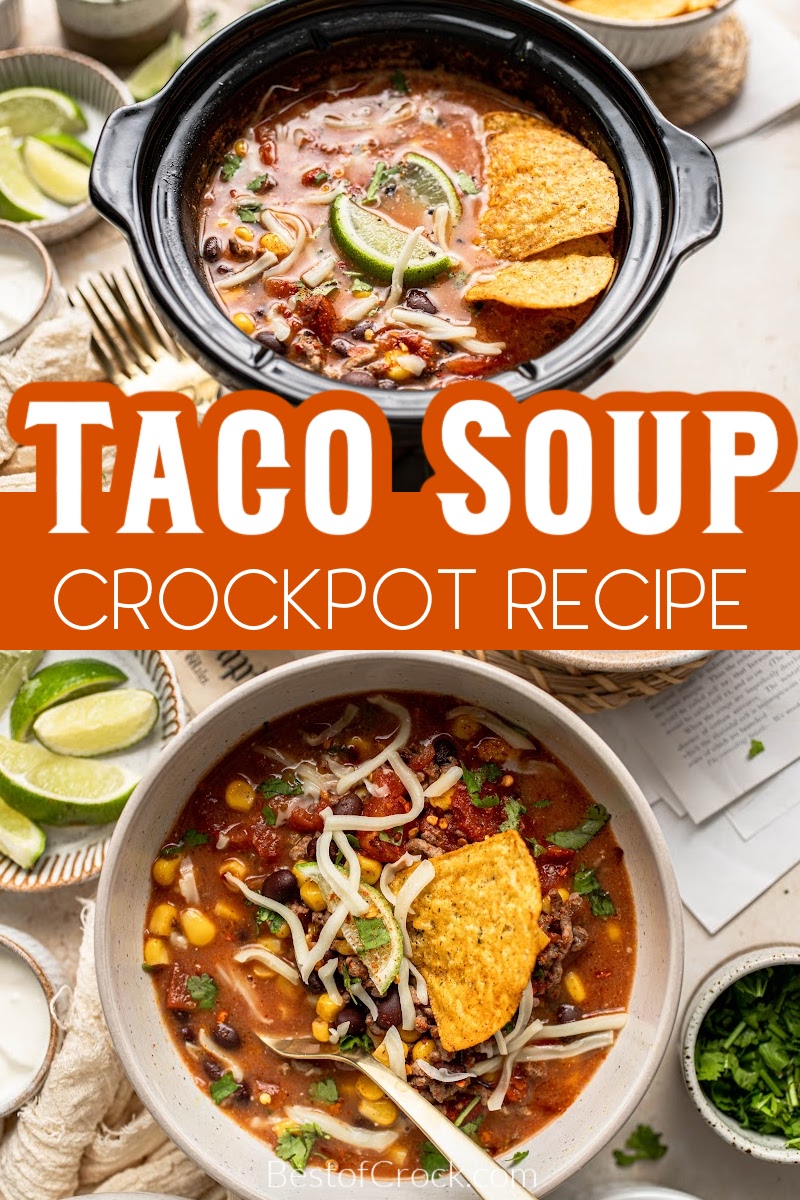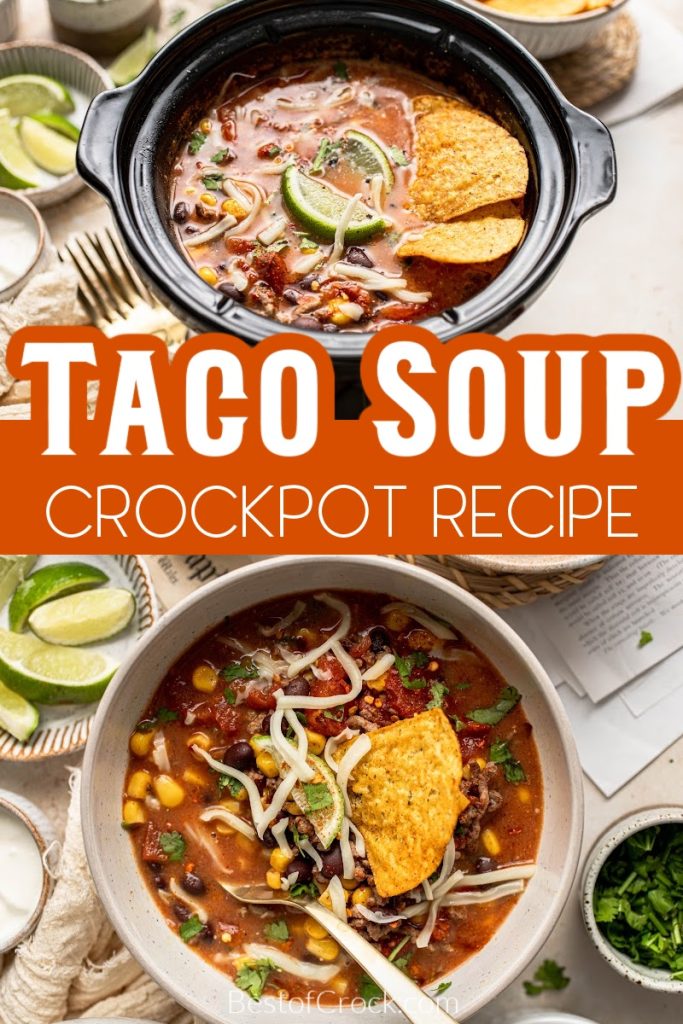 The best crockpot taco soup recipe makes the cooking process as easy as possible while also providing you with an amazing crockpot soup. Crockpots make soup so easy to make. In fact, people like to meal prep with soups because they can make one big batch of it and then jar or even can the leftovers for later.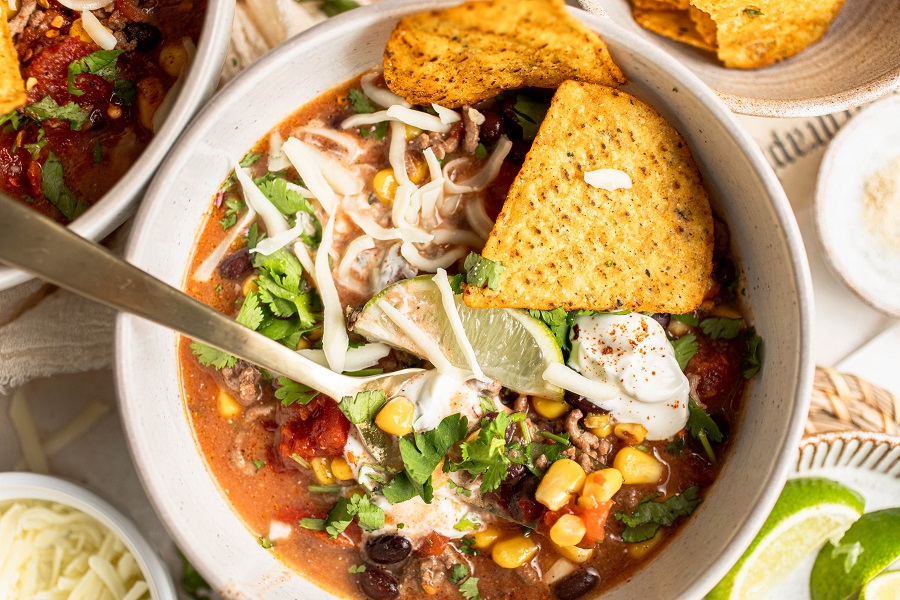 There are also many different crockpot soups to choose from. However, some soups are better than others like this taco soup. You can make the best crockpot taco soup recipe to enjoy one of the best soups around. Taco soup is a soup that uses a lot of the same ingredients you would find in a taco like ground beef, beans, chilis, and corn.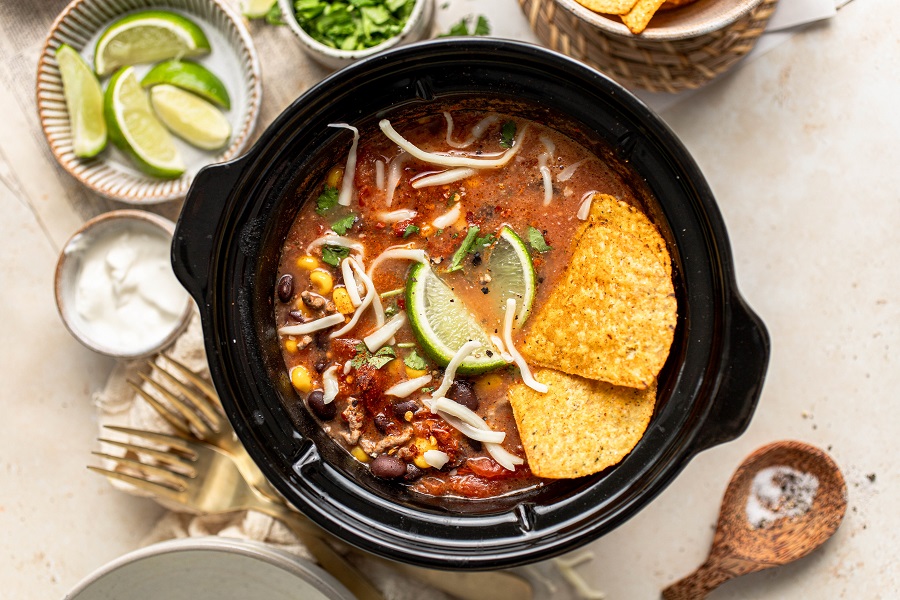 They are combined in a beef broth which really ties the recipe together. It is like a taco in soup form. You can even add tortilla strips as a garnish to get that crunch that you love from taco shells.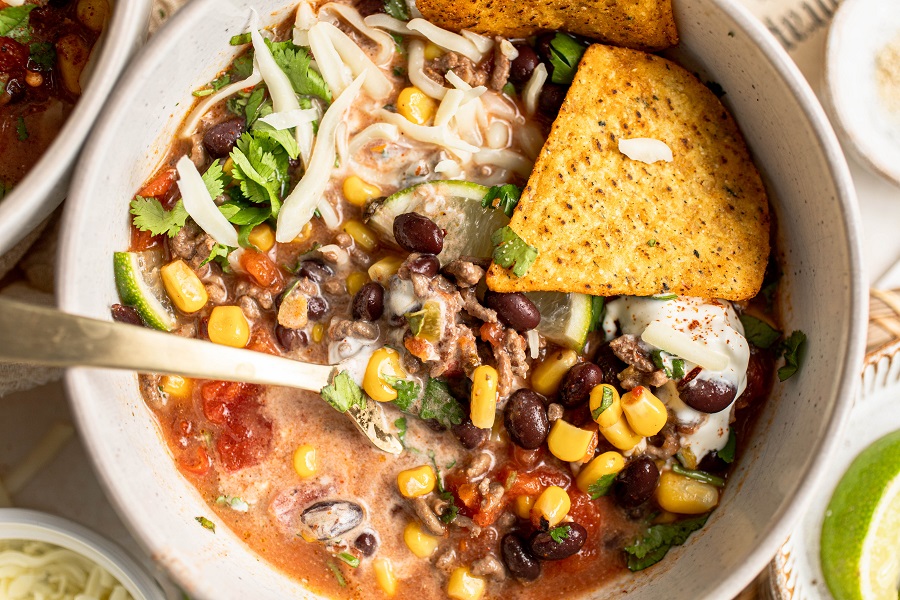 Why Crockpot Soups are Better
Soup is nothing more than a handful of ingredients that add flavors to a broth. In fact, some ingredients actually benefit from a long, slow cook time. Vegetables, meats, and spices can really benefit from simmering for hours in your crockpot.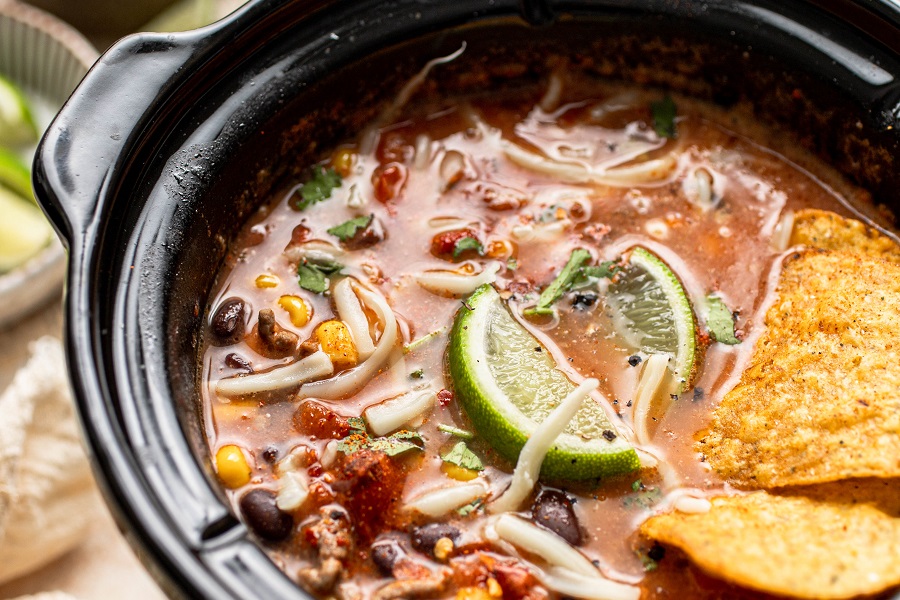 The flavors have time to combine and create one, cohesive flavor in the soup. It is utterly amazing to experience the difference. One way to tell the difference is to make taco soup with this recipe and compare it side by side with a can of soup from your favorite store.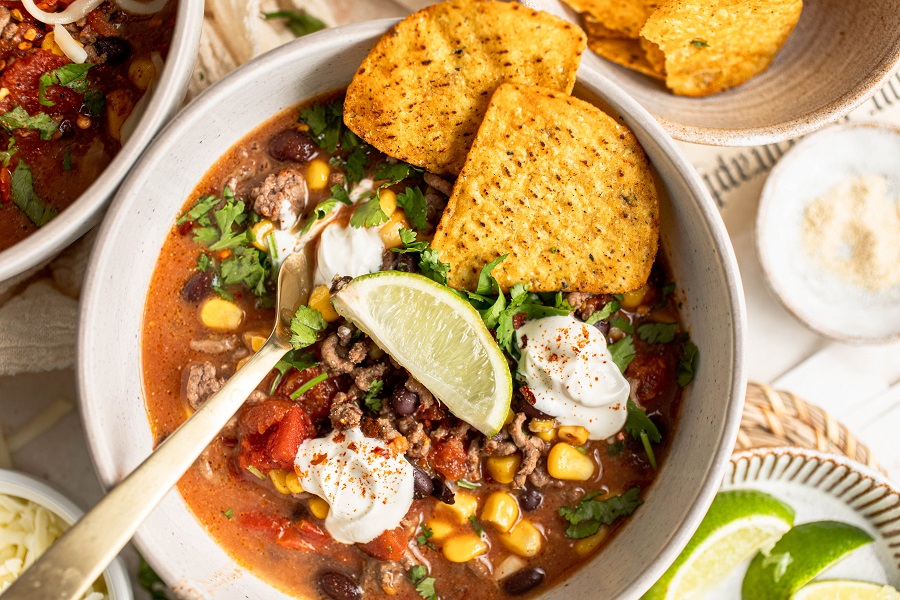 You will be able to taste the difference, smell the difference, and be proud that you were the one who made the better soup.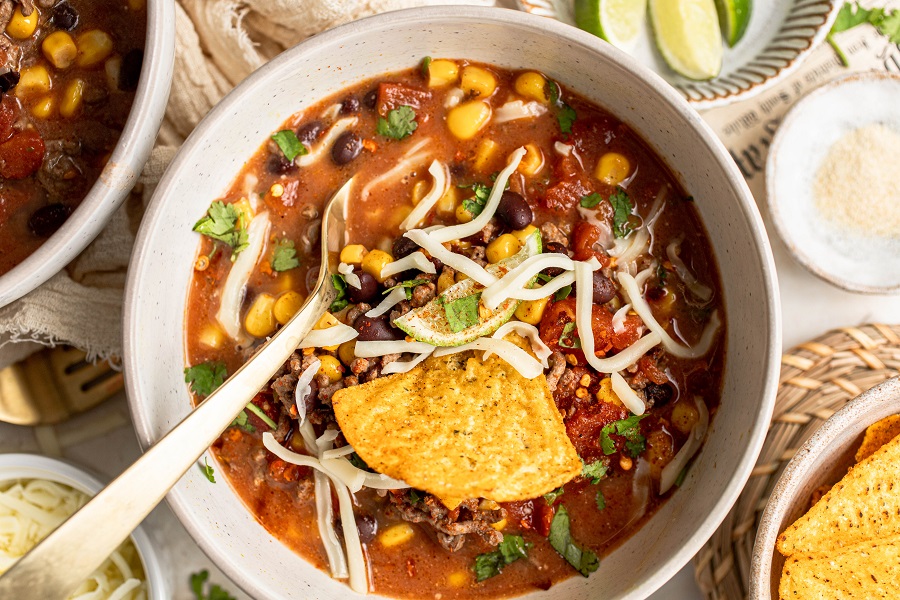 Brown The Beef
Crockpots can do a lot for you and your meal plan. But you should still brown the beef before you add it to your crockpot. The grease is the most obvious reason. Ground beef leaves behind grease as it is browned. That grease would just sit on the top of the best crockpot taco soup recipe when it is done if you don't brown the meat separately.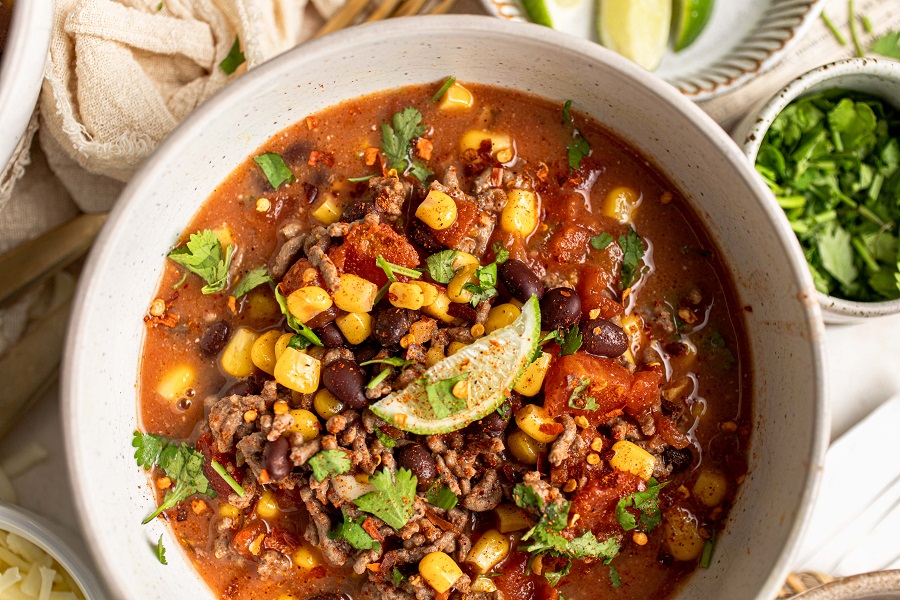 This step is as difficult as it gets with this recipe. Everything else is a dump and go situation. Brown the meat first, dump it in the crockpot along with everything else, and just let it simmer for a couple of hours. It's that simple.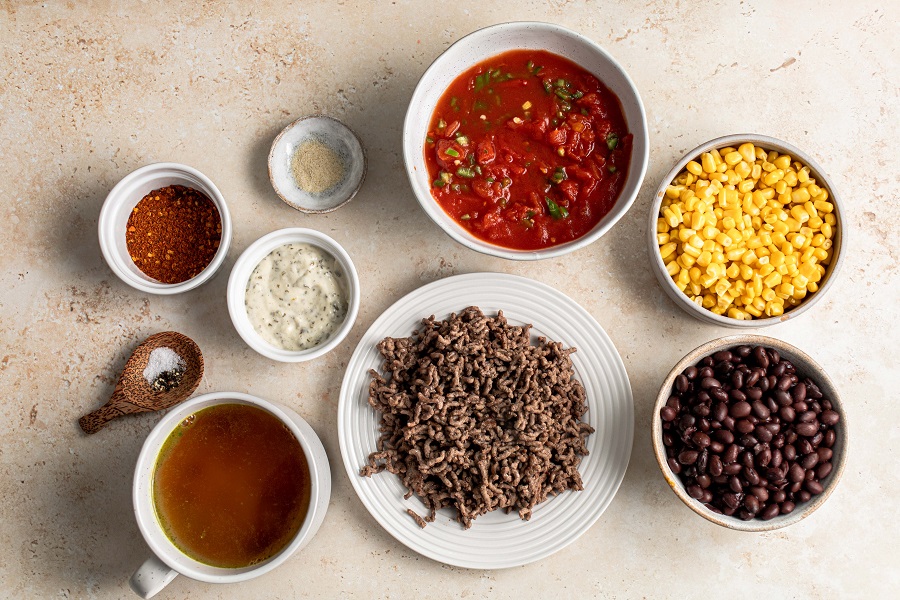 Crockpot Taco Soup Recipe Ingredients
We already know that we need browned and drained ground beef. There isn't much else it will take to make one of the best crockpot soups around. You will need a can of corn, black beans, and tomatoes. Canned is fine for all of those ingredients.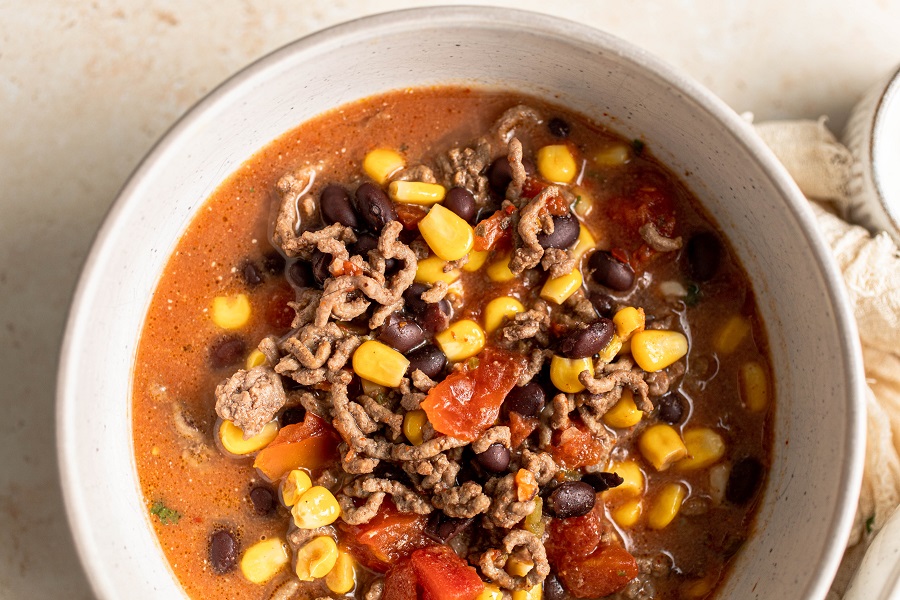 You could go and grab fresh ingredients if you'd like. However, this is the easiest way to get the job done. The last set of ingredients include the beef broth, a packet of chili seasoning, a packet of ranch, some onion powder, water, and salt and pepper. That's all you need for this recipe.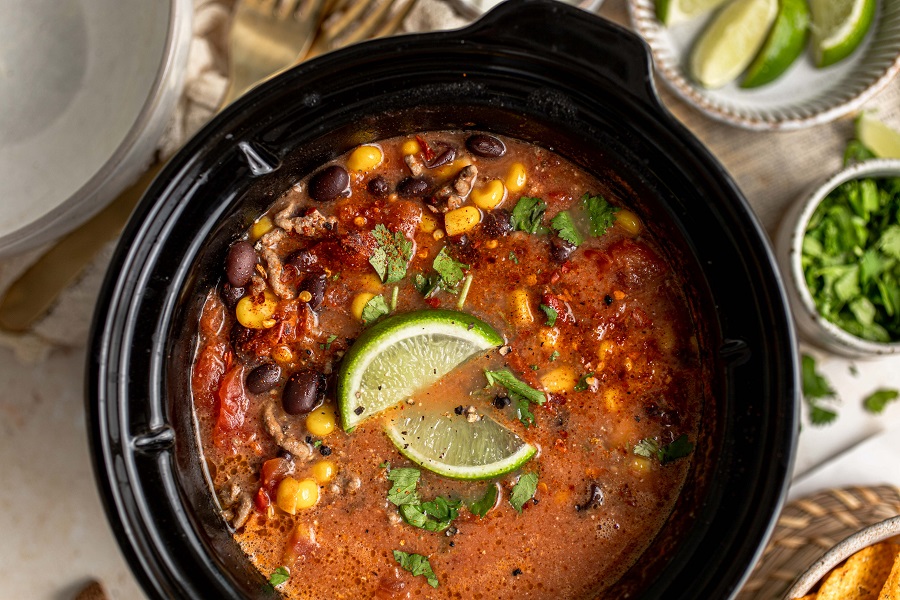 Directions
Add all ingredients (except garnishes) to the crockpot and stir well.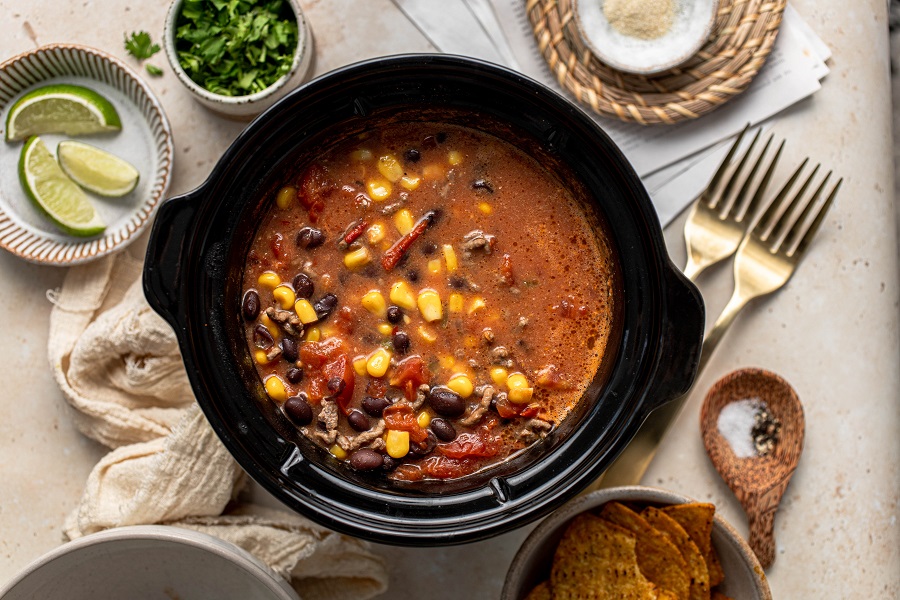 Cook on high for 2 to 4 hours on low.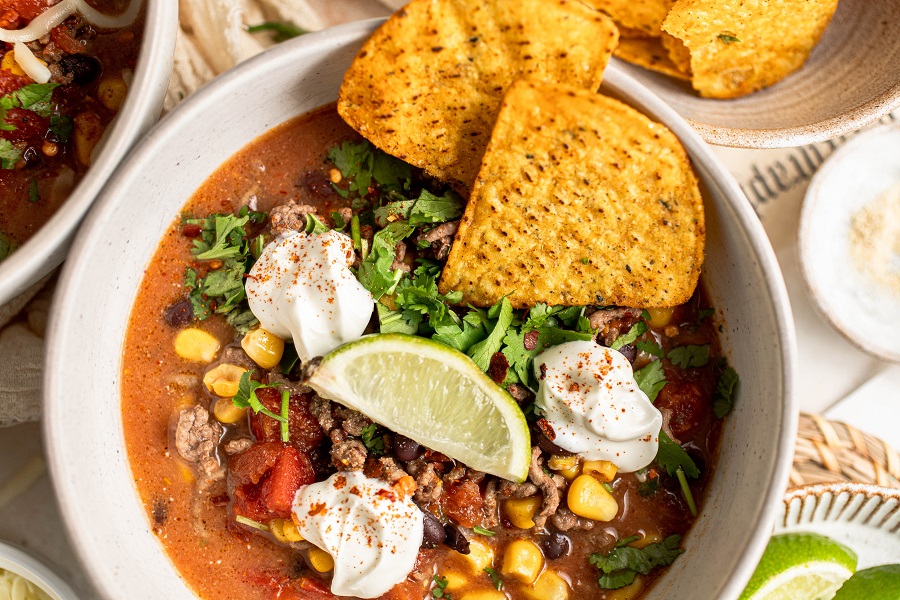 Serve and top with your favorite garnishes like sour cream, cheddar cheese, Frito chips, green onions, or guacamole.
Best Crockpot Taco Soup Recipe
Ingredients
1 Lbs Ground Beef (Browned and Drained)

1 Can of Corn

1 Can of Black Beans (Rinsed & Drained)

1 Can of Tomatoes with Green Chilis

2 Cups of Beef Broth

2 Cups of Water

1 Packet of Chili Seasoning

1/2 Packet of Ranch

Salt & Pepper

1 tsp Onion Powder
Directions
Add all ingredients (except garnishes to the crockpot and stir well.
Cook on high for 2 to 4 hours on low.
Serve, garnish, and enjoy!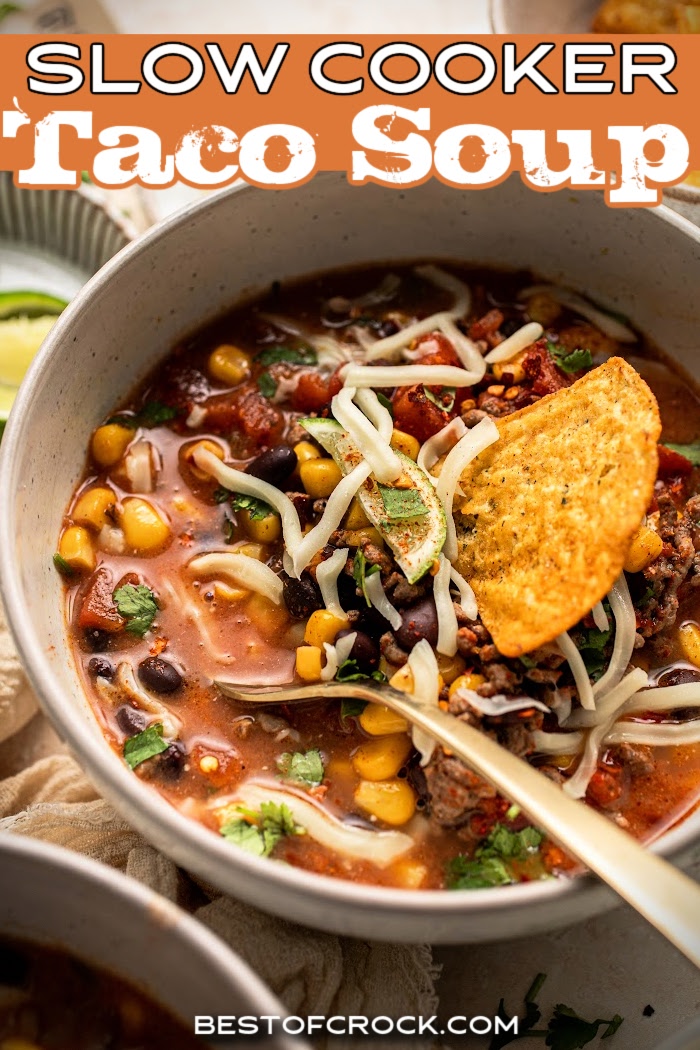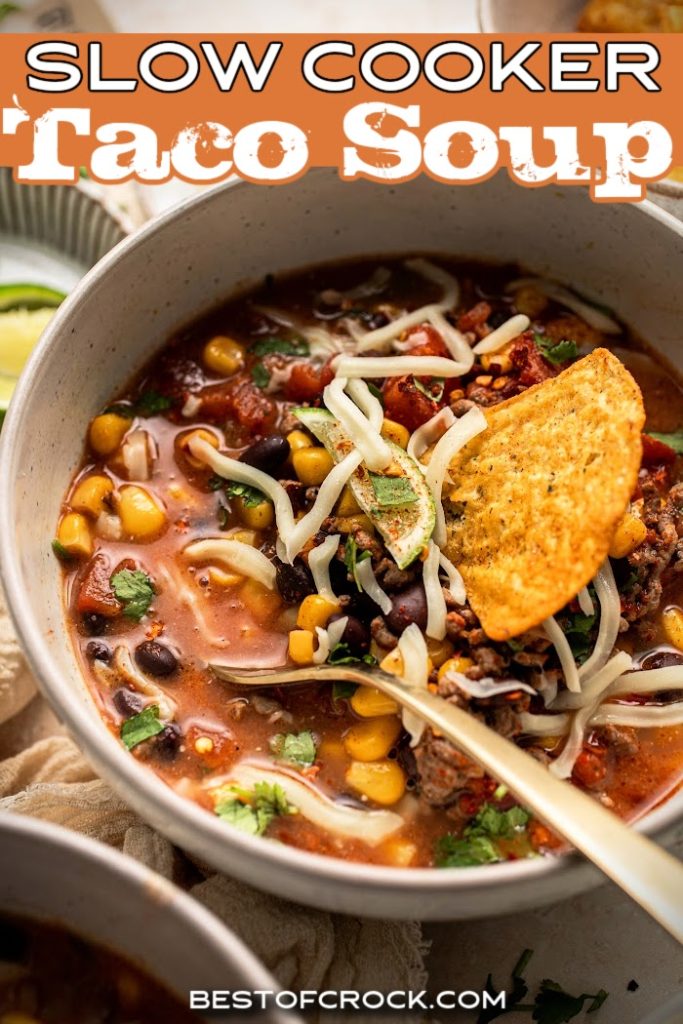 More Crockpot Recipes
Crockpot Salsa Chicken Recipe | Crockpots aren't just good at making soups, they can also make some of the best salsa.
How to Make Crockpot Meatballs | Meatballs are an obvious crockpot recipe since we all want the meats to soak up the flavors of the sauce.
Crockpot Macaroni and Cheese Recipe | Macaroni and cheese is better when it's homemade and even better when it is homemade with real cheese.
Crockpot Pork Chops with Cream of Mushroom Soup Recipe | Soups aren't simply good on their own, they can also turn pork chops into an amazing meal.
Easy Crockpot Chicken Fajitas with Frozen Corn | There is no need to sell this recipe to anyone, fajitas are amazing, enough said.