Easy Crockpot Halloween Recipes for a Spooky Night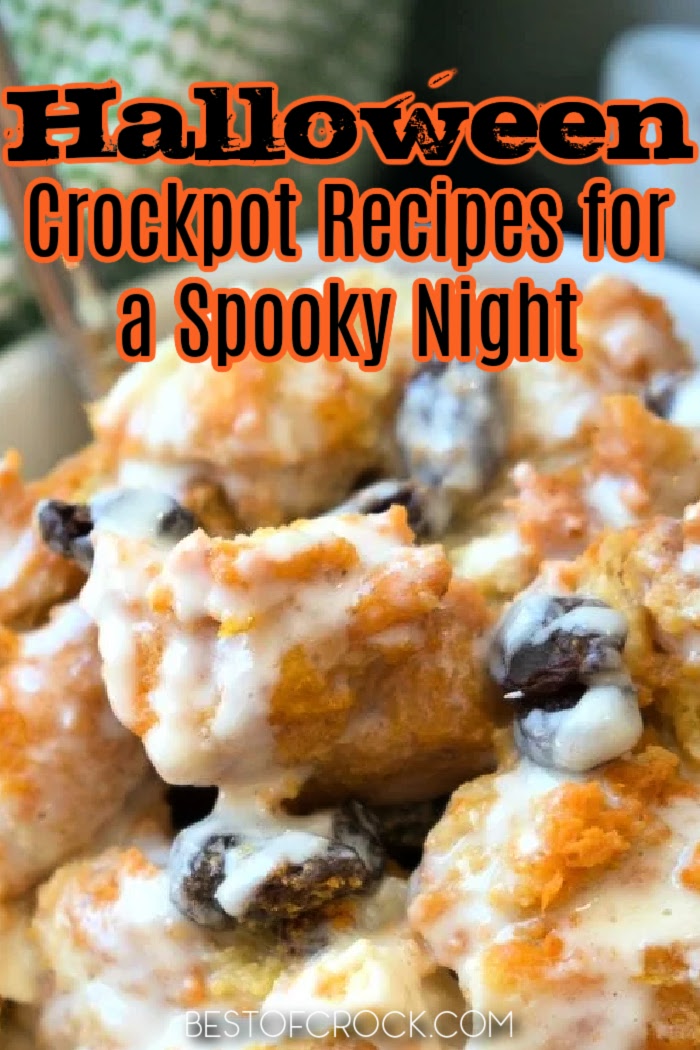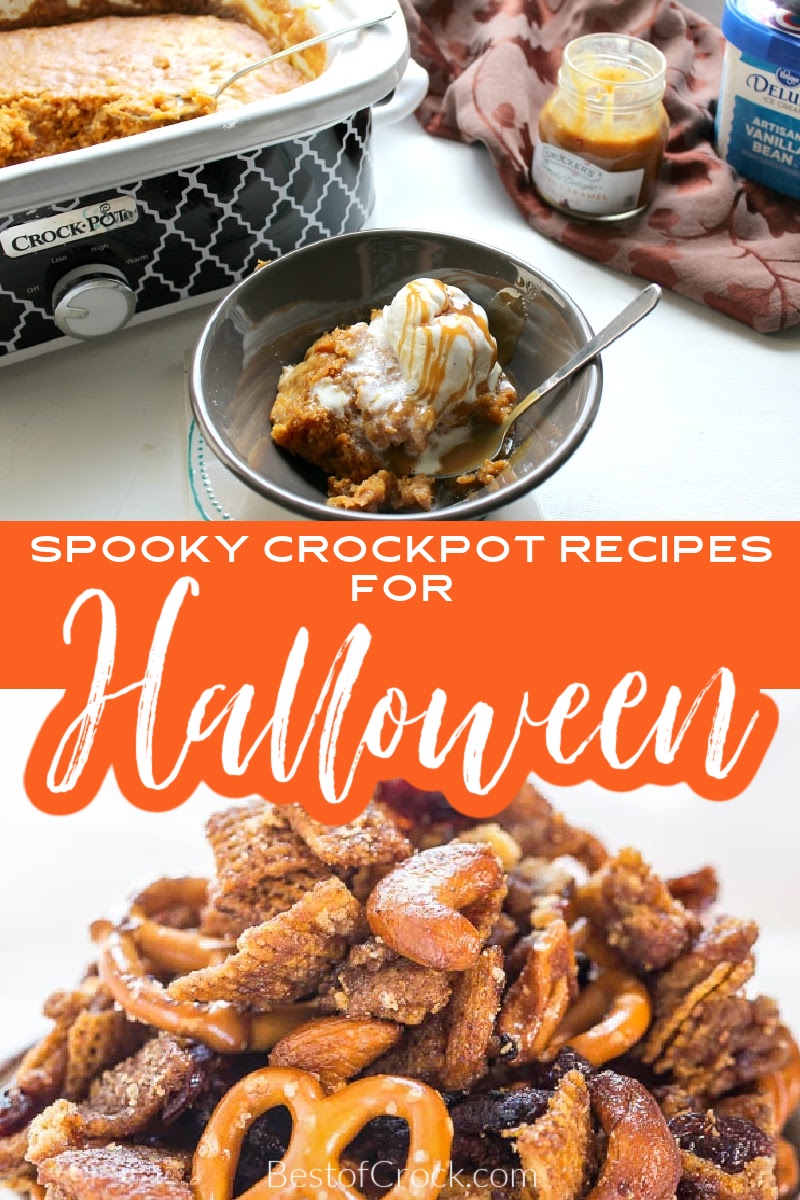 Some chefs only cook with ingredients that are in season locally. But that skill requires a lot of knowledge and not everyone can be a pro chef. Luckily, there are other ways we can get seasonal with our cooking. Take crockpot Halloween recipes for example. These recipes will ultimately come with seasonal ingredients.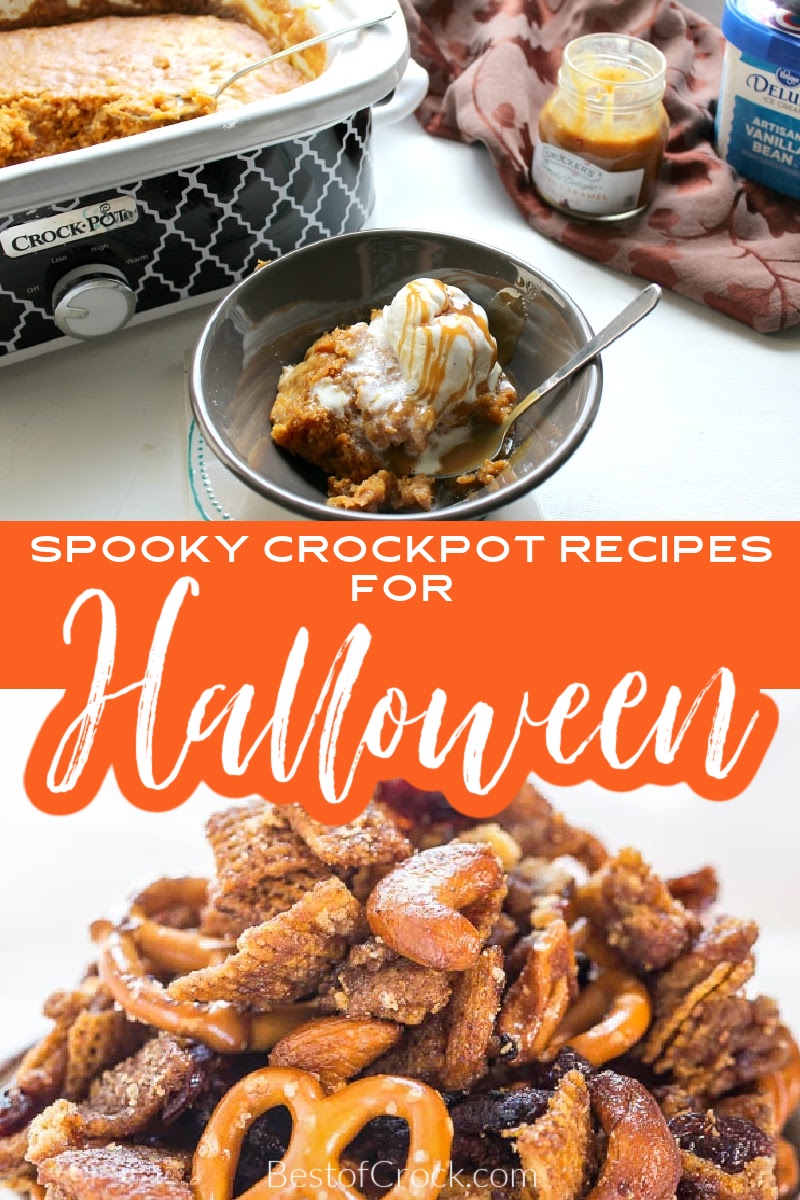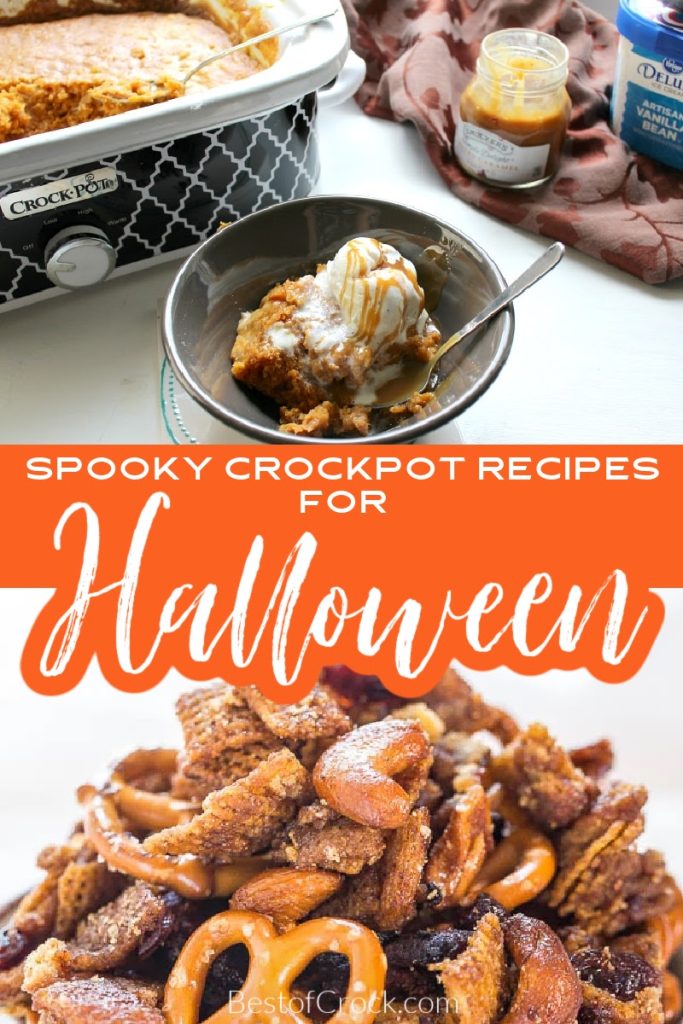 The best part about cooking is when you have a chance to get seasonal. Chefs do it regularly. Spooky recipes are perfect during the fall season, but you can make things easier with crockpot Halloween recipes. Halloween recipes are fun recipes that utilize the flavors of the season.
You can find things like pumpkin, apples, cinnamon, and, of course, sweets. Eating your way through the season is a fun way to celebrate the holiday but also to start traditions with family and friends.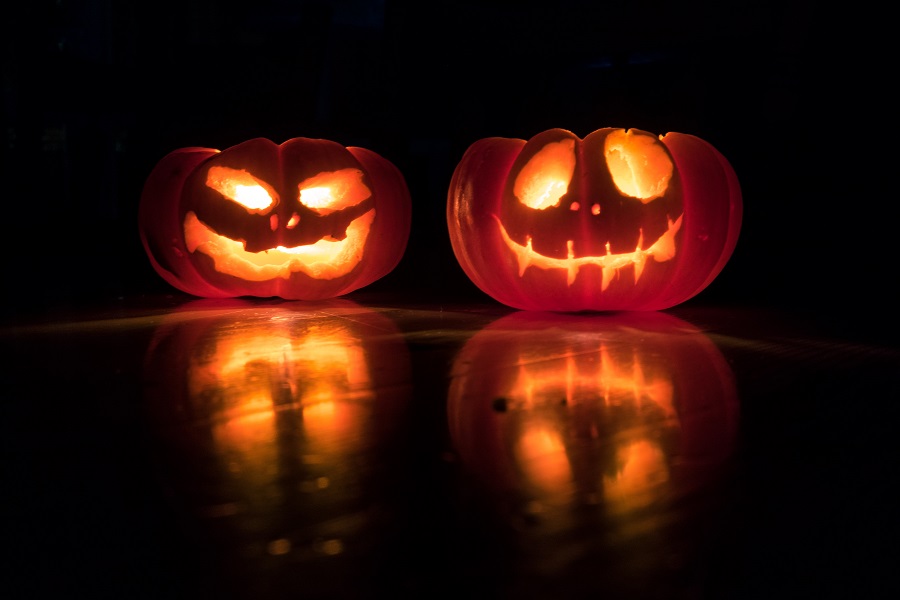 Some Halloween treats seem difficult to make. It is not easy replicating those pictures on Pinterest. But there are easier ways to serve up Halloween on a plate. You can use a crockpot. Crockpot Halloween recipes are always much easier than putting together those pumpkin truffles or Jack Skellington cake pops.
Pumpkin Spice Hot Chocolate | The Magical Slow Cooker
Pumpkin Bread Pudding | Holly's Cheat Day
Crockpot Candy | Sugar & Soul
Pumpkin Butter | Mommy Musings
Pumpkin Spice Dump Cake | My Heavenly Recipes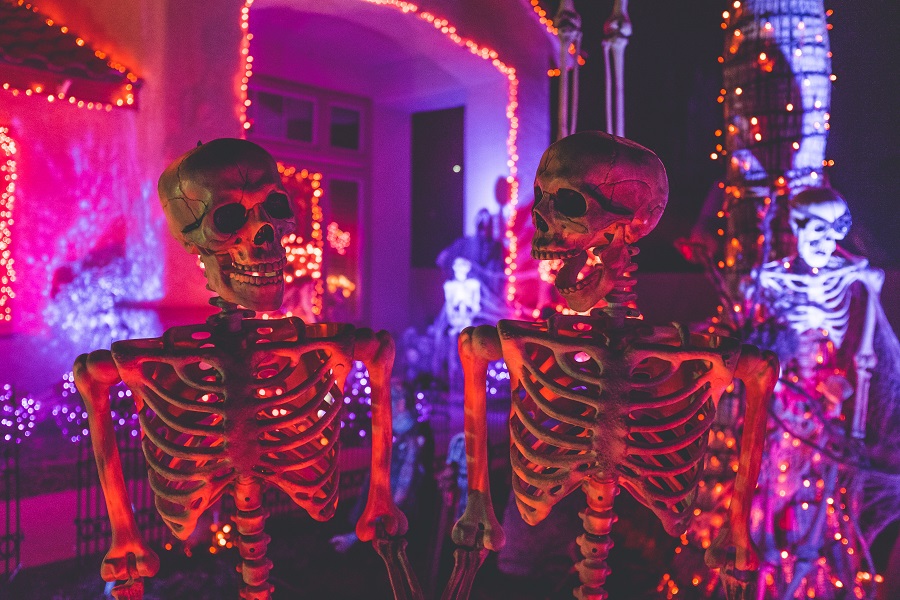 Spooky Ingredients
The first thing you might notice is the use of pumpkins. Pumpkin spice this or pumpkin that, the uses for pumpkins is endless. But there are other main ingredients of the season like cinnamon, apples, and candy. This is how you get seasonal with crockpot Halloween recipes.
Hot Apple Cider | Savory Nothings
Pumpkin Caramel Cake | Crafty Morning
Candy Corn Hot Chocolate | Passion for Savings
Crockpot Baked Apples | House of Hawthornes
Sweet Pumpkin Chili | Premeditated Leftovers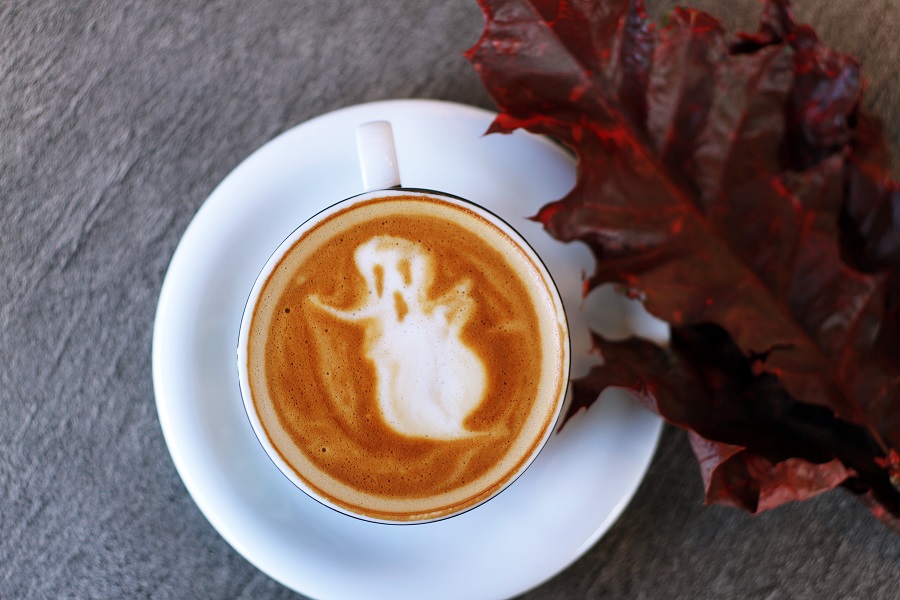 Creepy Display
Of course, the best way to get spooky is with how you serve the food. You could take an ordinary cupcake and top it with orange frosting and boom, you have a Halloween treat. But the goal is to incorporate the flavors of the season because it connects with our memories more than sight.
You can create lasting traditions for your kids if you cook a pumpkin dessert in a crockpot at home. The smells, the flavors, all of it will enhance the experience.
Halloween Bread Pudding | Temecula Blogs
Crockpot Monster Munch | Recipes That Crock
Apple Cranberry Cider | The Busy Baker
Maple Pumpkin Spice Chex Mix | Averie Cooks
Caramel Pecan Baked Apples | Growing Up Gabel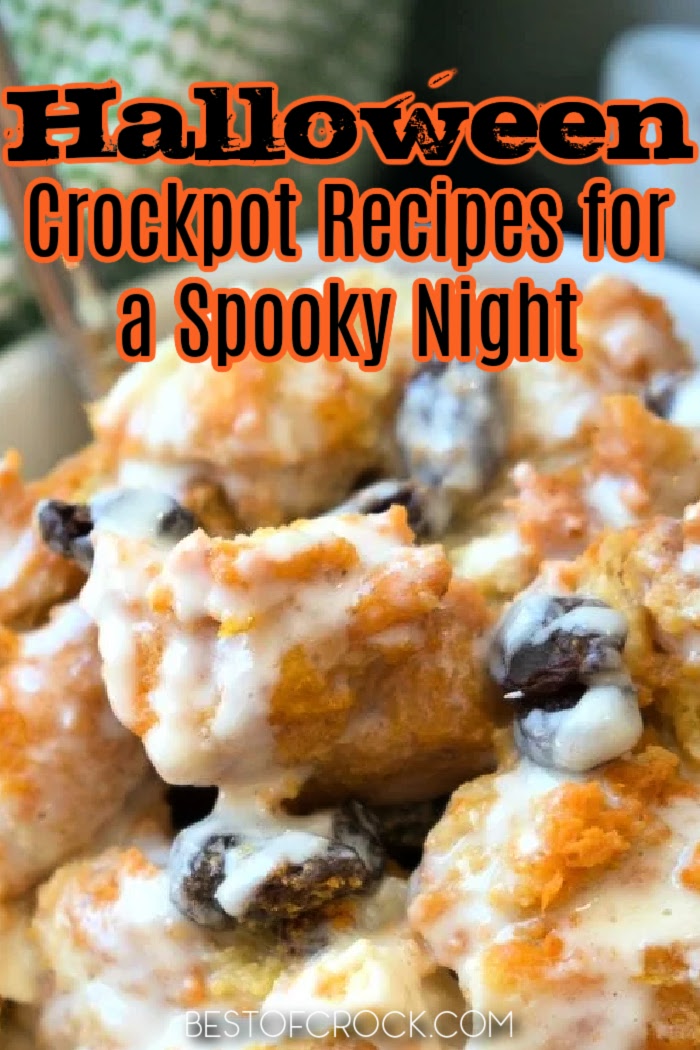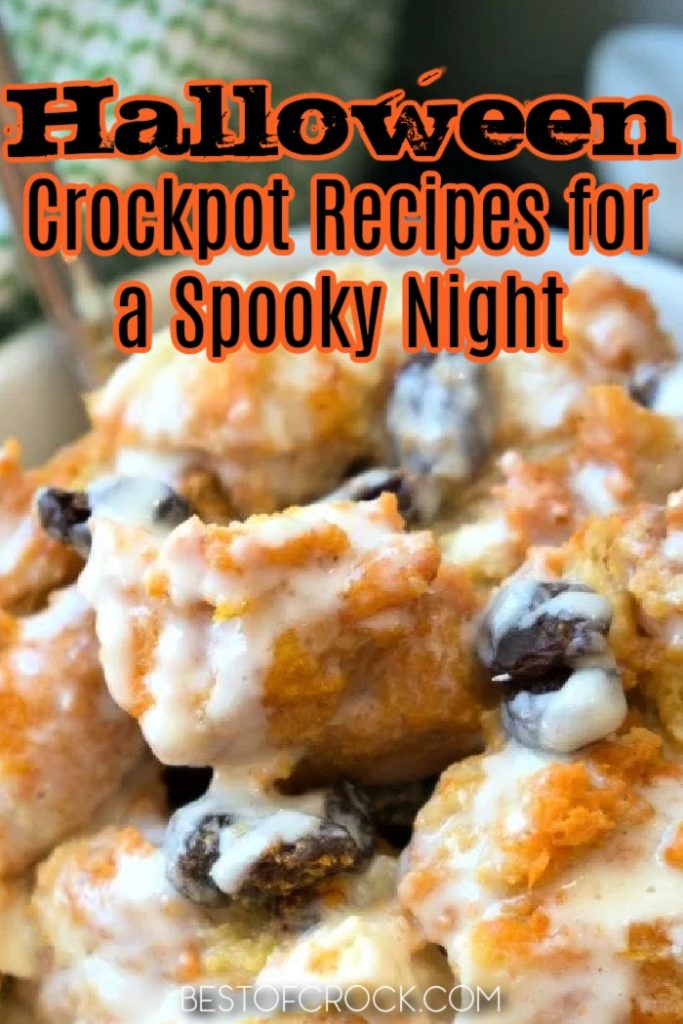 More Crockpot Recipes
Easy Crockpot Beef with Brown Rice and Vegetables | Your crockpot can be used in many different recipes for many different ocassions. You can even make a simple, beef and rice dinner for when you don't want too much work.
Low Carb Slow Cooker Stuffed Peppers | Stuffed peppers are a classic low carb recipe that anyone can easily enjoy with the help of their slow cooker.
Slow Cooker Beef Stroganoff with French Onion Soup | Take things to the next level with the help of a beef stroganoff recipe.
Crockpot Ground Chicken Chili Recipe | You can also dumb things down a bit, although, this recipe is anything but dumb. In fact, this is blue ribbon worthy chili right here.
Crockpot Gluten Free Granola Recipe | You can also make a simple snack that is healthy and delicious.