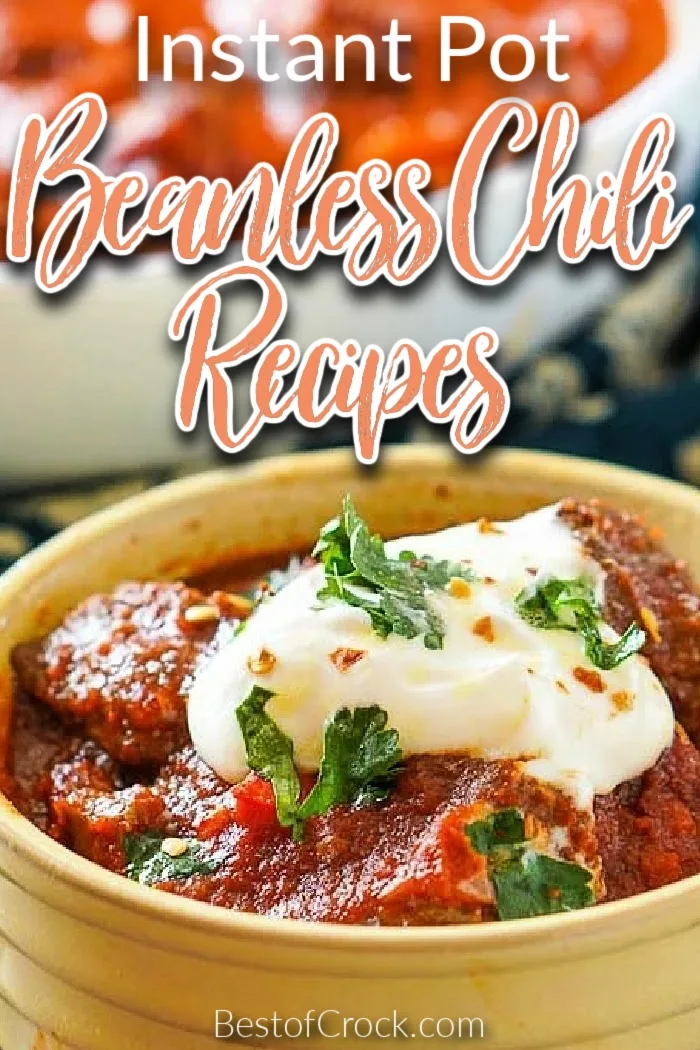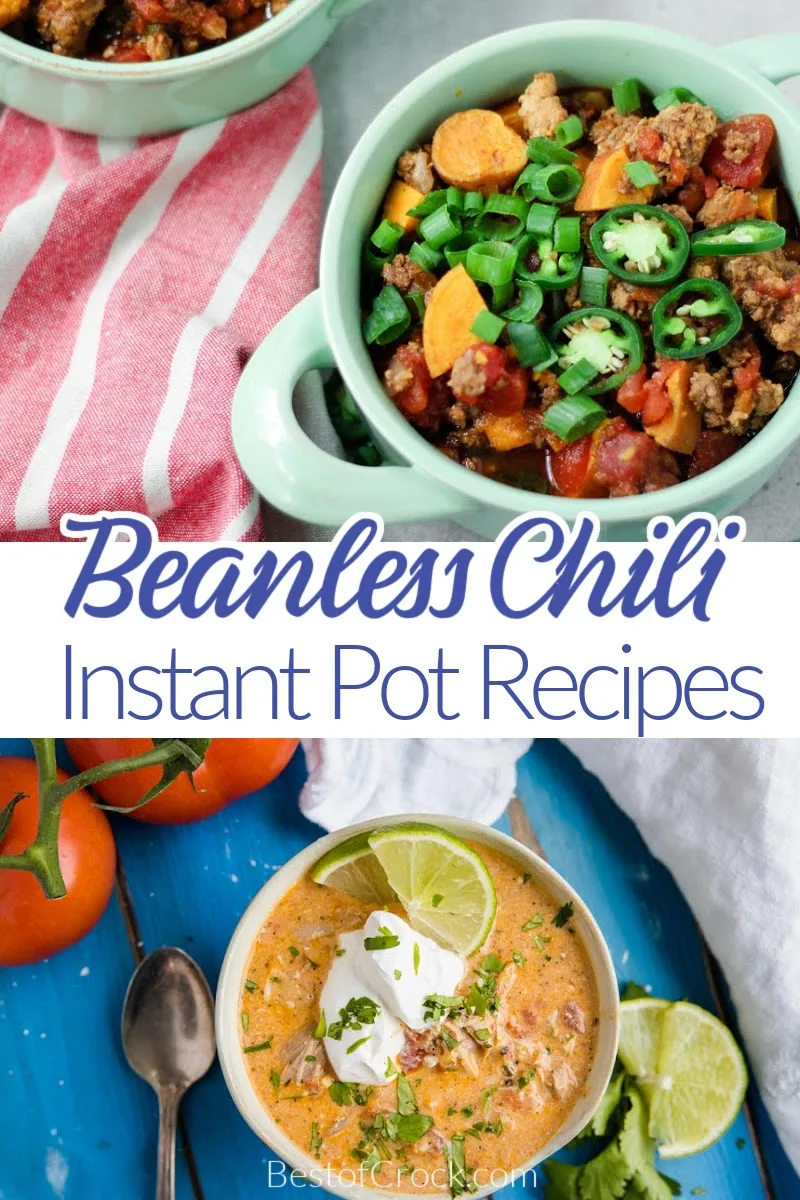 You can ask anyone who makes blue ribbon chili, it takes time. People say a quick simmer of a few hours will get you the best chili. But pressure cooking can drastically reduce that time. Beanless Instant Pot chili recipes are proof that you can make a fantastic chili in half the time.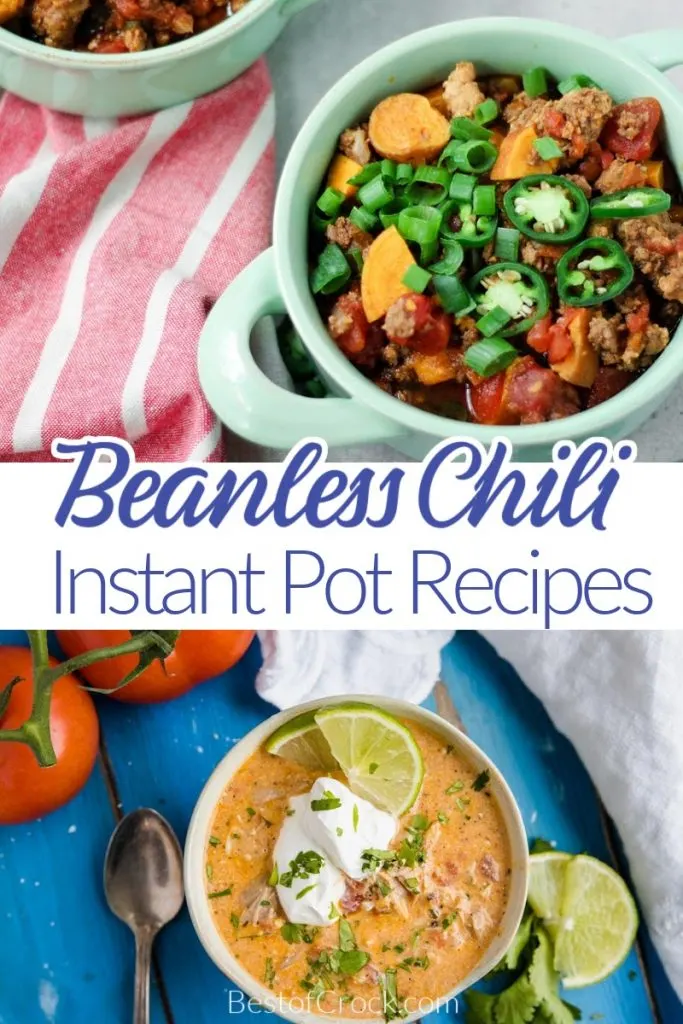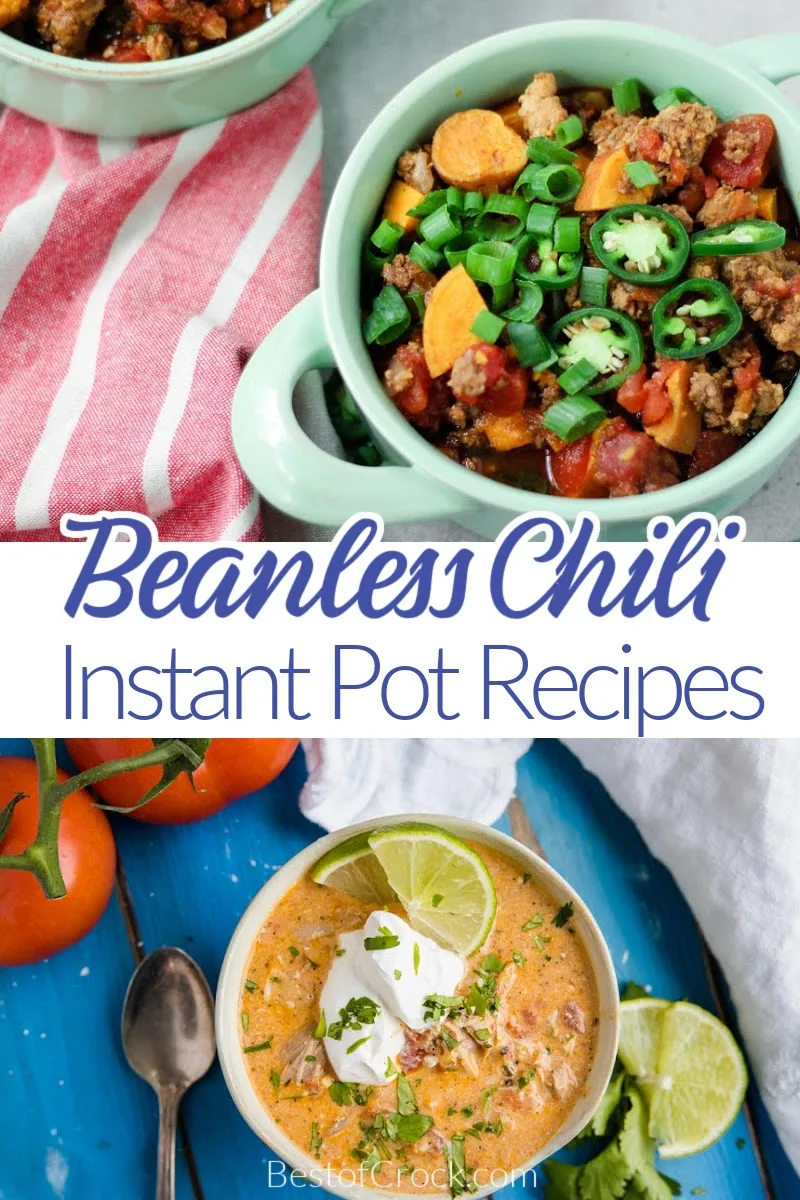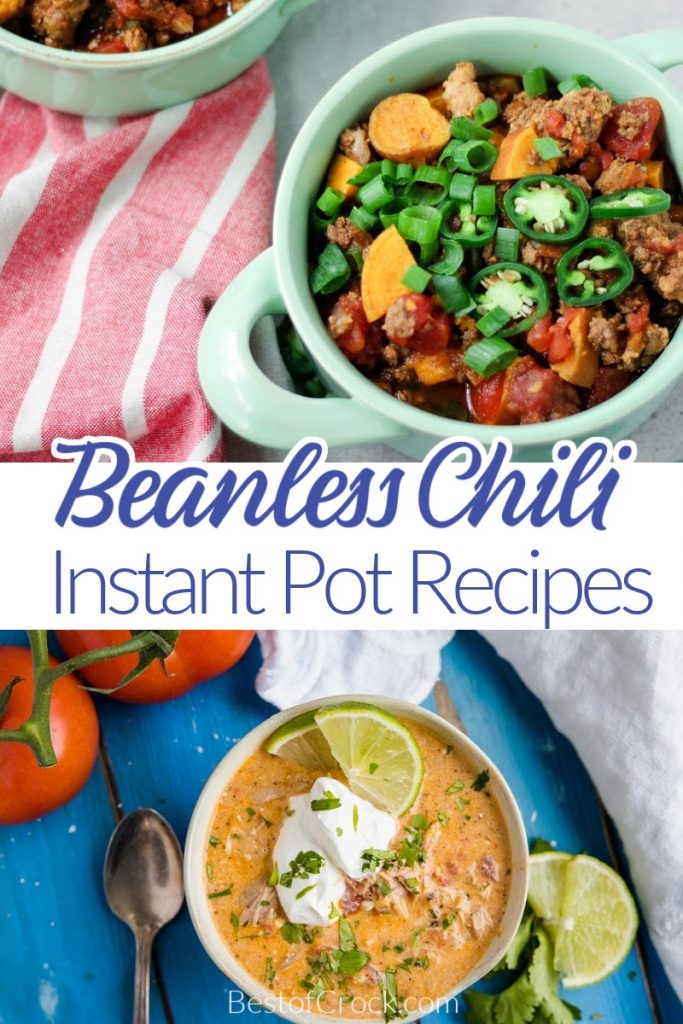 The best beanless Instant Pot chili recipes can help you earn the blue ribbon from family and friends, and it won't take hours to make. Chili requires a long cook time for flavors to meld together. There are so many seasonings and spices that go into a good chili, and they need time to come together to make a totally different taste.
But that is something pressure cookers are great at. Beanless Instant Pot chili recipes are a good place to start trying things out. Instant Pots use steam to create pressure inside the pot. That pressure allows the ingredients to cook and meld faster.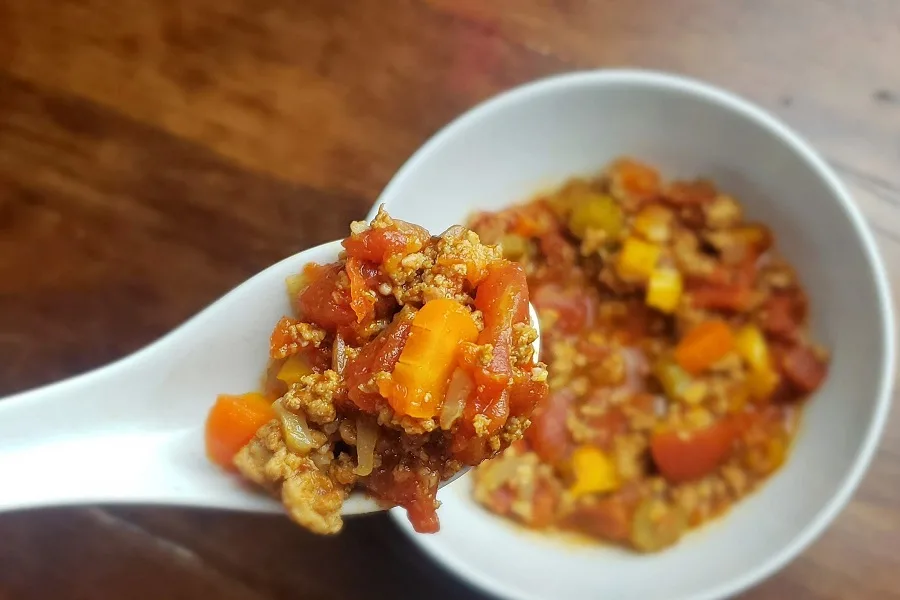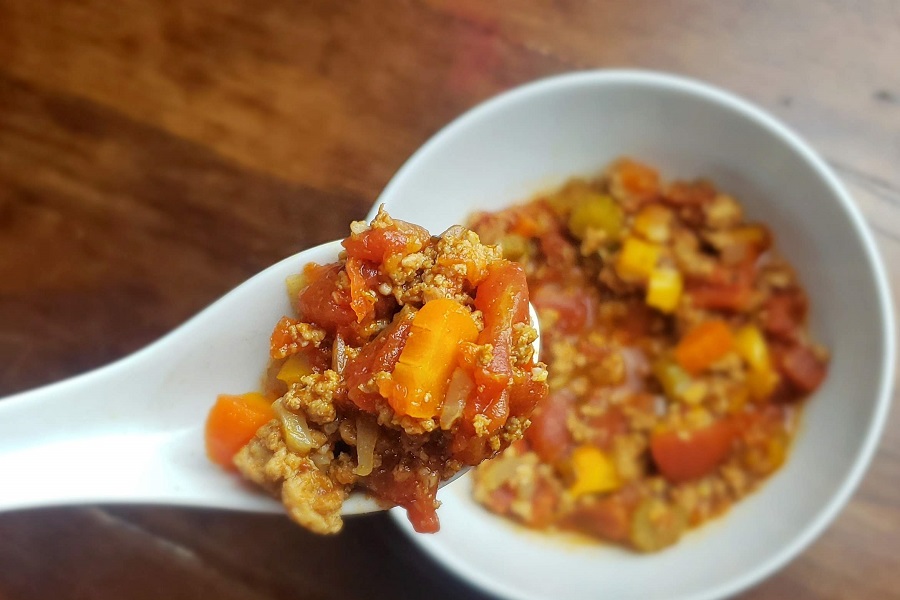 Of course, there is still some time required to cook the chili. But you can get great flavor from Instant Pot chili and save a lot of time. In fact, many of these recipes can be done within an hour or even less! You are just minutes away from enjoying some of the best beanless chili from an Instant Pot.
Beanless Instant Pot Ketogenic Chili Recipe | Best of Crock
Beef Chili | Confessions of a Fit Foodie
Sweet Potato Chili | Thyme & Joy
White Chicken Chili | Keto Focus
Instant Pot Bison Chili | Nourished and Vibrant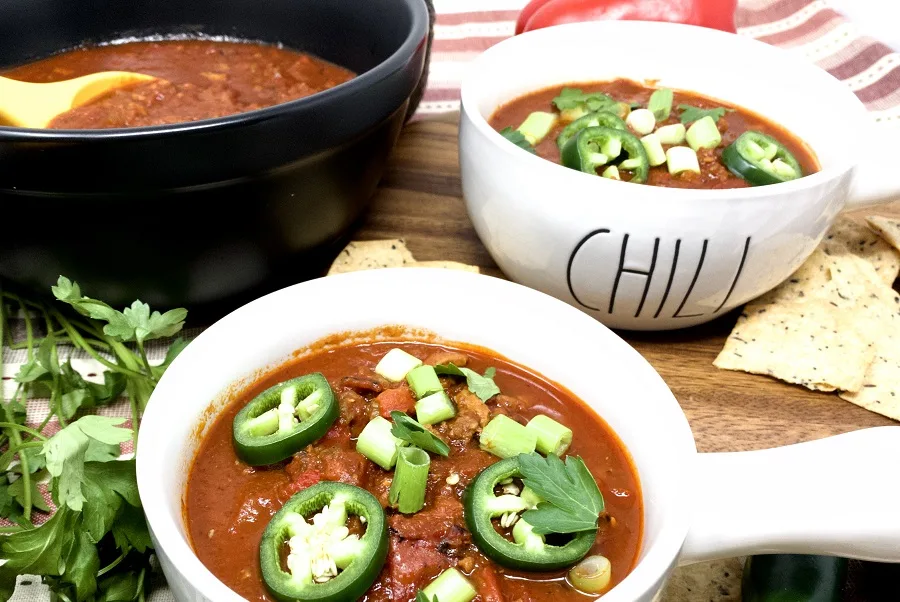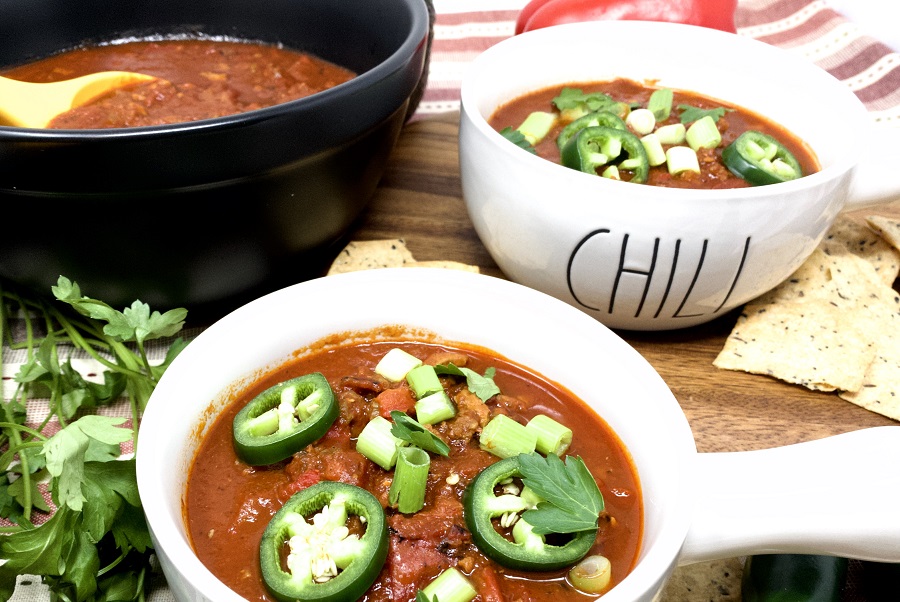 Beanless Instant Pot Chili Recipes
Instant Pot chili can really get the job done. Many of these recipes take less than an hour and some are even less than half an hour. That makes these recipes perfect for when you're in a pinch. You can make chili for game day, chili for parties, or even meal prep some of these chilis.
That's the best part about chili; some recipes can be healthy. You can even use Instant Pot chili for keto or low carb diets. Of course, you don't have to be on a diet to enjoy these recipes. In fact, the toppings will take your chili to a whole new level. But many toppings won't fit in low carb diets.
Chunky Beef Chili | My Life Cook Book
Tortilla Chicken Verde Chili | Cotter Crunch
Quinoa Chili | Make the Best of Everything
Paleo Pumpkin Chili | Finished with Salt
Turkey Chili | Lexi's Clean Living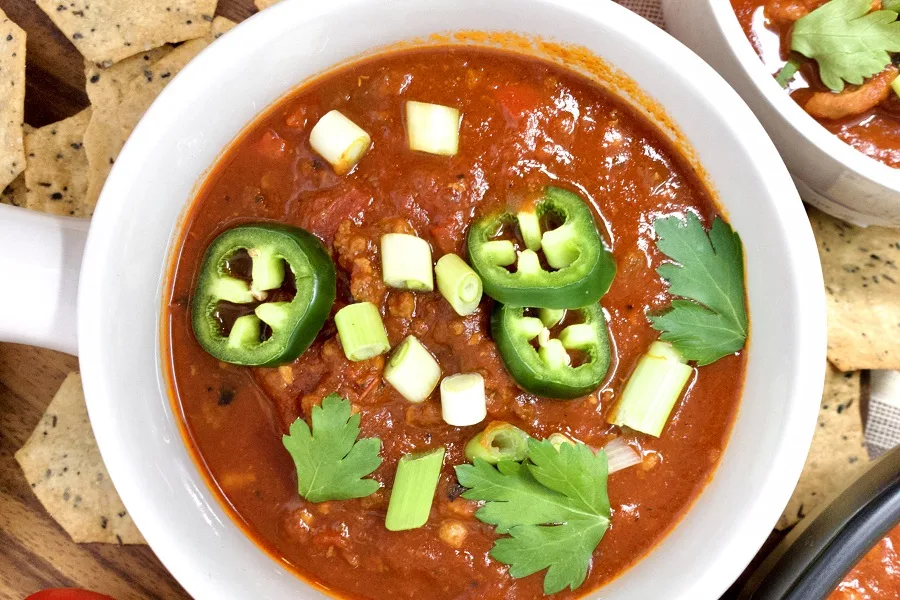 Chili Toppings
Some people like to make beanless Instant Pot chili recipes and then create a chili bar. A chili bar is like a buffet at a party, except the only dish is the chili. The rest of the bar is filled with different toppings that can be added to individual servings of chili.
There are the basics of chili toppings like chives, cheese, and sour cream. But you can also pour a little whiskey into your chili, not a lot, just a bit. You can also sprinkle a little cocoa powder on it, soy sauce, honey, salsa, guacamole, olives, the list goes on and on.
Don't be afraid of these toppings either, they have been tested and approved by chili fans everywhere.
Jalapeno Popper Chicken Chili | Skinny Taste
Texas-Style Chili | Striped Spatula
Two-Meat Chili | I Dream of Food
Chili with Butternut Squash | 40 Aprons
Turkey and Sausage Chili | All Recipes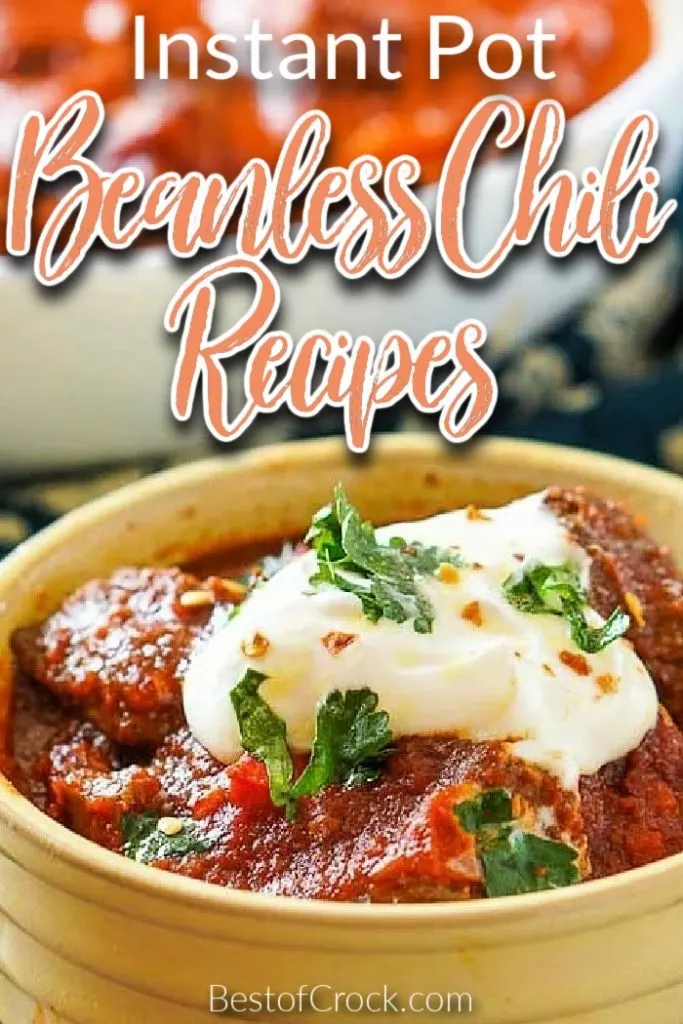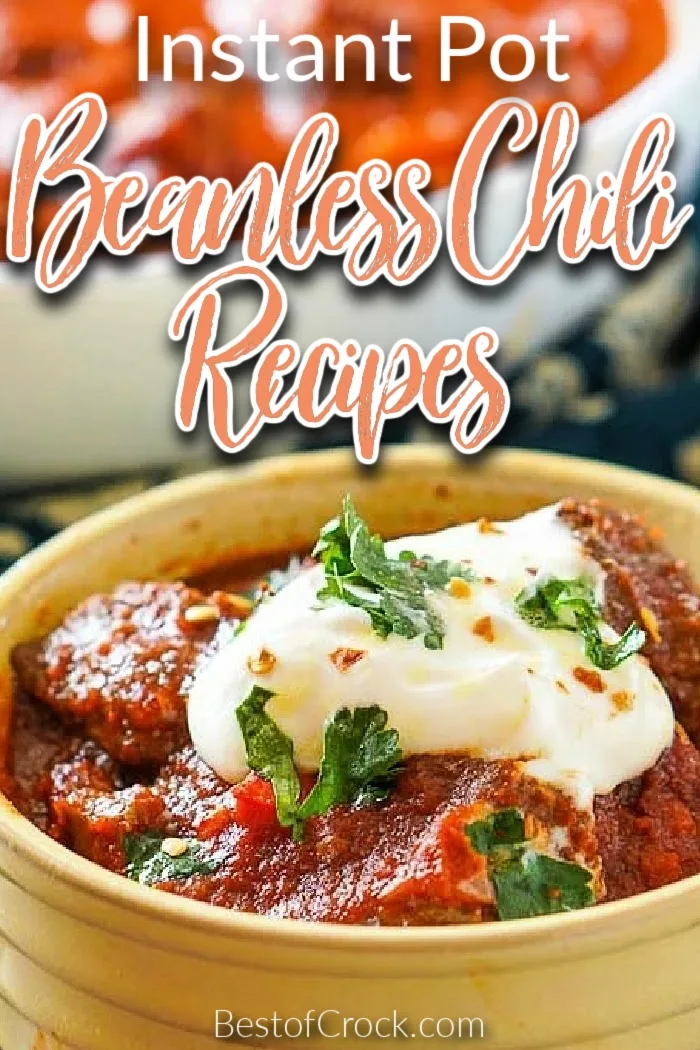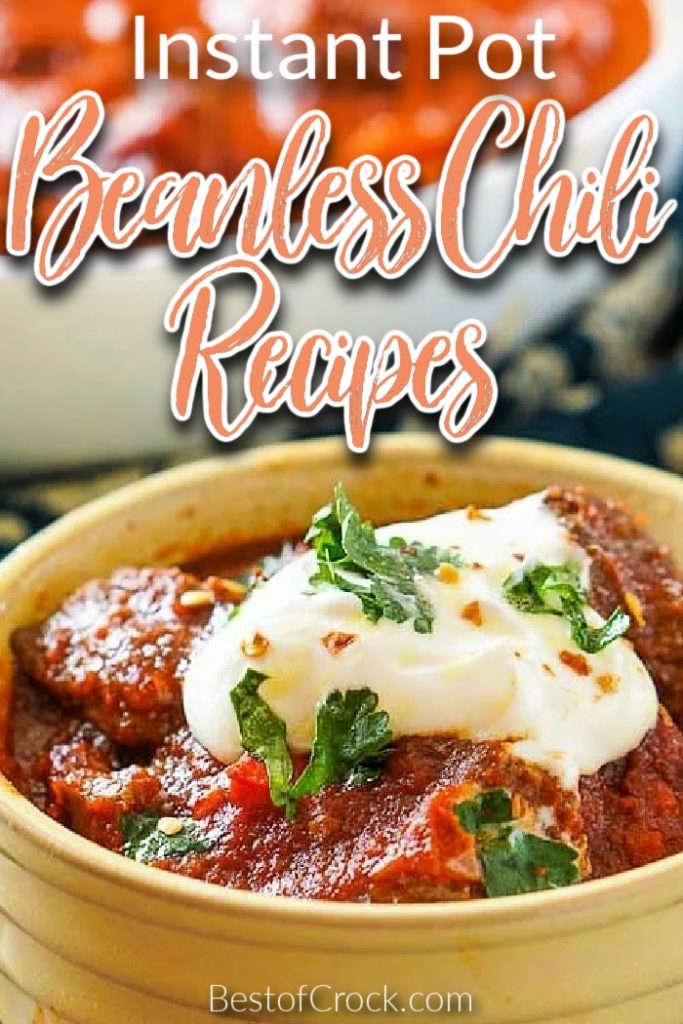 More Instant Pot Recipes
Healthy Instant Pot Teriyaki Chicken | Chili isn't the only thing you can cook in an Instant Pot, teriyaki chikcen is another classic.
Instant Pot Goulash Recipe with Beef | You can even make some pasta recipes like this goulash in an Instant Pot.
Instant Pot Chicken Pot Pie Casserole | Casseroles are kind of like chilis, just less liquid and more chunky ingredients.
Healthy Instant Pot Vegetable Beef Soup | Making a healthy soup is also really easy in an Instant Pot. You can even make this soup in batches and can the leftovers for use later.
Instant Pot Mashed Cauliflower Recipe | A great healthy side dish for chili is mashed cauliflower. Use one of the chili recipes above and then this one and you can have a full meal in less than an hour.